Fish Lure Enhancer
According to product literature from Lunkerhunt, Spicy Bites scent capsules are made for anglers looking for a long-lasting attractant to enhance their tubes or lures.
The capsules are made with the company's garlic and salt formula, which reportedly entices fish to bite and hang on. Spicy Bites capsules last from five to 15 minutes depending on retrieval speed, water temperature, and the number of punctures made to the capsule to release the scent. The capsules also can be used to rejuvenate previously used artificial baits.
A 50-capsule bottle of Spicy Bites has a manufacturer's suggested retail price of $7.99.
Lunkerhunt
160 Tycos Drive
North York, ON
Canada M6B 1W8
www.lunkerhunt.com
---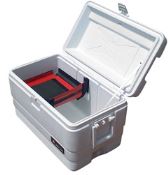 Cooler Shelf
The Cooler Shelf from Christar's Net Inc. is a nylon-mesh shelf designed to keep items dry and cool in portable coolers.
After the initial installation, the shelf can be quickly attached to the inside of the cooler using Velcro and will remain fastened even when exposed to heat, cold, and water. The shelf protects food from being ruined by exposure to ice and water, keeping it cool, fresh, and ready to enjoy. The net is available in three sizes designed to fit all primary sizes of coolers from 30 quarts to more than 150 quarts.
The Cooler Shelf has manufacturer's suggested retail prices of $12.95 (small), $14.95 (medium), and $19.95 (large).
Christar's Net Inc.
P.O. Box 41565
Long Beach, CA 90803
(562) 477-4210
www.coolershelf.net
---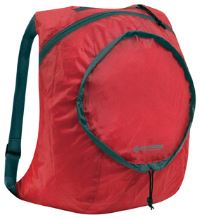 Lightweight Backpack
The Ultra Light Packable Day Pack from Outdoor Products is a small, versatile backpack that can come in handy whether you're on the trail or out shopping.
The pack measures 15.5 inches high, 13.5 inches wide, and 5.5 inches deep and has a maximum storage capacity of 915 cubic inches, providing plenty of room to carry anything from beach towels to souvenirs. The pack features adjustable webbing shoulder straps and an accessory pocket for smaller gear. When not in use, it compresses to a 6-inch ball for compact storage.
The pack is available in seven colors and has a manufacturer's suggested retail price of $15.
Outdoor Products
1919 Vineburn Ave.
Los Angeles, CA 90032
(800) 438-3353
www.outdoorproducts.com
---
Grocery Organizer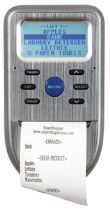 The SmartShopper Electronic Grocery List Organizer makes it possible to create grocery lists just by saying what you need.
According to product literature, the voice-activated device recognizes more than 2,500 items stored in its library (custom items can be added) and automatically categorizes the items into common supermarket aisles to make the shopping trip quicker and easier. Users also can designate quantities of an item needed and flag products for which coupons are available. When it's time to shop, the user prints the list from the device. The SmartShopper also features a built-in kitchen timer and attaches to metal surfaces via magnets or can be wall mounted.
The SmartShopper Electronic Grocery List Organizer has a manufacturer's suggested retail price of $79.99.
SmartShopper Electronics LLC
7777 Wall St.
Valley View, OH 44125
(216) 447-9106
www.smartshopperusa.com
---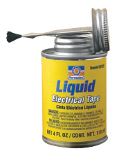 Liquid Electrical Tape
According to product literature, Liquid Electrical Tape from Permatex is an easy-to-apply sealant that's been formulated to bond and insulate electrical connections.
The product goes on as a liquid and dries in less than five minutes, forming a flexible vinyl polymer seal that reportedly is both waterproof and durable. The liquid application makes it possible to completely cover wire and cable connections to prevent air, dirt, and moisture from impeding the flow of electrical current. Liquid Electrical Tape is said to be UV- and chemical-resistant and thus won't degrade when exposed to light or harsh substances, and to remain pliable in temperatures ranging from -50 to 275 degrees Fahrenheit.
A 4-ounce brush-top bottle of Liquid Electrical Tape has a manufacturer's suggested retail price ranging between $7 and $8.99.
Permatex
10 Columbus Blvd.
Hartford, CT 06106
(877) 376-2839
(860) 543-7500
www.permatex.com
---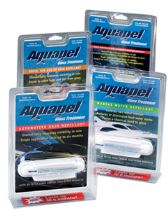 Glass Treatment
Aquapel Glass Treatment from Pittsburgh Glass Works LLC is a windshield rain repellent that is said to improve visibility when driving in wet conditions.
Aquapel is made of fluorinated compounds that form a chemical bond with the glass, increasing water repellency and causing water to bead and roll from the surface. According to product literature, Aquapel takes only minutes to apply and lasts up to six times longer than similar silicone-based products. Once applied, the product also makes it easier to clear ice, snow, dirt, and bugs from the windshield.
An Aquapel applicator pack that includes one treatment has a manufacturer's suggested retail price of $9.95.
Pittsburgh Glass Works LLC
30 Isabella St.
Pittsburgh, PA 15212
(800) 861-4999
www.aquapel.com
---
Adjustable Bungee Cord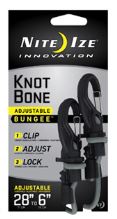 The KnotBone Adjustable Bungee from Nite Ize Inc. makes it possible to have the correct size bungee for any job.
Unlike other bungees that have open hooks and a set cord length, the KnotBone Adjustable Bungee features carabiner ends that secure to the anchor points and the KnotBone cord-locking system that makes it possible to adjust the length of cord needed. Two sizes are available: the #5 can be adjusted from 6 inches to 28 inches, while the #9 adjusts from 10 inches to 48 inches. Each cord also includes a pair of self-clipping caps for the cord ends to keep them in place.
The KnotBone Adjustable Bungee has manufacturer's suggested retail prices of $4.99 for the #5 cord and $9.99 for the #9 cord.
Nite Ize Inc.
5660 Central Ave.
Boulder, CO 80301
(800) 678-6483
(303) 449-2576
www.niteize.com
---

Travel Mapping Software
The 2011 version of Microsoft Streets & Trips with GPS Locator will help users plan their travel adventure from start to finish.
The latest software version, compatible with Windows 7, Vista, and XP operating systems, includes updated street-level maps of the United States, Canada, and Mexico with more than 6.5 million miles of navigable roads. Once on the road, users can search for points of interest without the need for an Internet connection. And with the GPS Locator, travelers can turn their laptop into a navigating device to receive spoken directions and full-screen navigation images. The program even includes automatic rerouting.
The 2011 version of Streets & Trips with GPS Locator has a manufacturer's suggested retail price of $69.95, while the software without the GPS is priced at $39.95.
Microsoft Corporation
One Microsoft Way
Redmond, WA 98052-6399
(800) 642-7676
www.microsoft.com/streets/travel
---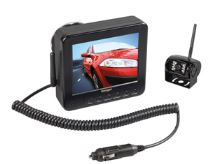 Wireless Observation System
According to product literature from ASA Electronics, the Voyager Digital Wireless Observation System with WiSight technology exceeds the performance of any analog wireless system available.
WiSight technology locks the Voyager camera to its monitor, ignoring all other outside signals. This eliminates the interference typical of analog wireless systems. WiSight technology is strong enough to travel through and around objects and is capable of transmitting 60 feet or more. The system comes with a rear color camera with integrated transmitter, a 5.6-inch color LCD monitor with integrated receiver, a 12-volt-DC accessory plug, a suction cup monitor mount, stainless-steel hardware, and a noncorrosive mounting bracket.
The Digital Wireless Observation System has a manufacturer's suggested retail price of $899.99.
ASA Electronics
2602 Marina Drive
Elkhart, IN 46514
(877) 305-0445
www.jensenrvdirect.com
{loadpositionEndBlurbProducts}