Hundreds of buyers convene in the Arizona desert to bid on handcrafted treasures made by local American Indians.
By Maggie Kielpinski
April 2011
The stretch of Arizona State Route 87 from Winslow toward Keams Canyon did not look promising: interminably bleak, arrow-straight through dry brown grass, its monotony broken by vague, gray mesas on the horizon. This is the land of the Navajo "" Dine (pronounced Di Nay), as they prefer to be called.
As we bored deeper into the reservation, the prairie took on a velvety green patina, gently undulating around majestic buttes "" the unearthly sentinels of Navajo legends. It's easy to understand why Dine would define their boundaries by mountains and why this is their homeland; it's a striking landscape. We turned right on County Road 15, passing through the tiny settlements of Greasewood, Sunrise Springs, and Cornfields, where the scene became practically bucolic: cottonwoods lined parched washes and puffy clouds hovered over low mesas. Ahead, a dusty blue Chevy pickup hurtled down the highway, and in its bed lay two hog-tied sheep, fleece blowing in the wind. As we approached each tiny hamlet, a truck manned by the Navajo police appeared in front of us from nowhere, speed throttled down to 25 miles per hour, as if to make sure we slowed down. In this sweeping landscape, they'd probably seen us coming for miles.
We were bound for Hubbell Trading Post National Historic Site, which has been at the economic center of the Navajo Nation for more than 100 years. John Lorenzo Hubbell, an icon on the reservation, began trading at Ganado in 1876 and bought the post in 1878. He arrived at a time when the Navajos were struggling to come to terms with the changes that threatened their traditional lifestyle. They were back in their homeland and destitute after the brutality of the "long walk" and a futile internment at Fort Sumner. Hubbell became a confidant and a conduit between the Navajos and the U.S. government, forging relationships of trust and respect. This was the beginning of the trading post culture and the synergistic community spirit that exists to this day.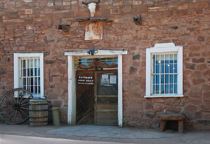 Realizing that quality Navajo rugs could be marketed to households across the country, traders collaborated with the weavers on designs that would appeal to the masses. (The trading post has framed examples painted by Western artist E.A. Burbank in the rug room.) They provided dyes and yarns and advice. Today's designs are derived from traditional symbols "" geometrical shapes, squash blossoms, chevrons, diamonds, the natural elements, the spirit world, and pictorials of the world around them. No two rugs are the same. The weaver rarely uses a sketch or a template. Mary Lee Begay, who wove at the trading post for 34 years, said, "It takes a lot of hard thinking." In the spirit of "ho-zho," the Navajo philosophy of beauty, order, harmony, and balance, a spirit line is woven into a corner of the rug that allows the weaver's spirit to exit, thereby letting him or her create more beauty in another textile.
In the vast Arizona Territory at the turn of the 20th century, the Hubbell Trading Post was the only lodging for miles, and curiosity about the legendary West attracted writers, painters, adventurers, and even a president. A guestbook at Hubbell would read like a who's-who of the literary and cultural elite of the day. D.H. Lawrence, Mabel Dodge, Zane Grey, Will Rogers, and President Theodore Roosevelt were just a few who shared these rustic quarters. The family home was strewn with paintings (some say it was as though Hubbell papered his walls with them). The art was bartered in return for Hubbell's hospitality, and he eventually amassed what may be the premier private collection of Western art in the United States. Today the tradition continues in special programs for artists.
In 1967 the Hubbell family sold the trading post, the art collection, and historical artifacts to the National Park Service, which, to its credit, preserved the 160-acre homestead as a working trading post and museum. You're as likely to see a Navajo woman purchasing a 25-pound sack of flour as a tourist buying a rug. The visitors center contains a bookstore, exhibits, and rug-weaving demonstrations. Park rangers conduct tours of the family residence.
If you don't happen to visit during one of the two annual Native American Art Auctions, to be held this year on May 14 and September 17, you still will have plenty to see. For a $2 fee (visitors over age 16), you can tour the Hubbell family home and admire original rugs, paintings, furniture, and learn what life was like for the family. Then, explore the trading post complex, which includes gardens, a barn, a corral, guest buildings, a bunkhouse, offices, and the trading post itself. Throughout the harvest months (August through October), you can purchase produce grown in the Hubbell garden and the Ganado community at a farmer's market on the grounds.
For the past 15 years, the nonprofit Friends of Hubbell organization has run the Native American Art Auctions, which benefit the local weavers and fund scholarships for deserving kids. We arrived early on auction day and discovered a festive blue-and-white tent erected for the occasion, with a few early birds milling around tables at the morning preview. The aroma of corn soup and mutton stew from the nearby food stalls wafted in.
The items to be auctioned were arranged on tables in a bountiful cornucopia. Blankets, baskets, silver and turquoise jewelry, beadwork, Katsina dolls, and pottery beckoned. Around the periphery, contemporary artists displayed their works, and I could not resist an exquisite buckskin pouch by Jay McCray. It was tiny, just big enough to hold a pinch of corn pollen, and elaborately embroidered with delicate beading.
The auction is popular, but it is a long drive for nearly everyone who attends. Ann Smith has been a volunteer with the Friends of Hubbell group for many years. "People either love this or they can't handle it," she said. "It's the location." She's been resisting the pressure to move the event to a more central site, maybe Gallup or Crownpoint, New Mexico. "But I just feel that it's more authentic here at Hubbell," she said. Judging by the license plates in the dirt lot out back "" some from as far away as New York and Oklahoma "" the remote location may not be a problem for too many.
Once the auction started at noon, the air crackled with anticipation and the bidding became intense. Young Navajo girls, clad in traditional velvet and turquoise, displayed blankets and rugs on stage, their exotic designs clear and incandescent at a distance. The crowd was a mix of dealers, interior designers, collectors, and just plain folks, all looking for that perfect piece at the perfect price. For rugs, prices ranged by size and design. A 32-inch-by-48-inch rug generally commands $425 to $975. Smaller runner rugs can cost $70 to $250. Most items sell on the low end of the retail estimate. Hopi pottery ranges from $25 to $60, and Navajo baskets range from $55 to $310, depending on craftsmanship and antiquity.
We made bids, and we won some and lost some. It was a long day. By 4:00 p.m. we were only about halfway through the program, so it looked like the sale would continue long into the night. As we left, I caught the eye of Althea Littleman of Blue Gap, Arizona, who had been waiting in the background to thank me for purchasing a Klagetoh Navajo style dining table runner she had made.
As we left the trading post, I realized that Navajo weaving is more than a commercial or artistic enterprise; it's an intense cultural expression. I was filled with ineffable admiration for these resilient people and in awe of their artistry. To participate in an American tradition is a privilege, and nothing is more American than Navajo textiles.
Further Info
Hubbell Trading Post National Historic Site
P.O. Box 150
Ganado, AZ 86505
(928) 755-3475
www.nps.gov/hutr
Native American Art Auction
May 14 and September 17, 2011
www.friendsofhubbell.org
RV parking is limited on auction day at the Hubbell Trading Post and at nearby Ganado. Take a towed car to the event. Please note that the Indian reservation follows Mountain Daylight Saving Time (as do nearby states such as New Mexico), but Arizona does not.
Area Camping

Free, no-hookup camping for motorhomes up to 40 feet long is available at Cottonwood Campground at Canyon de Chelly National Monument on a first-come, first served basis. Water, rest rooms, and a dump station are available. Roads are paved, and the campground is set in a beautiful grove of cottonwoods. Contact:
Canyon de Chelly National Monument
P.O. Box 588
Chinle, AZ 86503
(928) 674-5500
www.nps.gov/cach
For a list of campgrounds with hookups in surrounding states, check your favorite campground directory or the Family Motor Coach RV Marketplace, published in the June and January issues of FMC magazine and online at FMCA.com.