Presidents Franklin D. Roosevelt and Jimmy Carter left lasting impressions on the southwestern part of the state.
By Lazelle Jones
January 2011
Georgia has a landscape that begs to be discovered, and the southwestern portion of the Peach State is a Southern jewel. Forty-five minutes southwest of Atlanta and just minutes from the town of LaGrange you will find both natural beauty and proof of man's artistic and architectural genius. The state's claims to presidential fame are exposed between LaGrange to the north and Americus to its south. As you travel to or from Perry, Georgia, to visit with FMCA friends at the FMCA Family Reunion and Motorhome Showcase this March, consider making stops at all of these locations.
Today we are aware of the steps President Franklin Delano Roosevelt took to guide us out of the Great Depression with programs such as the Rural Electrification Act, Social Security, and the Works Progress Administration. His leadership put the country on a winning path during World War II.
However, far fewer Americans know about President Roosevelt's legacy in Warm Springs, Georgia, and the impact he had on the lives of physically challenged individuals. The Roosevelt Warm Springs Institute for Rehabilitation was begun by FDR in 1927 to treat people afflicted by infantile paralysis (polio). Today it provides rehabilitation services to approximately 5,000 individuals with all types of disabilities each year. Guided tours are available weekdays at 11:00 a.m. and 2:00 p.m.
You can begin a self-guided tour at Georgia Hall, where you will see large black-and-white photos from the 1920s,'30s, and '40s that show Roosevelt at the healing waters of Warm Springs. The long history of the clinic and of the many other individuals who played key roles in this immensely important place "" and in the defeat of infantile paralysis "" are juxtaposed next to images of FDR.
Susanne Pike, who I talked with while touring the institute, met FDR in Warm Springs when she was 5 years of age as she and other physically challenged children waded in the warm mineral baths. She was among those invited to Thanksgiving dinner with the president, for he loved being around kids. They were disarming to FDR, because they had no agenda. He could simply relax in the mineral pools and address his own physical therapy while the others attended to theirs. Susanne recalled that President Roosevelt called her Susie, "and I called him Rosie," she said. (For information, call 706-655-5000 or visit http://www.rooseveltrehab.org/.)
FDR purchased property in Warm Springs and built a home, servants' and guests' quarters, and access to the warm natural pools that attracted him there. Today the home and grounds, Little White House Historic Site, is open to visitors, as is a memorial museum, pools museum, and an exhibit featuring the "Unfinished Portrait." While posing for this portrait on April 12, 1945, President Roosevelt suffered a stroke and died a short while later. The site is open daily from 9:00 am. to 4:45 p.m., and a small admission fee is charged (706-655-5870, www.gastateparks.org/LittleWhite).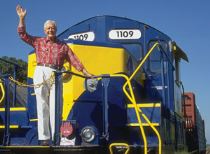 After you have seen the Little White House and the rehabilitation institute, head to Pine Mountain to experience Callaway Gardens, a 13,000-acre setting that has natural and man-made sights. This retreat full of spring blossoms will entice you to wander around the miles of colorful trails, see bird shows and learn about local avian species, and visit the Cecil B. Day Butterfly Center. The resort offers available golf packages, and you can set a tee time if you're inclined to play a round or two. (800-225-5292, http://www.callawaygardens.com/.)
Callaway Gardens was built by Cason Callaway, whose father constructed another grand architectural sight, Hills & Dales Estate. In the very early years of the 20th century (1916), Fuller E. Callaway built this family home in LaGrange. His instructions to the architect as they commenced this giant undertaking were, "This home will be the first I have ever built and probably be the last, so naturally the whole proposition is something that is very close to my heart."
Fuller Callaway was a textile mill owner with a great appreciation for nature. The three-story mansion was placed amid existing gardens that had been planted in the mid-1800s. Mrs. Callaway once told a friend, "Bluebirds, cardinals, and thrushes all make sweet music in the garden and on some nights the mockingbirds serenade with their thrilling and varied notes." Today you can tour the entire mansion and walk through acres of botanical landscapes (706-882-3242; http://www.hillsanddales.org/).
The opportunities for motorhome enthusiasts to end the day where they enjoy being most (in their very own home and in their very own bed) are many and are excellent. At the end of this article is information about RV campgrounds such as Pine Mountain, FDR State Park, and others that have been paired with the natural beauty and mountain scenery that is forever Georgia.
FDR adopted Georgia as his second home, but the Peach State is where the 39th U.S. president was born and raised "" and where he still lives. Plains, Georgia, is the home of President Jimmy Carter. President Carter came from rural America and rose to prominence in an area of the country that was gripped by the spasms of social change. He is a man whose compassion and concern about the worth of all individuals keeps him working to further human rights. He helps families around the globe gain ownership of their own homes through Habitat For Humanity, an organization that is based in Americus, Georgia.
The Jimmy Carter National Historic Site in Plains consists of three parts. Plains High School serves as the historic site's visitors center and houses a museum. The Plains Depot is a self-guided museum with exhibits focusing on the 1976 presidential campaign. The Jimmy Carter Boyhood Farm, a couple of miles from downtown Plains, includes the restored family home "" as it looked before the installation of electricity in 1938. Also on-site are several related buildings, including a country store, barn, blacksmith shop, and two tenant houses. For more information, contact (229) 824-4104 or visit www.nps.gov/jica.
If you plan your visit to Plains correctly, you can attend the church that the president and Mrs. Carter belong to, and if the planets are lined up just right, you can be there as President Carter teaches Sunday school.
In addition to being the headquarters for Habitat For Humanity (800-422-4828, http://www.habitat.org/), Americus is a pretty town with turn-of-the-century Victorian homes and businesses. It's one of those small Southern towns that merits spending some time walking down its main street and sticking your head inside the many country shops and stores. You'll see period buildings such as the Rylander Theater, where theatric, social, and artistic events are routinely enjoyed.
North of Plains is a somber reminder of the atrocities that Jimmy Carter and other concerned world leaders continue to fight. It is an emotionally upsetting place to visit, because it reflects the toll the Civil War took upon the entire country, as well as the price paid by soldiers in wars since then. Andersonville National Historic Site, located a few minutes north of Americus, is where a prison camp, sometimes called Camp Sumter, once existed. It is a setting that was reminiscent of other situations when the dignity of the human race has been violated. During the 14 months it was used by the Confederacy, circa 1864, 45,000-plus Union soldiers were imprisoned there. Due primarily to disease and malnutrition, more than 13,000 men died.
Visitors can see the former prison, a cemetery, and also the National Prisoner of War Museum, where all American prisoners of war are honored. The museum opened in 1998 and includes exhibits about all American wars. (For more information, call 229-924-0343 or visit www.nps.gov/ande.)
Whether your interests extend to marking history, seeing historic homes, or simply strolling across well-planned fields of spring blossoms, you will want to be sure to see the many sights in this part of Georgia. Salute spring and our country's heritage all in one trip!
Area Campgrounds
3 Creeks Campground
305 Old Roanoke Road
LaGrange, GA 30240
(706) 845-7655
www.3creeksentertainment.net/3_creeks_camp_ground
Brickyard Plantation Golf Club & RV Park
1619 U.S. Highway 280 East
Americus, GA 31709
(229) 874-1234
http://www.brickyardgolfclub.com/
F.D. Roosevelt State Park
2970 State Route 190
Pine Mountain, GA 31822
(800) 864-7275 – Reservations
(706) 663-4858 – Park
www.gastateparks.org/FDR
Holiday Campground West Point Lake
954 Abbottsford Road
LaGrange, GA 31833
(706) 884-6818
http://westpt.sam.usace.army.mil/camp/holiday.htm
Pine Mountain RV Resort
8804 Hamilton Road, Hwy. 27
Pine Mountain, GA 31822
(706) 663-4329
http://www.pinemountain.rvcoutdoors.com/
Plains RV Park
Highway 45 North
Plains, GA 31780
(229) 824-3589
http://5starcampgrounds.com/plains-rv-park