CB Radio
The 29 LX citizens band radio from Cobra Electronics is said to take driver communications to the next level.
The 29 LX features customizable night and day settings for enhanced readability and a selectable four-color LCD display. The large center scroll knob provides one-touch programming for easy setup and channel changes. It also features Channel Scan and Memory Scan, SWR calibration to set and monitor the antenna, RF Gain to clarify incoming signals, and Cobra's adjustable Dynamike boost to increase voice clarity. The radio automatically scans for the nearest NOAA weather channel for the latest alerts, and it includes instant access to emergency channel 9 and information channel 19.
The 29 LX has a manufacturer's suggested retail price of $149.95.
Cobra Electronics Corporation
6500 W. Cortland St.
Chicago, IL 60707
(773) 889-8870
www.cobra.com
---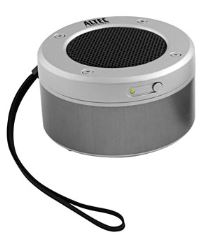 Portable Speaker
The Orbit MP3 portable speaker from Altec Lansing lets users share music on their MP3 player, CD player, music-enabled mobile phone, or laptop with others.
According to product literature, the compact speaker provides full-bodied sound in all directions. It includes an integrated 3.5-millimeter cord to connect to a wide range of electronic devices for clear, distortion-free music. The speaker comes with a mobile phone adapter, a carrying case, and three AAA batteries that will provide up to 24 hours of play time.
The Orbit MP3 has a manufacturer's suggested retail price of $29.95.
Altec Lansing
535 Route 6 & 209
Milford, PA 18337-0277
(800) 258-3288
(570) 296-4434
www.alteclansing.com
---
Key Organizer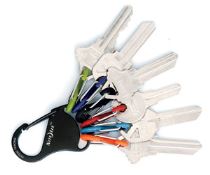 The Nite Ize Inc. Key Rack will keep your motorhome, storage compartment, and towed vehicle keys organized and easy to access.
The stainless-steel carabiner includes a secure gate closure on one end that can be clipped to anything with a loop. The other end features a slot opening that holds six different colored S-Biners, making it easy to organize various keys by color. When a key is needed, open the S-Biner gate and slide it off the Key Rack.
The Key Rack has a manufacturer's suggested retail price of $4.99.
Nite Ize Inc.
5660 Central Ave.
Boulder, CO 80301
(800) 678-6483
(303) 449-2576
www.niteize.com
---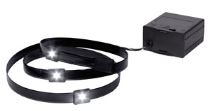 LED Lights
The 3M LED Tape Light – Multipurpose is a fast and flexible lighting solution for tight areas where extra illumination is needed.
The 3-foot-long, flexible strip comes with a battery pack (requires 8 AA batteries; not included) that can be attached, mounted, or hung. The light, which is designed for indoor and outdoor applications, includes three 1-watt LEDs that provide illumination for up to 12 hours. The light mounts to nearly any flat surface using the provided 3M adhesive, making it a welcome light source for storage compartments, toolboxes, and other small spaces.
The LED Tape Light – Multipurpose has a manufacturer's suggested retail price of $70. Versions with a 12-volt-DC electrical connection or a 12-volt wall plug also are available.
3M Company
3M Center
St. Paul, MN 55144
(877) 666-2277
www.3mcollision.com
---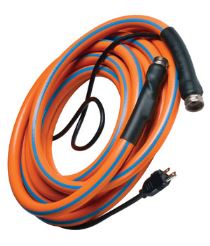 Heated Hose
The Pirit Heated Hose from Sykes Hollow Innovations Ltd. is designed for those who need a water source delivered in freezing temperatures.
The hose is available in three lengths and has an electrical plug that, when attached to a 120-volt-AC outlet, activates the heating element built into the hose material. The thermostatically set water line turns on should the ambient temperature outside the hose reach approximately 45 degrees Fahrenheit, and turns off the heating element when the temperature reaches approximately 57 degrees. With the hose plugged in, water will never freeze inside it. All hoses are made of PVC material approved by the FDA for potable water and high-quality nickel-plated brass fittings.
The Pirit Heated Hose has manufacturer's suggested retail prices of $99.95 (25-foot), $139.95 (5o-foot), and $199.95 (100-foot).
Sykes Hollow Innovations Ltd.
278 Airport Road
Manchester Center, VT 05255
(888) 747-4844
(802) 549-4671
www.pirithose.com
---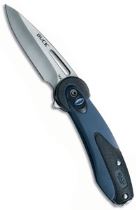 Lockblade Knife
The Revel lockblade knife from Buck Knives is for anyone who needs a lightweight knife designed with safety in mind.
The Revel weighs just 2.4 ounces and features a 2 1/2-inch drop-point blade made of 420HC stainless steel. The knife includes Buck's SafeSpin technology, which utilizes button-lock action to open the knife "" push the button with your thumb and swing the blade open with one finger. It locks in both the open and closed positions for additional safety. When closed, the knife measures 3 3/4 inches in length and includes a pocket clip for easy carry. The handle is made of textured glass-reinforced nylon with a rubber overmold for sure grip.
The Revel has a manufacturer's suggested retail price of $30.
Buck Knives
660 S. Lochsa St.
Post Falls, ID 83854
(800) 326-2825
www.buckknives.com
---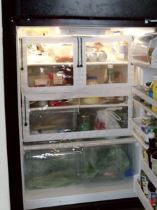 Refrigerator Protection
The RV Fridge Guard from Christar's Net Inc. is designed to prevent items from falling out of the refrigerator when the door is opened after traveling.
The portable RV Fridge Guard installs on the inside of the refrigerator via Velcro strips attached to a pair of tension rods that hold it in place. The product is made of clear vinyl, so users can view the items inside when they open the door. A small window flap can be opened to retrieve objects inside and then closed to keep the cold air inside. The RV Fridge Guard is said to fit up to 80 percent of RV refrigerators.
The RV Fridge Guard has manufacturer's suggested retail prices of $39.95 (6-to-7 cubic-foot size), $44.95 (8-cubic-foot size), and $49.95 (10-to-12-cubic-foot size).
Christar's Net Inc.
P.O. Box 41565
Long Beach, CA 90803
(562) 477-4210
www.christarsnet.com
---

Sweeper
The Perfect Sweep Turbo from BISSELL is a lightweight, rechargeable sweeper that is said to be the ideal travel companion for any motorhome owner.
The cordless sweeper automatically adjusts to almost any floor surface, including bare floors and low-pile carpet, to pick up dirt, pet hair, and more. It also can be used as a hand sweeper with the handle removed. When the job is complete, the sweeper can be disassembled and stored under a couch or in a drawer. The unit provides up to 60 minutes of cleaning power when fully charged using the included DC adapter.
The Perfect Sweep Turbo has a manufacturer's suggested retail price of $39.99. Receive $5 off your purchase by entering the code "perfectsweepRV" when ordering online. The offer runs through May 2012.
Bissell
P.O. Box 3606
Grand Rapids, MI 49501
(800) 237-7691
www.bissell.com
---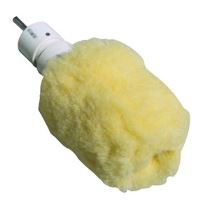 Wheel Cleaner/Buffer
The Shine Pro from Steel Fabrication Technology is a timesaving device for cleaning and buffing chrome or aluminum wheels.
The unit fits into the chuck of any 3/8-inch or larger electric drill and is used to clean, apply wax to, and polish motorhome wheels. Its recessed end and custom-made synthetic lambskin mitts are designed to fit over the lug nuts of 22.5-inch wheels. The unit incorporates a slip ring that facilitates two-handed operation for maximum control. Shine Pro also can be used to polish exterior coach body armor and other metal components. When you're finished with the device, just operate it in a bucket of clean water and let it air dry.
The Shine Pro has a manufacturer's suggested retail price of $29.95 plus $10 shipping and handling.
Steel Fabrication Technology
1429 Kilrush Drive
Ormond Beach, FL 32174
(386) 214-5118
www.zuffs.com