Multi-Tool
The 12 Survivors Multi-Tool is a handy, versatile device that includes all the basic tools you may need in a compact, lightweight, handheld unit.
The Multi-Tool includes a small and a large flathead screwdriver; a Phillips-head screwdriver; a knife; a saw; needle-nose pliers; a file; an awl; and a can/bottle opener. The all-aluminum frame provides strength to handle all types of jobs, and the locking mechanism ensures that the tool remains in the open position until the job is finished. The tool comes with a nylon pouch and a snap-button loop for easy attachment to additional gear.
The 12 Survivors Multi-Tool has a suggested retail price of $35.99.
12 Survivors
2201 Heritage Parkway
Mansfield, TX 76063
(817) 225-1631
www.12survivors.com
---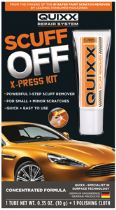 Paint Finish Repair
Quickly remove minor scuffs and marks from a vehicle's finish with QUIXX Scuff Off from WNV Corp.
According to product literature, this one-step polish is designed to treat smaller scuffs and is safe to use on all paint finishes. The kit comes with a 0.35-ounce tube of Scuff Off polish and a polishing cloth. Applied by using a circular rubbing motion, the polish reportedly will remove scuffs in 10 to 20 seconds.
QUIXX Scuff Off has a suggested retail price of $7.99.
WNV Corp.
6100 Blue Lagoon Drive
Suite 105
Miami, FL 33126
(305) 261-6755
www.quixx-usa.com
---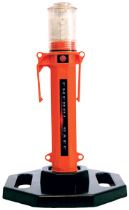 Roadside Safety Light
The Emergi-Safe 2020 LED Traffic Warning Beacon & Flashlight combines the functions of a roadside warning signal and a flashlight in one device.
The light includes 16 wide-angle LEDs — four in each direction — to provide 360 degrees of visibility, along with a 3-watt LED for the flashlight function. Features include a push-button on-off switch that also cycles through the Emergi-Safe 2020's multiple flash patterns; a field-replaceable lens and LED modules; an easy-grip base plate; a universal-fit traffic cone ring; and attachment loops for an optional shoulder strap. The 12-inch-tall device (with base plate) is powered by three D-cell batteries that can provide more than 100 hours of operation.
The Emergi-Safe 2020 has a suggested retail price of $54.95 plus shipping and handling.
Emergi-Safe LLC
P.O. Box 89
Emerson, NJ 07630
(201) 497-3800
www.emergisafe.com
---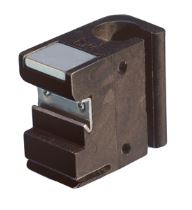 Camp Chair Accessory
The Chair Mate is a convenient accessory that attaches to a collapsible folding chair to make life around the campsite easier.
The device includes a bottle opener, a beverage can opener, and a strong magnet to hold metal objects. The Chair Mate snaps onto the tubular frame of nearly any outdoor recreational chair, providing quick and easy access to its features. It measures 2 1/16 inches long, 1 1/8 inches wide, and 1 7/8 inches high.
The Chair Mate has a suggested retail price of $9.99.
Chair Mate LLC
1724 E. Aspen Way
Gilbert, AZ 85234
(602) 799-9320
www.chairmate.com
---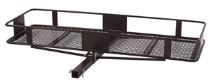 Cargo Carrier
Add more carg0-carrying space with the Ultra-Tow Premium Folding Cargo Carrier from Northern Tool + Equipment.
The 60-inch-long-by-20-inch-wide carrier connects to any 2-inch Class 3 receiver hitch and can support up to 500 pounds of cargo. It features a steel mesh floor and heavy-duty 5/8-inch-diameter all-steel tubular construction. The 6-inch-high side rails help keep cargo securely in place. The 2-inch-square hitch tube has a 14-inch drawbar to connect to a motorhome, and the entire carrier folds up when not in use.
The Ultra-Tow Premium Folding Cargo Carrier has a suggested retail price of $129.99.
Northern Tool + Equipment
2800 Southcross Drive W.
Burnsville, MN 55306
(800) 221-0516
(952) 895-6866
www.northerntool.com
---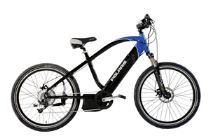 Hybrid Bicycle
Polaris Industries Inc. and EVantage Ltd. have introduced the Polaris eBike, a new line of innovative bicycles for work, play, or sport.
The eBike is an eight-speed bicycle equipped with a 450-watt DuoDrive brushless electric motor that operates on a removable, rechargeable ProRide lithium battery. The bike can travel up to 30 miles on a single charge at a speed of up to 20 mph. The bike features BioSync pedal assistance technology and power-on-demand throttle control, allowing riders to pedal, use the motor, or a combination of both. It also includes a regenerative braking feature to recharge the battery when braking or when the bike exceeds 20 mph.
Three Polaris eBike models are available, each with a suggested retail price of $2,495.
Polaris Electric Bikes
EVantage Ltd.
1444 Biscayne Blvd.
Suite 111
Miami, FL 33132
(855) 382-6824
(305) 538-1406
www.polarisebikes.com
---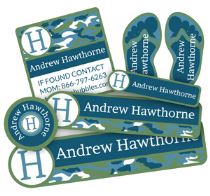 Identification Labels
Make sure all of your camping gear and recreation items find their way back to you in the event they are accidentally left behind by using Camp Labels personalized name labels from Name Bubbles LLC.
Each pack comes with 102 or 108 (depending on the style) laminated labels that can be attached to gear, clothing, shoes, or any other items you don't want to lose. The labels are laundry- and dishwasher-safe, aren't affected by sun block or insect repellent, and are waterproof and weatherproof. You decide the style, color, and contact information for the labels when ordering.
The Camp Labels Pack has a suggested retail price of $38.88.
Name Bubbles LLC
1 Fairchild Square
Suite 114
Clifton Park, NY 12065
(866) 797-6263
www.namebubbles.com
---

Slap-On Reminders
Have you ever forgotten to lock the exterior storage compartments, retract the leveling jacks, put down the antenna, or perform other must-do tasks before traveling? If so, RVminders from Vortex Media can help eliminate these mistakes before they result in a major repair bill.
A set of RVminders includes 10 slap-on straps that wrap snugly around the steering wheel to help owners remember what needs to be done before the motorhome is started. Eight of the straps include common RV reminders (TV/Satellite Antenna, Dinghy/Trailer, Slide Locks, etc.) and the two blank straps can be customized. The 9 1/4-inch-long-by-1 1/4-inch-wide straps won't fall off, yet take only seconds to remove when it's time to go.
A set of RVminders has a suggested retail price of $18.
Vortex Media
5600 Post Road
#114-335
East Greenwich, RI 02818
www.rvminders.com
---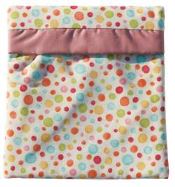 Cooking Bag
According to product literature, the Corn-N-Tater Microwavable Cooking Bag from Homecooked Shortcuts Inc. is a cost-effective, hassle-free way to quickly prepare delicious vegetables and more in the microwave oven.
The reusable bag is made of cotton and bamboo materials to hold in the food's moisture and flavor. It can be used over and over between washings, because bamboo doesn't mold, is naturally antibacterial, and doesn't retain odors. Use it to cook potatoes, corn on the cob, broccoli, peppers, tortilla shells, bread, and more. The bag is machine-washable and contains no Bisphenol A (BPA) chemicals, which are found in many kitchenware products.
The Corn-N-Tater bag is available in numerous designs and comes with a handy cookbook that includes cooking times for many common food items. The bag has a suggested retail price of $14.99.
Homecooked Shortcuts Inc.
4057 N. Woodlawn Court
Suite 1
Wichita, KS 67220
(866) 844-7070
(316) 869-2244
www.homecookedshortcuts.com
{loadpositionEndBlurbRVProducts}