Universal Remote
Replace the multiple remote controls needed to operate the audiovisual components in your motorhome with the Acoustic Research Xsight Touch universal remote from Audiovox Accessories Corporation.
The Xsight Touch features a 2.2-inch color LCD touch screen that allows users to create single-choice activities such as "Watch TV" or "Watch DVD," favorite-channel lists, and up to six personal profiles defined by person or genre for instant access to favorite channels. The Xsight Touch can control up to 18 devices and sends out IR (infrared) and RF (433 MHz radio frequency) signals, making it possible to operate devices hidden in cabinets. The remote comes with a rechargeable lithium-ion battery and a charging cradle and is said to be easy to set up.
The Xsight Touch universal remote has a manufacturer's suggested retail price of $249.99.
Audiovox Accessories Corporation
111 Congressional Blvd.
Suite 350
Carmel, IN 46032
(317) 218-7300
www.araccessories.com
---
Tie-Down Straps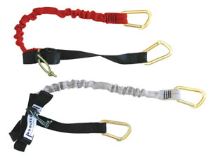 Shockles ShockStrap tie-downs from Simply Brilliant LLC combine the best attributes of a retraction strap and a bungee cord.
The ShockStrap includes a double loop of the company's custom-made shock cord encased in UV-resistant nylon webbing, along with a strong nylon strap. The strap, which can be adjusted from 24 to 60 inches in length, has marine-grade carabiners on both ends for easy attachment. Once the strap is in place, cinch to the tightness desired and secure the loose end.
A pair of ShockStraps, available in four colors, has a manufacturer's suggested retail price of $35.95.
Simply Brilliant LLC
1832 Cascade St.
Hood River, OR 97031
(888) 557-6464
www.shockles.com
---
Alarm Clock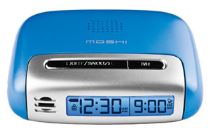 The Moshi Voice Control Travel Alarm Clock allows users to activate nine voice-control commands, including setting the time and alarm, "hitting" the snooze, and asking for the temperature. The device is equipped with "Technology That Listens," which means it will recognize voice commands without any setup required. It measures 3.75 inches wide, 2.75 inches deep, and 1 inch high; weighs 2.7 ounces; and is powered by three AAA batteries.

The Voice Control Travel Alarm Clock is available in four colors and has a manufacturer's suggested retail price of $24.99.
Moshi Lifestyle
P.O. Box 572002
Tarzana, CA 91356
(877) 556-6744
www.moshilifestyle.com
---
Voltage Booster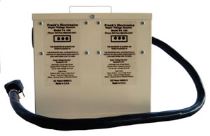 The new Super Automatic 50-amp voltage booster with 100-amp capacity from Frank's Electronics is said to protect a motorhome's electrical system when plugged into a campground's service pedestal.
According to product literature, the device will boost voltage up to 16 percent automatically, and it provides surge protection in all modes. The booster, which comes with a pair of 50-amp circuit breakers, will shut off power when the voltage drops to 93 volts or lower, or when it increases to 129 volts or higher. When input voltage is normal, the boost is bypassed. The unit also checks for correct polarity and ground fault when connected to the electric hookup.
The 50-amp voltage booster with 100-amp capacity measures 9 inches tall, 10 inches wide, and 6 inches deep and weighs 40 pounds. It has a manufacturer's suggested retail price of $899 plus shipping.
Frank's Electronics
10221 Green St.
Temple City, CA 91780
(888) 624-3347
(626) 443-4281
www.voltagebooster.com
---
Window Cleaner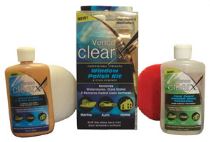 According to product literature from Venco Marine Inc., the Clear X Glass Polish and Stain Remover Kit will remove water marks and spots on windshields and mirrors and polish the glass to a high gloss. The product has been used by the cruise ship industry for years and is now available to the consumer market. One treatment reportedly lasts several months.
The kit contains a 4-ounce bottle of Glass Polish and Stain Remover to clean and polish the glass; a 4-ounce bottle of Clear Guard Polymer Protection to keep dirt from sticking to the glass; two buffing pads; and an instruction manual.
The Clear X Glass Polish and Stain Remover Kit has a manufacturer's suggested retail price of $19.98 plus shipping and handling.
Venco Marine Inc.
2012 Hayes St.
Hollywood, FL 33020
(888) 650-2585
www.vencomarine.com
---
Leveling Device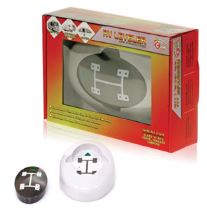 The RV Leveler, designed by Davison Inc. for CIPA-USA Inc., makes it possible for users to level their motorhome from inside or outside.
The device includes a base unit that remains in the motorhome and wirelessly communicates with a handheld unit that receives the signal up to 100 feet away. The four-light LED display on both units enables the user to see which corners are level (green lights) and where adjustments need to be made (red lights). The base is powered by one 9-volt battery, and the handheld unit operates on two AAA batteries.
The RV Leveler has a manufacturer's suggested retail price of $59.99.
CIPA-USA Inc.
3350 Griswold Road
P.O. Box 611065
Port Huron, MI 48060
(800) 872-2472
www.cipausa.com
---
Exit Window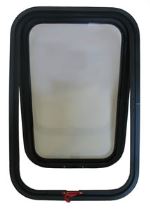 All-Rite Custom Manufacturing now offers custom-made exit windows built to a motorhome's rough hole window measurements and shipped in 48 hours.
According to product literature, the windows are made of heavy-duty "z"-channel framing; include top hinges with reliable, easy-to-use safety handles; and are double-sealed for superior wind and rain resistance. All windows are clamp-ring-mounted for a smooth exterior finish in polar or black colors, with dark, light, or clear glass available. All-Rite's complete line of windows, including torque, angled, and insulated styles, can be ordered as exit windows.
For a price quote, visit www.all-rite.com or call (800) 642-9988.
All-Rite Custom Manufacturing
1500 Shelton Drive
Hollister, CA 95023
(800) 642-9988
(831) 636-9566
www.all-rite.com
---
Sewer Drain System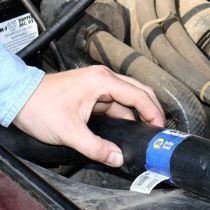 The SmartDrain sewer system from Thetford Corporation promises to eliminate many of the problems associated with draining the waste tanks.
The SmartDrain includes a 15-foot hose "" which shrinks to 5 feet "" made of ThermoLast material, which reportedly is ultra-pliable and puncture- and UV-resistant. The system also includes SureLock fittings for fast and easy connection; a 90-degree nozzle fitting with a handle to keep users clean; an RV valve adapter that connects to the RV's waste outlet; and a universal sewer fitting that is compatible with numerous threaded and press-fit sewer pipe opening sizes, eliminating the need for weights to keep it in place during use.
The SmartDrain has a manufacturer's suggested retail price of $69.99.
Thetford Corporation
7101 Jackson Road
Ann Arbor, MI 48103
(800) 543-1219
(734) 769-6000
www.thetford.com
---
Multi-Use Tool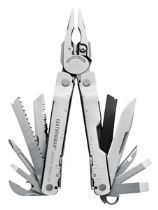 The Leatherman Super Tool 300 includes 19 different tools in a compact stainless-steel body.
The Super Tool 300 features needlenose and regular pliers; three types of wire cutters, two of which can be removed for sharpening; a wire stripper and an electrical crimper; three flathead screwdrivers and a Phillips screwdriver; straight-edge and serrated knives; a wood/metal file; a saw; a bottle opener; a can opener; a 9-inch ruler; and an awl with a thread loop. The stainless-steel handles include cutouts for access to the tools when working with gloves on, and all blades and tools lock open and closed for added safety.
The 4.5-inch (closed) Super Tool 300 weighs 9.6 ounces and comes with a leather or nylon sheath. It has a manufacturer's suggested retail price of $84. A black oxide version with a cap crimper is priced at $97.
Leatherman Tool Group Inc.
P.O. Box 20595
Portland, OR 97220
(800) 847-8665
(503) 253-7826
www.leatherman.com
{loadpositionEndBlurbProducts}