Lightweight, portable, and easy to store, folding bicycles are a great way to enhance one's RV travels.
By Peter D. Du Pre
February 2010
Many motorhome owners choose to tow another vehicle to use as transportation once they reach their destination. This makes for a convenient way to see the local sights. For an even more intimate look at the local environs, and time to appreciate the outdoors, taking along two-wheeled transportation is a great option.
I'm not much in favor of hanging bicycles off the back of the motorhome, as they collect dirt and grime during transport and also are subject to theft. True, you can slide a bicycle lengthwise into a pass-through basement storage compartment, but that takes up loads of space, which seems to always be at a premium in a motorhome. Another possibility to consider is purchasing a folding bike.
Buy a folding bicycle or two, slip them into their storage bags, and pack them neatly away in an exterior compartment or interior closet. When you arrive at your destination, pull out the bikes, unfold them, and pedal away into the countryside.
Unlike portable bikes from just a few years ago, today's high-tech folding bicycles are sturdy, lightweight, easy to open and close, and strong "" so much so that paratroopers from around the world jump out of airplanes with them so that they have silent and ready transportation when they reach the ground.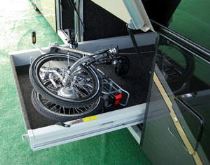 Now, chances are you won't be jumping out of a military transport plane anytime soon, but you can go just about anywhere on a folding bicycle, because there is one for virtually every type of bicycling activity you can name. Do you like bicycle touring? There's a folding bike designed just for that purpose. Want to go mountain biking or racing? Folding bikes are made for that, too. How about just noodling around the campground? Yep, there's one for that as well.
Best of all, there is a bike for every ability and budget. You can spend as little as a couple of hundred dollars on a folding bike, or as much several thousand. It all depends upon your needs, pocketbook, and desires. To help you decide which bikes may satisfy your requirements, here's some information about a number of foldable-bike manufacturers along with several of their products.
---
Bike Friday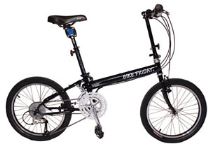 Based in Eugene, Oregon, Bike Friday has been designing and manufacturing high-performance folding bicycles since 1992. The company currently has more than 60 dealers around the world (plus 50 Bike Friday clubs) and offers bikes for just about every type of riding style. Among the company's offerings are sporty road riders with drop bars; fully loaded touring bikes; dirt and gravel road adventurers; city commuters; plus family tandem riding and fast road tandem riding bikes.
A key advantage is that most of this company's bikes fold up and fit into a standard airline-size case, so they take up very little space, making them ideal for RVing. And most Bike Friday bicycles weigh less than 50 pounds when packed, so they won't add much to your cargo weight.
Depending upon the model selected, entry prices are quite affordable. The base Pocket 8 (8-speed with 1.75-inch-wide tires) lists for $850. One of the most popular models is the base Pocket Companion, which features 20-inch wheels and 24 speeds, folds up in approximately 25 seconds to 34 inches by 33 inches by 12 inches, and has a manufacturer's suggested retail price (MSRP) of $995. The 24-speed Pocket Expedition mountain bike starts at $1,195, and tandem models debut at $1,598 for a 16-speed version. Want something specially built to custom needs? Bike Friday offers custom models beginning at approximately $1,000 and ranging up to $7,000. Lastly, if your budget is tight, the company has reconditioned, preowned models that are a great way to get into a high-end model for less.
Bike Friday
(800) 777-0258
(541) 687-0487
www.bikefriday.com
---
Brompton Bicycle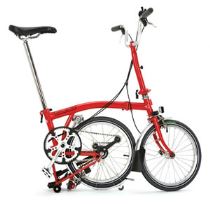 Brompton Bicycle is a British company that was founded in 1975 when landscape gardener Andrew Ritchie decided that he could build a better folding bicycle than the then-popular Bickerton brand. However, growing the company was a struggle, and it wasn't until 1988 that Brompton hand-built bicycles started to gain mass popularity.
What gives these bikes appeal is that there are no specific Brompton models, per se. Instead, each bike is typically built to the customer's specifications. To help make the machines more broadly available, Brompton dealers usually have several bikes for customers to choose from. However, most Brompton owners would rather spec the bike for their own needs and wait for the bike to be built and delivered.
What makes Bromptons so popular is that they are lightweight (20 to 27 pounds) and quick and easy to fold "" as few as 15 seconds for an experienced biker.
As they are hand-built in London and exceptionally well made, the Brompton bikes don't come cheap. Prices start at around $1,000 and go up from there, but price isn't an issue with most Brompton buyers.
All Brompton bikes come with 16-inch wheels; feature a compact fold that is a little larger than the 16-inch wheels, a choice of gears (one, two, three, or six), and a five-year warranty on the frame. One caveat: Brompton bikes are designed and engineered strictly for street use. If you are looking for a mountain bike, you'll need to look elsewhere.
Brompton Bikes U.S. Dealer
C.M.Wasson Co.
(800) 783-3447
www.foldabikes.com
---
Dahon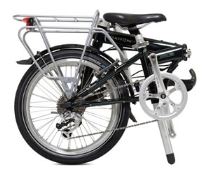 Headquartered in Los Angeles, California, Dahon has been offering folding bikes since 1982 and currently is the world's largest manufacturer of folding bicycles and folding bike accessories, with more than 2 million bikes sold. Unlike Bike Friday and Brompton, which build their products in their home countries, Dahon is a worldwide company, with manufacturing facilities in Taiwan, Macau, the Czech Republic, and China. Parts are sourced from leading companies around the planet.
Dahon offers four types of bikes: Urban Utility (10 models), Urban Performance (10 models), Road Bikes (four models), and Mountain Bikes (one model). The company has more than 1,000 dealers in the United States and Canada that offer models beginning at $379 MSRP.
Although there are too many Dahon models to list in this article, here are descriptions for several of their most popular models.
The Dahon Curve SL folds down to 12.9 inches by 26.9 inches by 24.2 inches and weighs just 22.3 pounds. It features 16-inch tires with a Shimano Capreo 9-speed drivetrain that provides all the gears needed for grueling commutes. Designed to minimize weight, this bike delivers surprising speed in a small package. The MSRP is $999.
The Dahon Speed D7 weighs 27.6 pounds and has a compact fold (11.7 inches by 30 inches by 25 inches). It offers seven gears and 20-inch wheels, and it comes standard with fenders, a rear rack, and a kickstand. The MSRP is $479.
Featuring full-size, 26-inch wheels, the Cadenza 8 has an invisible hinge and looks like a standard bicycle when unfolded. It features an internal eight-speed Shimano drivetrain, weighs 31.1 pounds, folds down to a compact 13.3 inches by 38.6 inches by 33.9 inches, and has an MSRP of $999.
Dahon California Inc.
(626) 305-5264
www.dahon.com
---
Downtube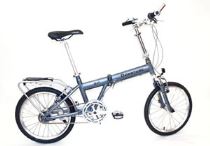 Started as a bicycle resource center in the mid-1990s, Downtube has grown into one of the largest designers and manufacturers of folding bikes. The advantages of Downtube bikes are that they are constructed with a lightweight aluminum frame and are second only to Brompton in the ease of fold, with a collapse time of 15 seconds or less. They also come with a shock absorber suspension system, with a choice of internally mounted eight- or nine-speed gearing, and are priced lower than most other models on the market. Factory MSRPs for the company's four models range from $289 for a base Nova 7 SP to $429 for an 8H with an internal Sturmey Archer hub. What's more, the company's Web site features frequent sales, so it is possible to get into a Downtube for even less. However, don't think that the low pricing is due to poor quality; the company is able to sell its products for less because they design, import, and retail their products through their own dealer network.
Like Bike Friday, a folded Downtube will fit into a regulation airline-approved suitcase, so a minimal amount of storage space in the basement compartment of a motorhome will be used. Another advantage to these bikes is that they are very comfortable to ride, thanks to the Zoom front suspension fork, height and angle adjustable seating, adjustable stem, and 20-inch tires that provide a low center of gravity. All Downtube bikes come with a money-back 30-day guarantee and a one-year warranty on the frame and Sturmey Archer gearing.
DownTube Bicycles
(215) 245-4032
www.downtube.com
---
Ecobike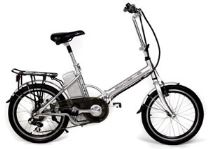 In the folding bike world, EcoBike is unique because its Vatavio model is an electrically powered bicycle that can be folded. It is perfect for riders who may need a little assistance to get started and climb hills, or those who have physical limitations that preclude long-distance pedaling. Weighing just 48.6 pounds (with battery), the Vatavio utilizes a 290-watt electric motor powered by a rechargeable 36-volt lithium-ion battery that gives the bike an operating range of up to 20 miles in the pedal assist mode, and a top speed of approximately 20 mph.
When folded to its storage size of 35 inches by 17 inches by 29 inches, the six-speed Vatavio will easily fit into a car trunk or RV storage compartment. The bike's MSRP is $1,580, and it comes with a five-year warranty on the frame, plus a one-year warranty on the battery.
EcoBike North America Inc.
(877) 201-4579
(805) 576-7633
www.ecobike-usa.com
---
Montague Bikes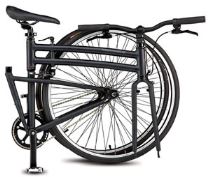 With a folded size of 36 inches by 28 inches by 12 inches, Montague bikes aren't quite as space-efficient as the smaller folding bikes, but that's okay, because these machines are full-size bicycles with 26-inch and 700c wheels designed for serious bikers. The frame is built from 7005-series aircraft-grade aluminum with suspension or rigid forks. The patented Folding Integrated Technology system assures that no tubes are sawn in half to make the fold. Consequently, these bikes are a little heavier than other folding two-wheelers (24 to 32 pounds), but they make up for it in ruggedness. In fact, the U.S. Marine Corps uses the Montague Paratrooper model for its airborne fighting units.
In 2010 the company introduced a new lineup of folding bicycles, with four of them designed for on-road pavement use with 700c wheels. The Boston is the first-ever 700c single-speed folding bike; the FIT is a 27-speed high-performance road bike; the Navigator is touted as a 27-speed commuter bike with fenders and a carrying rack; and the Crosstown is a seven-speed bike that provides a comfortable ride whether you're biking for fitness or just getting around . Montague also has a trio of SwissBike mountain bikes to choose from, as well at the Paratrooper for use over rugged terrain. Prices range from $549 to $2,439. All Montague bikes come with a limited lifetime warranty on the frame and a one-year warranty on all other components.
Montague Corporation
(800) 736-5348
(617) 491-7200
www.montaguebikes.com