As the RV industry celebrates its centennial in 2010, one of the industry's leading historians provides a glimpse into the innovation and ingenuity that have propelled the development of recreation vehicles of all types.
By Al Hesselbart
January 2010
For 100 years, the history of both motorized and towable recreation vehicles has been a story of the American vagabond and our desire to travel and see our wonderful country, and that of our neighbors, at our own pace. From the earliest days of the automobile, travelers, both here and abroad, have placed their supplies in, on, and around their vehicles and headed down the open road "" in many cases, even before the roads existed. Before the advent of the RV, the only way to travel in comfort and enjoy the countryside was by private rail car, which severely restricted the ability of travelers to visit places off the rail networks.
While many homemade contraptions of varying degrees of utility were seen earlier, and horse-drawn camping vehicles had been available for years, the vehicle recognized as the first production RV with self-contained camping features was the 1910 Touring Landau by the Pierce Arrow motorcar company of Buffalo, New York. The Landau was a chauffeur-driven limousine whose backseat converted to a bed. It included a fold-down washbasin on the back of the front seat, a kitchen basket, a toilet, and storage boxes that replaced the running boards. Perhaps this could be identified as the first basement storage and the first Type B motorhome. A telephone connected the passengers to the chauffeur for directional communication. C.W. Post, the cereal magnate, reportedly paid $8,250 for a Touring Landau that provided hot and cold running water in addition to the standard features. After 1912 the Landau was sold as the George Washington Coach.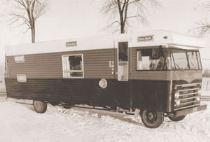 By 1915, Gustav Bretteville of San Francisco, California, had invented and begun manufacturing and marketing the Automobile Telescope Apartment. It was an aftermarket camper, much like a slide-in truck camper, that mounted on the back of Model T Ford runabouts or early pickups. This unit was remarkable in that it had a series of slideouts ("telescopes"). The body slid straight out the back, and then storage units slid out from either side of the first slide. One side produced a kitchen, and the other produced wardrobe storage. Sleeping quarters were in the center. Advertisements for the unit displayed a shower that used water run through the radiator for warming. The basic apartment was advertised for $100, with the purchaser performing the installation.
At the same time, Superior Custom Truck Builders of Toledo, Ohio, was advertising a huge "Land Yacht" for sale for $2,850. This monster rig was very well appointed even by today's standards. It was powered by a six-cylinder 60-horsepower engine and used nine forward and three reverse gears. It included a generator to run lights and the electric stove and furnace; a bathroom with a shower; hot and cold water fed by gravity from overhead storage tanks; folding Pullman berths for six passengers and a "crew" of two; and a stairwell to the upper deck that was equipped with a "phonograph for dancing." As standard equipment, it also included a suitcase that held two folding bicycles as "lifeboats." One of these amazing Land Yachts is known to have journeyed with a party of six on board from upstate New York to the 1915 World's Fair in San Francisco, and back, with no paved roads for nearly the entire trip.
Most of the features that we recognize in our recreation vehicles of today were conceived by the earliest of RV pioneers. By World War I time, we had tent trailers, travel trailers, hybrid travel trailers with fold-out tent beds, fifth-wheel trailers, and motor coaches of all sizes. Appliances were state-of-the-art for the time. Only the improvements of 100 years of technology have made them different, if not better.
By the mid-1910s, many manufacturers were offering folding tent trailers as a much more affordable traveling home. By the late teens, other forms of RVs had come into the picture. The fifth-wheel trailer was created in 1917 by Glenn Curtiss, the aviation pioneer, using the spare tire and "fifth wheel" of an auto as the receiver for the king pin hitch. It was first sold as the Adams Motor Bungalo and then, from 1928 on, as the Curtiss Aerocar, often with custom tow vehicles attached.
In the 1920s, many more vehicles began to appear. The Zaglemeyer Kamper Kar was introduced in 1920, and from 1921 to 1928, Anheuser-Busch took over production of the Lamsteed Camp Car when Prohibition curtailed the company's brewing business. The Lamsteed had been developed by the Lambert family, also of St. Louis, who created Listerine mouthwash. Luxurious, totally self-contained house cars began to be more popular in the mid 1920s. Not production units, they were universally custom made by small shops.
The stock market crash of 1929 and the Great Depression created a blip in the growth of RV development, but not for long. By the mid-1930s, more exotic house cars began to appear. The Hunt Housecars were produced for nearly 10 years by famed Hollywood cinematographer Roy Hunt. By the late '30s, nicely equipped house trailers also were becoming popular.
World War II caused another blip in RV growth through the 1940s, but the industry blossomed into full swing in the 1950s with the inception of many giant builders.
Fleetwood was created in 1951, and Holiday Rambler in 1954. Winnebago Industries was founded in 1958 along with many others, and the modern RV was born. The longest house car was the 1954 Executive Flagship, built by mobile home manufacturer Midstates Corporation and offered for sale for $100,000. It measured 65 feet long and had to articulate in the middle so as to be able to turn corners. This vehicle even included a private helipad for one's personal helicopter.
The 1950s also saw the dramatic growth of the truck camper industry, reflecting the popularity of pickup trucks following the war. As truck campers grew in size, manufacturers removed the truck beds and mounted their campers directly on the frame of the trucks, creating "chassis-mounted" campers. Over time, these evolved into today's Type C motorhomes.
The term "motorhome" was first applied to a house car created in 1959 by Ray Frank, a small travel trailer builder from Brown City, Michigan, who made his first unit for private family use. His Frank Motorhomes evolved in 1961 to a molded fiberglass design, and in the mid 1960s became the well-known Travco coaches. The '60s also brought the Chevrolet Corvair air-cooled rear engine-powered Ultravan and the Volkswagen camping wagons.
In 1967 Winnebago Industries applied auto plant assembly line technology to its motorhome production. These affordable, mass-produced coaches very quickly gave Winnebago more than 50 percent of the motorhome market share, since the company's units were selling for about one-half the price of the competition. These mass-produced coaches were the start of the affordable motorhome industry of today.
Until the 1970s, most builders made custom motorhomes to order and did not build fleets of identical vehicles to sell to dealers. That all changed with the success of Winnebago Industries' assembly line practices. The '70s also saw the rise of luxury custom bus manufacturers, such as Blue Bird and Newell. The GMC front-wheel-drive motorhomes became wildly popular in the '70s as well, demonstrating another new technology. This decade also brought a new blip in the growth of the RV industry when the fuel embargoes of 1973-74 and 1979-80 and astronomical interest rates nearly brought the industry to its knees, and nearly half of the manufacturers and dealers went under.
The 1980s ushered in another change in RV design, when bigger units allowed the growth of living comforts in coaches. These included couches, TVs, entertainment centers, and kitchen conveniences such as microwave ovens. Slideouts began to provide greater living space with more homelike comforts coming into the units. Conversely, many mini RVs also were seen in the 1980s.
As recreation vehicles grew more sophisticated, a separation in the RV public began to emerge. While the original RV camping society continued to grow, a new society of RVers began to appear, whose travels were destination-based and for whom the event, and not the trip, was the purpose for RVing. Tree-lined campgrounds and sitting around evening campfires were not necessarily attractive to these new RVers, but the opportunity to travel in comfort and have one's own bed and living accessories at the destination certainly was. This new group of RVers added to the popularity of the lifestyle and is responsible for much of the recent growth in RV living.
The late 1980s and early 1990s brought basement storage into the Type A motorhome, with the late-'80s Fleetwood Bounder and all the others that quickly jumped on the bandwagon. With this design development, Type A coaches now could have nearly as much storage as bus conversions. This led to a dynamic growth in the full-time RVing lifestyle, as travelers could comfortably take all their needed supplies with them. Motorhomes also grew to new lengths of 40 and 45 feet, greatly increasing the interior living comfort.
As we entered the 21st century, units continued to grow bigger and bigger. Travel trailers, fifth wheels, and motorhomes often were supersized like french fries at a fast-food restaurant. Longer lengths; three, four, and five slideouts; and rooftop patios all made it necessary to have bigger and bigger power plants. Full-sized semi tractors pulling monster fifth wheels and tractor-based 45-foot motor coaches made it possible to live in total comfort while pulling nearly any load desired. At the same time, extraordinary fuel costs encouraged downsized rigs also. The modern "big B" van-type units have become more and more comfortable and popular.
Now, when we look forward to the future, smaller, lighter-weight, more fuel-efficient models are reversing the bigger-is-better trend and rapidly growing in popularity. The use of more and larger slideouts is making increased living space available, and these smaller units become more comfortable. We will continue to see improved appliances, magical navigation devices, and easier and more convenient communication equipment. And modern technology is improving safety in ways only seen in science fiction during past years.
What does the future hold? We may again see units capable of flight like the 1970s "heli-home," a prototype helicopter-based RV put forward by Winnebago Industries. We may see the application of self-driving technology (no driver needed), which is being researched for cars today. The days of science fiction are growing closer and closer to reality. The RV lifestyle is ever popular and has grown to attract a widely varied population of users.
Like the amazing changes that have occurred throughout the first century of RVs, the next century will only bring us more and better homes on wheels to enjoy.
Al Hesselbart is a nationally recognized RV historian. He serves as historian, archivist, writer, and librarian for the RV/MH Hall of Fame, Museum, and Library in Elkhart, Indiana. He also has appeared or worked as an RV historian on television documentaries; presented RV seminars at rallies, including FMCA international conventions; written numerous articles; and authored The Dumb Things Sold . . . . Just Like That!, a history of the RV industry (Legacy Ink Publishing; http://www.rvhistorybook.wordpress.com/).
---
FMCA: A Proud History
In July 1963, a small group of "house car" owners gathered on the grounds of the Good Will-Hinckley School in Hinckley, Maine, to view a solar eclipse and share information about their homes on wheels, primarily converted school buses, transit buses, and intercity vans. After months and sometimes years of brainstorming, sweat, and plain old ingenuity by their owners, the owners had transformed these vehicles into impressive homes on wheels "" perfect for family vacations. A few folks at the time were lucky enough to purchase vehicles already designed for life on the road.
During the weekend in Maine, 26 coach-owning families exchanged information, anecdotes, and technical tips about their vehicles. They also discussed at length the merits of forming some sort of club that centered around travel by house car. Wouldn't it be great to belong to an organization devoted to sharing information about these types of vehicles, one that also promoted friendships and fun activities?
Eighteen families at the Hinckley gathering decided to form a nonprofit association. On July 21, 1963, after several names were presented for consideration, "Family Motor Coach Association" was chosen as the official name of the group. This suggestion came from J. Raymond Fritz, L4, who would later become the association's second president.
Bob Richter, L1, who nursed the fledgling organization in his Hanson, Massachusetts, basement for its first year, and served as its first president, recalled that initial gathering in Maine: "It was an experience impossible to describe as we first heard ""and then saw "" the 26 coaches arriving, one after another, with our new friends. The coaches varied from a simple school bus on its fifth engine with only a mattress, a crib, and a stove in it, to a lush executive coach costing well into the six figures. What a sight it was to see them coming up the hill! And what great people!"
Volume One, Issue One of Family Motor Coaching magazine, containing 32 black-and-white pages, was produced in 1964 during the onslaught of a Massachusetts winter. FMCA's first convention also was held in July of that year, drawing 106 member families in Fort Ticonderoga, New York.
By spring of 1965, FMCA had grown to nearly 1,000 families, and its care and feeding was impossible for Bob and his wife, Jean, to keep up with while also managing their own business. That spring, they packed up more than a ton of office equipment, supplies, and files "" plus a couple of bottles of pink champagne "" and delivered everything to Ken and Dotty Scott, L63, who took over administration of the organization in Cincinnati, Ohio. This city has remained FMCA's home ever since.
Today FMCA serves approximately 100,000 member families in the United States, Canada, and beyond. Yet FMCA's roots are commemorated in Hinckley, Maine, with a monument erected on the grounds of the Good Will-Hinckley School.
"" Robbin Gould, Editor