Family & Friends
By Lori Snyder, F1852D
December 2010
"What state do you think we are in?" was the early-morning question between my siblings as we peered out through the blinds at the passing scenery. Dad had driven into the late hours of the night, very content behind the wheel of our motorhome. Sleepy-eyed, we would ramble to the front of the coach and look for any signs of where we might be. Finally we'd have to ask . . . "Where are we?" My dad, George P. Snyder Sr., was the consummate traveler and always made certain his family was along for the ride. Dad passed away on September 21, 2010, at the age of 92.
Those who remember my parents, George and Pat Snyder, L1852, of Fultonville, New York, may recall seeing their motorhome pull into a rally. Dad would emerge with a wide, warm smile; my brother Randy would begin looking for his friends; my sister, Mary Jo, and I (Lori) would check out the sights; and Mom would carry our infant brother Ryan. Through the years, each of us was raised inside a motorhome with weekends and summer trips filled with rallies and adventures revolving around FMCA's summer conventions.
My father's love for FMCA did not stop at chapter rallies or conventions. He served as national director for the Northeastern chapter and was a charter member of six chapters in the 1970s, as smaller geographical chapters were formed in response to the gas crises. During the late 1970s, Dad served as a national vice president (1972-1975) and as the national 2nd vice president (1976-1977). During his tenure as national vice president, there were many times we would emerge from school to find our motorhome in line with the school buses. We would pile in and ask where we were going. Dad's reply might be, "Two rallies; one in New Jersey and one in Pennsylvania." Many times after these trips we would be dropped off at school in the motorhome on Monday morning, having just returned home. Mom was always there to ensure that the coach was packed and the food set for each trip.
Dad also served on FMCA's President's Council (1978-79, 1981-82); the Nominating Committee (1979-80); and the Finance Committee (1982-84). Both Mom and Dad served together on the Youth Activities Committee from 1992 through 1993.
Dad wanted to secure the future of FMCA, and at a time when finances were tight for the organization, the idea of a Lifetime Membership program took bloom to raise money for a national office building. The B.O.O.N. (Buy Our Own Now) fund was started and the building on Clough Pike in Cincinnati, Ohio, seemed like the perfect spot. Dad believed in the idea so much that he was the first to send in his money to become a lifetime member. He thought we should help out as well. At one particular rally, my sister and I won the 50/50 raffle, collecting $50. For two preteens, that was a lot of money. But Dad stepped up and said that we would love to donate it to the B.O.O.N. fund. We were saddened at the loss of all that cash, but he told us, "You now have a stake in that building and its future." We realized we were now part of something larger than ourselves.
Prior to the 1976 summer convention in Centreville, Michigan, FMCA had less than a week before the option to buy that building was to expire. Only $60,000 of the $200,000 needed to purchase the building had been raised. So Dad and Jerry Rifken, L3068, approached the membership at large and told them that their investment of $500 would return manyfold to them and keep FMCA going for years to come. So convincing were these men that all lifetime memberships in this program (a total of 500) sold out, and the remaining $140,000 was raised in three days.
During the 40 years that Dad navigated a motorhome (we owned six in all), he took us to all 48 continental states, to all the provinces of Canada that border the United States, and throughout Mexico. Each one of us learned to drive a motorhome. Mom learned first, and she was just as good a driver as Dad. We have continued the tradition of FMCA, as four of us have been or are current members carrying the F1852 goose egg with either an "S" or "D" designation.
In addition to being an avid motorhomer, Dad was a World War II Navy veteran and had a pilot's license. He was a machinist by trade. He was active in a variety of local service organizations, and from 1952 to 1957 he served as mayor of Fultonville.
In Dad's later years, he was diagnosed with Alzheimer's disease. Even though many memories faded from Dad's mind, he always recognized his motorhome and the faces of some very dear FMCA friends. The disease did not take away his never-ending smile or his desire to travel. We took rides in the van and even ventured to Maine in the motorhome last year. Some days we would drive with no destination in mind and he would say, "It is good to come home, but a nice ride it has been."
George P. Snyder Sr. is survived by his wife, Patricia; sons George Jr., Richard, Randy, and Ryan; daughters Lori and Mary Jo; 13 grandchildren; and four great-grandchildren. Memorial donations may be made to the Alzheimer's Association NENY, 4 Pine West Plaza, Suite 405, Albany, NY 12205.
---
Louisiana Saturday Night
Family & Friends
By J. Glenn Dupree, F362282
December 2010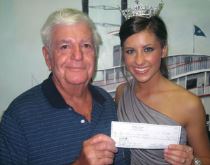 Wow! What a Saturday night we enjoyed at our Cruisin' Cajuns chapter rally, which took place September 9 through 12, 2010, at the Patterson Civic Center in Patterson, Louisiana. The rally attendance was terrific. We had 141 coaches. We have to thank our rally masters, Dave and Sue Edmonson, for their foresight and planning. They decided the theme for this rally would be "Back to School" and to make it a chapter fund-raiser for the Children's Miracle Network (CMN).
The rally masters informed members that we had a surprise guest coming to entertain us on Saturday night and to be sure to be in our seats early. As it turned out, our special guest was Miss Louisiana 2010, Kelsi Crain. She currently is preparing for the Miss America competition in Las Vegas, Nevada, to be aired on the ABC network the evening of January 15, 2011. She took time out to come to our rally and to help raise money for the CMN. Kelsi entertained us with her ballet en pointe performance of "Trouble," a fun, upbeat number that was her talent portion in the Miss Louisiana pageant this past June. She completely delighted the audience and received a great ovation from chapter members, who still were surprised and awed that Miss Louisiana would appear at our rally.
Kelsi also did the "Cupid Shuffle" with chapter members and showed everyone that she could boogie with the best. She took extra time after her performance to sign autographs and have her photo taken.
The ladies held a bake sale on Friday and raised more than $500 for CMN. Chapter president Carol Fontenot was the emcee Saturday night and challenged the members to support the CMN charity. The group responded by giving generously, helping Kelsi raise $3,174 at our rally. She was very grateful and told us that she had never been to a motorhome rally, but now she thought she wanted to buy a motorhome. She shared stories about how CMN helped families with children's health care. We had one member give a testimony about their grandchild who would not have survived had it not been for the CMN. The health care assistance and research carried on by the organization is so important. The Miss America Organization requires all of the state contestants to be involved in community service projects and to assist with the CMN.
I am so proud to have Kelsi Crane represent our state at the Miss America competition in Las Vegas, but I am equally proud of our chapter and the generosity of our members. Kelsi proved what can be accomplished with volunteerism and a spirit to help. Community involvement by groups such as ours and efforts like this will improve the quality of health care for children and make it available for those who otherwise could not afford it.
Thanks to the Miss Louisiana Scholarship Organization for allowing Kelsi Crane to appear at our rally. A special thanks to the Edmonsons and their assistants, John and Brenda Aucoin, for having the vision and dedication to get our members involved and make sure this fund-raiser was a success. Isn't it amazing what great things can be done when leaders have a vision and get committed people to support them? I don't know of any group more committed than the motorhome community and the members of FMCA. Just think what an impact we could have if chapters all across the country got involved in a charity of their choice.
---
PRVVC Food Bank Aids Communities
Family & Friends
By Jane Lihou, F303847
December 2010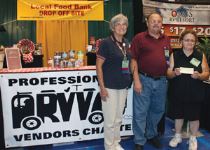 At FMCA's 82nd International Convention in Bowling Green, Ohio, July 20 through 23, 2009, the Professional R.V. Vendors chapter (PRVVC) set up its first donation booth for the local food bank. FMCA members have been generous contributors, and at each rally since, the chapter has collected truckloads of food and hundreds of dollars to give to the needy in the area.
Later in 2009, more than 1,000 pounds of food was collected at the South Central Area (Six-State) Rally in Shawnee, Oklahoma, and personnel at the local food bank were thrilled. DeWafelbakkers, a company that makes waffles and pancakes and hands out samples at FMCA events, has been generous in contributing all their leftovers. In addition, many attendees at these events don't carry an abundance of extra food in their motorhomes, but they contribute cash, for which the food banks are always grateful.
PRVVC members believe that during these difficult economic times, the chapter should give something back to the cities that welcome us during our conventions and rallies. Janet Trannum, PRVVC president said, "In every community across the U.S. there are families in need of food, and our club, along with the generous members of FMCA, can make a difference, at least for the short time we are there."
Thousands of pounds of food and hundreds of dollars have been collected and distributed to those in need since the program began. At each convention or rally site, PRVVC area vice presidents contact the local food banks, set up the booths, and oversee the distribution of the food. PRVVC members promote the food drives at their seminars and booths and donate early so that the food booths are never empty. FMCA helps out by supplying the collection booths, publishing the locations, and promoting the food drives in the rally or convention program.
So, the next time you attend an FMCA convention or rally, bring some extra food and look for the PRVVC food bank booth!
By the way, PRVVC also sponsors the youth activities at FMCA's summer international conventions. We are proud to be a part of this great organization.