Fill That Tank!
Do you fill your diesel fuel tank before parking the motorhome at a campground for an extended time or putting it in storage? You should, and here's why.
A tank that is partially filled with fuel is also partially filled with ambient air that has a certain amount of humidity in it. When the temperature of the tank drops to the dew point of the air in the tank, that moisture condenses. In addition, each day the fuel and air will heat up and expand, forcing the air out the breather tube. As the temperature drops each night, the air is sucked back into the tank through the breather tube. As the air continues to cool, the water vapor in the air will condense and turn to water. Since water is heavier than diesel fuel, that small amount of moisture will go to the bottom of the tank. After this happens 20, 30, or 100 times, a significant amount of water can pool in the bottom of the fuel tank, enough to allow algae to grow and/or cause the tank to begin to rust.
So, fill the tank before parking the motorhome for any extended period of time. With a full tank, there is a much smaller volume of air to condense. Also, liquid (fuel) expands and contracts much less with temperature changes than a gas (air); so there is far less "breathing" of the tank.
If you store your motorhome for more than three months, I recommend adding a biocide treatment to your diesel fuel.
Brett Wolfe, F252125, League City, Texas
---
Slipping Drawers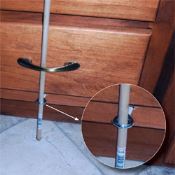 During the many miles I've traveled in my motorhome, I've experienced numerous times when I've had to make quick stops or take evasive action to avoid an accident. In doing so, I've found that sometimes the drawers in the cabinets start to slide all the way out, and occasionally fall to the floor. I started putting dowel sticks through the drawer handles down to the floor, and that helped some. But, then, all the drawers in that stack might come out.
To solve this problem I purchased eyebolts (1/4-inch-by-3-inch) at the local hardware store. I screwed one into the bottom of each wooden cabinet below the last drawer. I then dropped the dowel through the drawer handles and through the eyebolt to the floor. Voila! No more sliding drawers. If the eyebolt is screwed in as far as possible to take up the slack between the bolt and the dowel, it eliminates that irritating rattle as you drive on a rough road.
William E. Dillon, F176343, Flint, Michigan
{loadpositionEndBlurbTips}