Campsite "Garage"
We devised a storage area for our bikes, camping chairs, tables, etc., outside the motorhome by attaching a tarp to the underside of the bedroom slideout using large clamps, and anchoring the bottom with tent stakes and bungee cords. This provides shelter from the elements, and it's very easy to assemble/disassemble and store.
James H. & Norma J. Scism, F198425, Kingston, New York
Editor's Note: Be sure to place a warning flag on the slideout room control to serve as a reminder that stored items need to be removed before the slideout is retracted.
---
Instruction Card
It can be confusing to operate the entertainment systems in our motorhome. It became even more so after installing the digital converter boxes for our TVs. Seemed to me that a handy checklist would make things easier. I made a list of what needed to be turned on so that we could watch our TV in different situations. I printed the information on card stock and, in lieu of laminating it, I covered it front and back with clear mailing tape. I stow it in the compartment where the entertainment system components are installed.
Glenn B. Young, F215792, Kaufman, Texas
---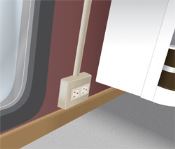 Moving An Electrical Outlet
There was an electrical outlet in the bottom of our kitchen cabinet, which happened to be the only place that we could hang our under-the-counter coffee maker. We moved the outlet to just above the countertop on the wall by using "wire mold" conduit and a shallow box. The vacated hole in the cabinet is covered by the coffee maker. Wire mold is available at home improvement stores.
Editor's Note: Do not attempt to move an electrical outlet unless you have the skills to maintain code-approved wiring.
David & Irene Scheiern, F268350, Azle, Texas
---
Prevent Refrigerator Mold

When storing your motorhome during the off season, keep the refrigerator doors open slightly to allow air circulation. By doing so, odors and mold growth will be almost nonexistent.
An easy way to keep the doors slightly ajar is to place a small piece of plywood that is a little too long to fit inside the refrigerator on one of the unit's shelves. This will keep the door from being inadvertently closed. The accompanying picture shows how easy it is to make.
Frank Woythal, F291956, Andover, New York
---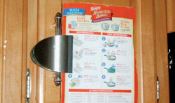 Recipe Holder
Over the years we have found that many RVs have limited kitchen counter space. There is hardly enough room to prepare a meal, let alone have room for your favorite recipe. Our solution is to use a chip bag clip to hold the recipe to a cabinet handle. This frees up valuable space. It also holds the recipe at eye level, making it easier to read and keeping it away from unexpected spills.
Vance & Bonnie Clegg, F51388, Green Cove Springs, Florida
---
{loadpositionEndBlurbTips}