Gloves
Mechanix Wear Inc. Cold Weather Gloves are designed to make working during the cold winter months easier and more comfortable.
The gloves include a fleece top with a wind-resistant barrier along with a rubberized, high-grip, water-resistant palm to make grasping items easier, even in snowy conditions. The upper palm, thumb, and fingertips are double-reinforced and rubberized as an added barrier.
Cold Weather Gloves have a manufacturer's suggested retail price of $19.95 per pair.
Mechanix Wear Inc.
28525 Witherspoon Parkway
Valencia, CA 91355
(800) 222-4296
www.mechanix.com
---
Pet Relaxation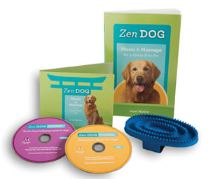 Traveling can cause your pet to become anxious, worried, and hyperactive, making the experience stressful for both the pet and owner. According to company literature, Zen DOG: Music and Massage For a Stress-Free Pet from Pet Acoustics Inc. can provide soothing relief to anxious pets.
The Zen DOG kit comes with a music CD that includes soothing orchestrations to create a calming environment for both pets and people. The music does not contain any jarring volume changes or sub-low or ultra-high frequencies that may agitate a pet. The kit also includes a massage DVD that shows massage techniques as well as a curry brush and an instruction booklet.
The Zen DOG kit has a manufacturer's suggested retail price of $12.95.
Pet Acoustics Inc.
27 Whitehall St., Third Floor
New York, NY 10004
(866) 228-3013
www.petacoustics.com
---
Fire Blanket
The Kitchen Fire Mat from Assistive Stuff can help extinguish small fires before they get out of control.
According to product literature, the 3-foot-square blanket is made of amorphous silica cloth and felt that is fireproof, impervious to direct flame, and resistant to melting until temperatures reach 3,000 degrees Fahrenheit. When used to put out a fire, the blanket does not emit smoke or toxic gases, and it generally can be reused multiple times. The blanket includes handles at one end for ease of use and comes packaged in a fire-hydrant-shaped container.
The Kitchen Fire Mat has a manufacturer's suggested retail price of $49.99.
Assistive Stuff
3310 Highway 62 E.
Suite #248
Jeffersonville, IN 47130
(812) 358-7300
www.assistivestuff.com
---
12-Volt Power Converter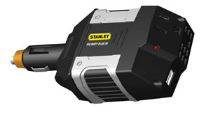 The Stanley 100 Watt Power Converter from Baccus Global LLC plugs into a vehicle's 12-volt-DC port to recharge and power cell phones, personal digital assistants, MP3 players, laptop computers, and other electronics.
The device adjusts to three positions and includes both AC and USB power outlets to provide 100 watts of continuous power. It also includes overload and short-circuit protection, ground fault circuit interrupter technology, and LED power and fault indicators.
The Stanley 100 Watt Power Converter has a manufacturer's suggested retail price of $29.99.
Baccus Global LLC
399 N.W. Second Ave., Suite 150
Boca Raton, FL 33432
(877) 571-2391
www.baccusglobal.com
---
Automatic Generator Start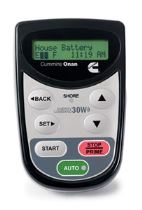 According to product literature, the Energy Command AutoStart (EC-30W ) from Cummins Power Generation is the first generator auto-start system specifically designed for RV owners to install themselves. It works on most Cummins Onan gas, diesel, and LP generators.
The EC-30W is a wireless system that includes a handheld transmitter and a receiver that connects to the generator. Once the device has been installed, the user can remotely start and stop the generator from up to 100 feet away. It automatically starts the generator should the batteries become low or if the temperature inside the motorhome becomes too hot, but it will not start the generator if shore power is detected. The rechargeable remote also displays a generator hour meter, maintenance reminders, and diagnostic text messages for easy troubleshooting.
The EC-30W has a manufacturer's suggested retail price of $499.
Cummins Power Generation
1400 73rd Ave. N.E.
Minneapolis, MN 55432
(800) 888-6626
(763) 574-5000
www.cumminsonan.com
---
Portable Vise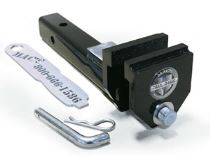 The Trail D-Vise from Mac's Custom Tie-Downs is a lightweight, portable vise that inserts into a vehicle's three-inch hitch receiver.
The 17-pound vise includes high-grip jaws, a triple pipe jaw, and an anvil. The vise can be positioned in 90-degree increments for horizontal or vertical operation. Simply slide it into the receiver, insert the included pin and it's ready to use. A laser-cut steel wrench is included to operate the vise.
The Trail D-Vise has a manufacturer's suggested retail price of $159.95.
Mac's Custom Tie-Downs
P.O. Box 1140
Sagle, ID 83860
(866) 371-5175
www.macscustomtiedowns.com
---
Solar Charger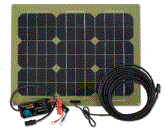 Keep your batteries charged and in excellent working condition year-round with the 25-watt SolarPulse SP25 solar charger from PulseTech Products Corporation.
The 25-watt unit is rated at 1.6 amps and will charge, maintain, and desulfate all types of 12-volt lead-acid batteries, including standard, AGM, and gel types. The SP25 is designed to work with a single battery or up to four batteries connected in parallel. According to product information, the system combines PulseTech's patented high-frequency pulse technology with microprocessor-controlled intelligent charging algorithms to condition and maintain batteries and extend battery performance life.
The SP25 solar charger has a manufacturer's suggested retail price of $999.95.
PulseTech Products Corporation
1100 S. Kimball Ave.
Southlake, TX 76092
(888) 287-9314
(800) 580-7554
www.xtremecharge.com
---
Supplemental Braking System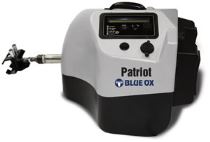 The Patriot auxiliary braking system from Blue Ox is an electric-powered braking system that coordinates with the motorhome's brakes to apply appropriate proportional braking for towed vehicles, allowing for smoother deceleration and reduced brake wear.
The Patriot is controlled by an in-coach wireless RF remote with an easy-to-read LED display, a manual brake lever, and a gain adjustment that can alter the amount of braking. The 15-pound braking unit includes its own battery that supplements any uneven power flow from the towed vehicle to provide consistent and reliable braking at all times. The battery also allows the braking system to operate independently from the motorhome's power source should the tow connection be lost.
The Patriot has a manufacturer's suggested retail price of $1,295.
Blue Ox
One Mill Road
Pender, NE 68047
(888) 425-5382
(402) 385-3051
www.blueox.us
---
TV Antenna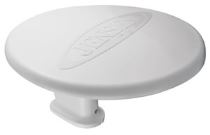 The Jensen ANHD20 Omni-Directional Antenna from ASA Electronics is a stationary, low-profile TV antenna that never needs to be aimed, cranked, or adjusted for reception.
According to product literature, the antenna stands just 10 inches high and has a true 360-degree omnidirectional design. It offers ultra-wide-band reception and requires one coaxial cable connection for both TV and radio reception. And since the antenna is stationary, it does not need to be put down when you're ready to hit the road.
The ANHD20 has a manufacturer's suggested retail price of $119.99.
ASA Electronics
2602 Marina Drive
Elkhart, IN 46514
(574) 266-1533
www.asaelectronics.com
{loadpositionEndBlurbProducts}