Endoscope Cameras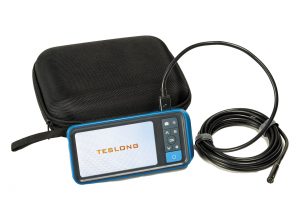 It's inevitable. You drop something behind the sofa and then try to squeeze your arm down between it and the wall, but you just can't reach it. Argh. Or you can't figure out why the drain is so slow, or where those mice are coming in. The people at Teslong created the MS450 digital inspection endoscope cameras for times such as these. They offer a single-lens scope with 16 feet of cord for $89.99, or a dual-lens (forward and side lenses) version with an LED ring light that has 9.8 feet, 16 feet, 32.8 feet, or 50 feet of cord. Dual-lens scopes range from $79.99 to $109.99. The endoscopes can record up to 32 GB of video and can be used in up to 3 feet of water. Accessories such as magnets and hooks help to retrieve items.
Teslong
(877) 899-8809
www.teslong.com
---
Wireless Stereo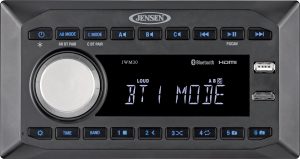 The RV is alive with the sound of music. That's because it now has Jensen's new wall-mounted wireless stereo, which supports six speakers across three zones, each with independent volume control. The JWM30 Mechless Wall-Mount Stereo features dual Bluetooth streaming, which makes it possible for RVers to listen to audio from two different sources, with audio from one device playing in zones A/B, and audio from the second device playing in zone C. So, if you're a little bit country, and your partner is a little bit rock 'n' roll, you can each jam to your own tunes.
ASA Electronics
(800) 688-3135
www.asaelectronics.com
---
Vinyl Decal Cleaner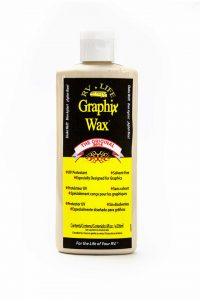 Vinyl graphics add flair to the side of any RV. Who doesn't love a colorful swoosh? But constant exposure to the sun, wind, rain, and dirt is brutal on the decals and could cause them to crack and fade. Regular waxes clean but don't protect the graphics, which is where Graphix Wax from RVbyLife has found a niche. It is formulated specifically for vinyl RV graphics and reportedly won't leave residue along the edge of the graphic. It also is said to be safe for fiberglass and painted surfaces. You just wax on, wax off like the Karate Kid, and your RV is looking good. An 8-ounce bottle costs $12.57; a 16-ounce container is $19.21.
RVbyLife
(800) 382-9706
www.rvbylife.com
---
RV Wash Bucket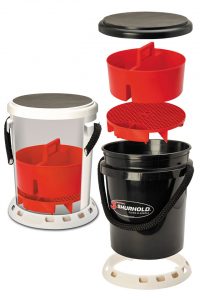 Washing your RV is a chore. Every part of it, including rounding up all supplies needed for the job — the bucket, brushes, soap. What's needed is Shurhold's Deluxe One Bucket System, which stores everything in one place. The 5-gallon bucket comes with a weighted base, a rope handle, and a combination lid/padded seat cushion. Inside the bucket are a series of removable inserts — a bucket grate that allows dirt to sink so your cleaning tools stay clean; two integrated measuring cups; and a caddy with two compartments for storing brushes, rags, waxes, or whatever other products help do the job. The bucket system comes in black or white and costs $64.98.
Shurhold
(772) 287-1313
www.shurhold.com
---
Cell Signal Booster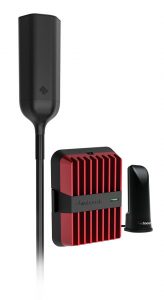 Looking to stay connected no matter where RV life takes you? WeBoost recently introduced Drive Reach RV, which the company touts as its most powerful multiuser, in-vehicle cell phone booster for RVs. It is designed to reach cell towers at distances up to 74 percent farther than the company's Drive X RV. The all-new omni-directional antenna helps to stop dropped calls while improving voice quality, data speeds, video streaming, and more, whether at a campsite or on the road. Drive Reach RV works on all U.S. carrier networks and is compatible with all phones and cellular devices. Price: $499.99.
WeBoost
(866) 294-1660
www.weboost.com
---
Tiny Fan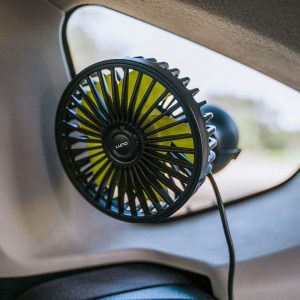 You're always hot, your copilot is always cold, and control of the thermostat is a never-ending battle of turning it up, turning it down, etc. The pint-sized but powerful adjustable Car Camping Fan by Luno may be the perfect mediator. The fan measures only 5 inches in diameter, but it has three speeds — low, medium, and high — as well as an articulating ball mount that lets you attach it to the window or the dashboard at any angle. It uses a standard USB plug and requires a portable battery pack with a USB-A port (not included) to keep it whirling for hours, or the 53-inch power cord is long enough to reach the plug on your dash. The Car Camping Fan costs $34.99.
Luno
www.lunolife.com/products/luno-car-camping-fan
---
Glow-In-The-Dark Tape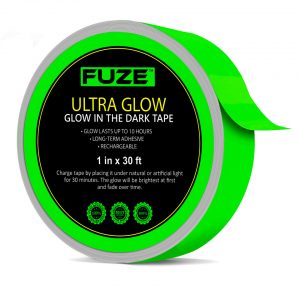 Bonk. You hit your head on your slideout. Crunch. You stub your toe on the corner of the table. Aaaaah. You miss that step and go tumbling. The dark has a thousand points of pain, but Lockport Tape has a solution that has received, well, glowing reviews. Its Ultra Glow tape glows in the dark, shedding light on those hidden hot spots. The tape starts glowing after being exposed to natural or artificial light for 30 minutes and can keep glowing for up to 10 hours. And it's rechargeable, because it's going to be dark tomorrow night as well. It's also water-resistant and suitable for use outdoors. A 15-foot roll of half-inch tape costs $7.99 on Amazon, and a 30-foot roll of 1-inch tape goes for $13.97.
Lockport
www.lockporttapes.com
---
Skylight Insulation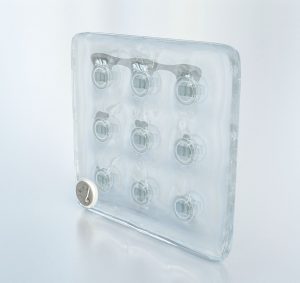 Baby, it's cold outside, and it may be getting cold inside the RV as well if the skylight or vent is letting in winter air. Fortunately, the maker of AirSkirts — which insulate your RV from the outside — has come up with a solution for blocking the air from the inside. Its AirLight Skylight Insulator is a clear, inflatable pillow that stays in place without any adhesive or mounting material. It lets in the sun but blocks the cold or heat. It is approximately 2 inches thick and comes in three sizes: 14 by 14 inches, 19 by 19 inches, or 14.25 by 21 inches. Each one sells for $99.
AirSkirts
(860) 390-5859
www.airskirts.com/product/airlight-skylight-insulator/