Multifunction Watch
The Traileader Jet watch from Tech4o includes a number of features especially useful to outdoor enthusiasts.
The watch includes timer, chronograph, and alarms functions; an altimeter; a barometer; a thermometer; and a compass. It also is capable of calculating speed, distance, and calorie measurements and is water-resistant up to 10 meters. The black LCD features a reversed display and a backlight for nighttime readability.
The Tech4o Traileader Jet watch has a manufacturer's suggested retail price of $159.99.
Tech4o
625 Conklin Road
Binghamton, NY 13902
(800) 572-8822
(607) 779-2222
---
Device Charger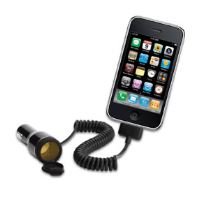 The PowerJolt Plus from Griffin Technology is a 12-volt-DC charger for iPod and iPhone devices that plugs into a vehicle's DC power port. The charger also includes a pass-through socket that makes it possible to power a second 12-volt device at the same time. The PowerJolt Plus features a coiled cable and a built-in SmartFuse for circuit protection.
The PowerJolt Plus has a manufacturer's suggested retail price of $29.99.
Griffin Technology
1930 Air Lane Drive
Nashville, TN 37210
(615) 399-7000
www.griffintechnology.com
---
Tire Pressure Monitoring System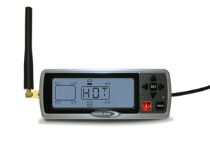 The 360RV Tire Pressure Monitoring System (TPMS) from Doran Manufacturing LLC now includes a high-temperature alarm to alert drivers to a potential blowout situation.
The 360RV TPMS continuously monitors the temperature of each tire. When the temperature of a tire exceeds 248 degrees Fahrenheit, an alarm sounds and the word "HOT" and the tire position appear on the unit's screen. The unit also monitors the pressure of each tire and sends separate warnings when a pressure drops 12.5 percent and 25 percent below the programmed baseline pressure. It also includes a fast leak alarm if a tire's pressure drops 2.8 psi in less than 12 seconds.
The 360RV TPMS includes valve stem sensors and an LCD monitor with multiple mounting options. Systems are available to accommodate any motorhome, trailer, and towed vehicle combination. Manufacturer's suggested retail prices begin at $299.99 (four wheels).
Doran Manufacturing LLC
2851 Massachusetts Ave.
Cincinnati, OH 45225
(866) 816-7233
www.doranmfg.com
---
Induction Cooktop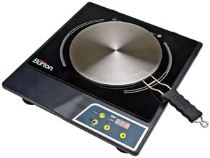 The Max Burton Induction Cooktop with Interface Disk from Aervoe Industries Inc. makes it possible to use any type of cookware when preparing meals. An induction cooktop provides added safety because it stays cool except where it makes contact with the pan.
While induction stoves require certain cookware to create a magnetic reaction to produce heat, the Induction Interface Disk eliminates the need. The 8-inch-diameter, stainless-steel disk is placed between the cooktop and the cookware to achieve the heating reaction. The AC-powered cooktop operates at 1,800 watts, has a temperature range of 140 to 450 degrees Fahrenheit, and includes a 180-minute timer.
The manufacturer's suggested retail price of the cooktop and disk interface set (#6015) is $149.90. The cooktop (#6000) and disk interface (#6010) also can be purchased separately for $111.90 and $49, respectively.
Aervoe Industries Inc.
1100 Mark Circle
Gardnerville, NV 89410
(800) 227-0196
(775) 783-3100
www.athenabrands.com
---
Folding Chair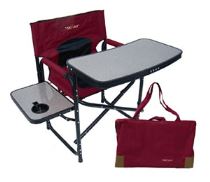 The Potluck/Tailgate Folding Table Chair from Big Rig RV Accessories is designed especially for those who enjoy spending time outside.
The folding chair features a 13-inch-by-26-inch swivel table that rotates up from one side of the chair and fastens in place to provide room for plates, utensils, and drinks when eating outside, or for a laptop computer, games, or other items. On the opposite side of the chair is a pull-up side table with a cup holder. When not in use, the 11-pound chair folds up to fit in its own protective bag.
The Potluck/Tailgate Folding Table Chair is available in hunter green, navy blue, and burgundy colors and has a manufacturer's suggested retail price of $99.95 plus shipping and handling.
Big Rig RV Accessories
112 Rainbow Drive, #1282
Livingston, TX 77399
(301) 346-6545
www.bigrigrvaccessories.com
---
Fitted Tablecloths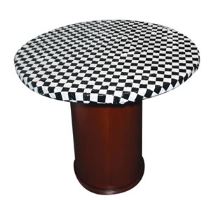 Kwik-Covers are lightweight, fitted vinyl table covers that feature elastic edging to hold them in place, even in windy conditions.
Kwik-Covers eliminate the need for attachment products required to hold standard tablecloths in place. The covers are available in a variety of colors and sizes to fit most banquet, picnic, and round tables. They are strong enough to clean and use again or can be thrown away, facilitating clean-up.
Individual Kwik-Covers have manufacturer's suggested retail prices between $3.59 and $5.59, depending on the size and print, and can be purchased online or at party supply stores. Larger orders (25 or more) can be made through the company.
Kwik-Covers
811 Ridge Road, Suite 100
Webster, NY 14580
(866) 586-9620
(585) 787-9620
www.kwikcovers.com
---
Mosquito-Repelling Lantern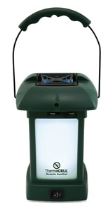 The ThermaCELL Outdoor Lantern from The Schawbel Corporation provides both ambient light and mosquito protection for those who enjoy spending time outdoors.
The lantern keeps pests at bay through the use of a single butane cartridge that heats a mat saturated with allethrin, a synthetic copy of a natural insecticide found in pyrethrum flowers. According to product literature, the vapor creates a 15-foot-by-15-foot comfort zone, keeping away mosquitoes, blackflies, and no-see-ums. Illumination from the lantern is provided by eight LED lights with two brightness settings. The lights operate on four AA batteries.
The 13-ounce Outdoor Lantern has a manufacturer's suggested retail price of $29.99.
The Schawbel Corporation
100 Crosby Drive, Suite 102
Bedford, MA 01730
(866) 753-3837
(781) 541-6900
www.thermacell.com
---
Cleaning Accessory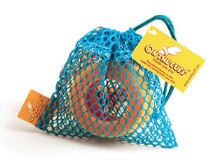 Keep water from running down your arms while doing dishes, bathing pets, washing your face, or cleaning vehicles with ON THE CUFF from RB Designs LLC.
The absorbent cuffs fit snugly on the wrists to collect water and keep it from running down the arms and onto clothing or the ground, thus eliminating the mess. The product is made of a special material that can be stretched over hands and onto wrists without tearing. The one-size-fits-all design makes the cuffs usable for both men and women.
A pair of the cuffs has a manufacturer's suggested retail price of $7.99. A pack containing four pairs and a drying stand is available for $24.99.
RB Designs LLC
213 Finn
Austin, TX 78734
(512) 300-0113
www.onthecuff.net
---
Spot-Free Rinse System
The Invisible Chamois from Quality Water Services is a portable spot-free rinse system that attaches to a garden hose and is said to prevent water spots and streaks on motorhomes, towed vehicles, and windows after washing.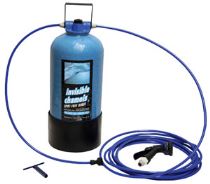 According to product literature, the system includes a 31-pound tank filled with ultra-grade mix-bed resin to remove impurities in the water that cause spotting. It also includes 30 feet of polyethylene tubing; a sprayer head with seven different spray settings; John Guest fittings for quick and secure connections; a T wrench; and step-by-step instructions. The system is said to provide 20 to 25 spot-free rinses for a Type A motorhome before regeneration is required. It comes with a limited lifetime warranty and a 30-day money back guarantee.
The Invisible Chamois has a manufacturer's suggested retail price of $359.
Quality Water Services
115 E. Highland
Ponca City, OK 74601
(800) 375-6553
(580) 762-7555
www.invisiblechamois.com
{loadpositionEndBlurbProducts}