Gear, Gadgets, And Gifts
Practical accessories and assorted goods designed to make life easier and more enjoyable for RVers.
By Skip Tate, Associate Editor
Rechargeable Hand Warmer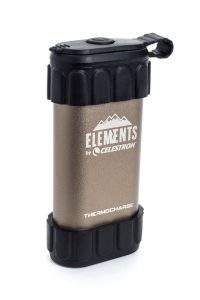 It's September, which means the temperatures are going to start dropping faster than the tree leaves. Sweaters and coats help, but your hands still are left out in the cold. The engineers at Celestron are best known for their telescopes. But since you can't focus on the stars if your hands are frozen, they applied their skills to creating the Elements Thermocharge, a hand warmer. The device is powered by a rechargeable 4400-mAh lithium battery that provides six hours of heat at 113 degrees Fahrenheit. The hand warmer fits in your pocket when not in use and has an aluminum housing and silicone caps in case you drop it. As a bonus, it doubles as a charger for smartphones and other USB-powered devices. Price is $37.95.
Celestron
(800) 421-9649
www.celestron.com
---
Hammock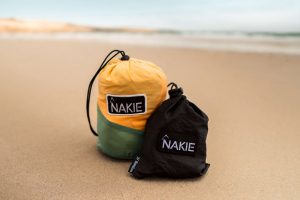 Camp chairs are great, but when it comes time to kick back and relax, what could be better than sinking into a hammock and swinging between a couple of trees? Nakie makes it simple. The company's hammocks pack into a self-contained pocket and come with the requisite straps and carabiners. All you need are the trees. The hammocks are designed for two people and can hold up to 500 pounds. Each one is made from 37 recycled plastic bottles, so you're helping the planet. In addition, Nakie plants four trees for every hammock sold, in an effort to replenish the forests — and to give future campers a place to hang their hammocks. Each hammock also can be enhanced with a bug net to stave off the skeeters and an overhead tarp for shelter from the sun or rain. The hammock costs $89 and comes in a variety of colors.
Nakie
[email protected]
www.nakie.co
---
Portable Ice Maker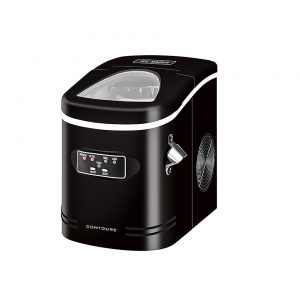 Clink, clink. The distinct ring of ice being dropped into a glass is one of the wonderful sounds of summer, but ice can be hard to come by in the sweltering heat. Fortunately, Contoure offers a portable ice maker that can create 26 pounds of ice in 24 hours. Make small or large bullet-shaped ice cubes on your countertop or in your outdoor kitchen. Each unit comes with an internal serving basket, an ice scoop, and a side-mounted bottle opener for convenience. The ice makers are available in black, red, silver, blue, or stainless steel to match your RV's décor, and the cost starts at $169.99. Use the code "FamilyRVing" to save 10 percent and get free shipping.
Contoure
(888) 656-9317
www.contoureusa.com
---
Mesh Food Cover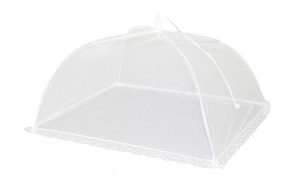 One of the best parts of camping is eating outdoors. Nothing goes with good food quite like fresh air. The problem is, out-side is where bugs live, and they all love your cooking. Deal Genius has that covered — literally — with a six-pack of reuseable pop-up mesh food covers that create a barrier between bugs and your banquet. Each cover is 17 inches square, so they protect even large serving trays. And, after dessert, they fold up like an umbrella for easy storage. Price for six is $8.
Deal Genius
(708) 831-4473
www.dealgenius.com
---
Tire Traction Straps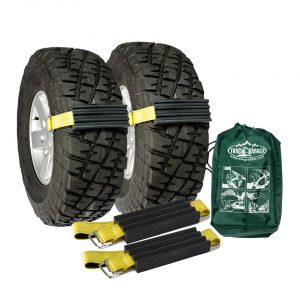 Getting stuck in sand or snow makes towing an RV a little challenging. You can't pull anything if you can't go anywhere. Sure, tow trucks are an option, but they can be expensive and may take a while to arrive. A new option? Trac-Grabber. The slab of rubber straps to a tire and gives your vehicle the extra traction needed to escape a tire-spinning situation. They're small enough to fit in any RV storage compartment, but powerful enough to get you out of trouble just as easily as you get yourself into it. Prices range from $59.99 for a two-pack to fit cars and small SUVs to $149 for a four-pack that works with pickup trucks or RVs with oversized tires. FMCA members can save 20 percent by using the code "FMCA" at checkout.
Trac-Grabber
(954) 294-7711
www.tracgrabber.com
---
Battery Jump Starter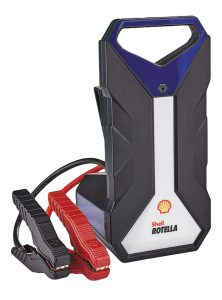 The sound of silence is usually welcomed by RVers — except when you turn the ignition key and the cause of the silence is a dead battery. Fortunately, technology has turned jumping dead batteries into a small deal. Shell's new SH924 lithium jump starter is just 10 inches tall and weighs just 4.3 pounds, but it kicks out 2,000 amps of power. That's strong enough to bring most batteries back to life, even those in 11-liter gasoline and 8-liter diesel engines. It also has eight built-in safety functions, including spark, reverse polarity, over-voltage, and over-current protection. And, if you don't need a jump, it doubles as a flashlight and an emergency flasher, and can charge your cell phone as well. Price is $139, and the device is available only on Amazon.
Shell
(833) 990-2624
www.amazon.com
---
Down Blanket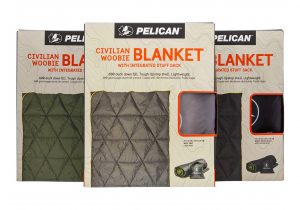 The days are getting shorter and the nights are getting colder, and sometimes it takes more than a campfire to keep you warm. The solution: Wrap yourself inside a Civilian Woobie Blanket from Pelican Outdoor, a down-filled wrap of warmth with a ripstop shell, snaps on the sides so it can be used as a sleeping bag or to keep it closed when draped around you, and an integrated stuff sack so it folds up into itself. At 78 inches tall and 53 inches wide, it shouldn't leave your ankles exposed. Price is $199.99.
Pelican Outdoor
[email protected]
www.pelicanoutdoor.com
---
Cornhole Board Lights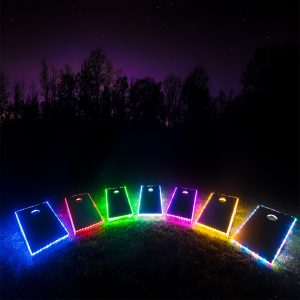 Why should the fun stop just because the sun goes down? GlowCity offers a strand of LED lights that wrap around cornhole boards, letting your games continue even after dark. One strand of battery-operated lights covers all four sides of a cornhole board as well as the hole, and eight color options are available, so you can mix and match. Screws, mounting brackets, and tape keep the lights securely in place. Each light set covers two boards and costs $29.95. Add to the fun by purchasing a kit that includes light-up bean bags in addition to the LED light strands; cost, $129.95. Note that actual boards are not included.
GlowCity
(877) 562-4569
www.glowcity.com