The innovative duffel measures 12 inches high, 11 inches wide, and just 4 inches long when zipped closed, allowing it to be stored neatly away in an interior closet or exterior bay. However, when unzipped and opened, the bag expands to 21 inches long, providing plenty of room for a change of clothes. In addition, it features zippered inner and outer pockets to keep other accessories safe and organized. The bag is made of durable deck-cloth material and comes with molded foam side pods to protect the bag's contents.
The Nautica Clamshell Duffel is available in six color combinations and can be purchased for $39.99 at luggageguy.com.
Randa Luggage
994 Riverview Drive
Totowa, NJ 07512
(800) 971-4920
www.luggageguy.com
Reader Service #263
---
Magnets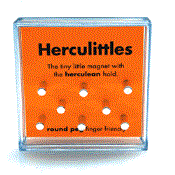 Organize the clutter around the motorhome or on your home refrigerator door with Herculittles magnets.
Each of the tiny neodymium magnets reportedly is strong enough to hold 10 to 12 pieces of 8 1/2-inch-by-11-inch paper in place. The magnets are chrome plated and available in four styles "" round, round-peg, cubed, and square-peg.
A package of Herculittles magnets (eight round or round-peg; six cube or square-peg) has a manufacturer's suggested retail price of $7.99.
Herculittles
P.O. Box 473969
Charlotte, NC 28247-3969
(704) 644-8924
www.herculittles.com
Reader Service #259
---
Portable tray table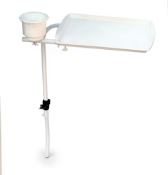 The Tote Tray from B-Co Products of Alabama is a portable tray table that attaches to a portable folding chair.
The two-piece unit "" a tray and a stand "" is said to be simple to assemble on either side of the chair, includes two attachment points for stability, and can be rotated out of the way when the user needs to get up. An optional cupholder also is available.
The Tote Tray comes with a zippered tote bag, is available in several colors, and has a manufacturer's suggested retail price of $12.99, or two for $19.99. Trays also are available for wheelchairs and children's chairs.
B-Co Products of Alabama
5420 Willow Bend
Millbrook, AL 36054
(334) 290-3885
www.totetray.com
Reader Service #258
---
Rodent repellent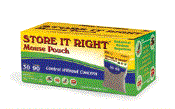 The Store It Right Mouse Pouch from Northern Explorer LLC is an all-natural, fragrance-based repellent that is said to be a safe alternative to other rodent control baits and traps.
Each pouch contains a biodegradable blend of corncob chips, herbs, and essential oils that disorients mice and causes them to stay away from the treated area (250 square feet for a single pouch). According to product literature, Store It Right is safe to use around pets and children, and a single pouch can keep mice away for up to 30 days and freshen an area for up to 90 days.
A package of three Store It Right pouches has a manufacturer's suggested retail price of $16.49 and is available by visiting the company's Web site or through many local RV dealers.
Northern Explorer LLC
14700 Linden
Leawood, KS 66224
(888) 681-1443
www.northernexplorer.com
Reader Service #262
---
Multi-tool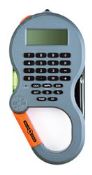 The Tradesberry Multi Tool from Phillips Screw Innovation LLC is said to be the ultimate tool for anyone who appreciates convenience and portability.
The tool is approximately the size of a cell phone and includes a digital calculator, a digital clock, a compass, a white LED flashlight, a Phillips screwdriver, a 2-inch stainless-steel knife, a spirit level with laser, and a tape measure. It also features a spring-loaded clip for attaching the device to a belt loop.
The Tradesberry Multi Tool has a manufacturer's suggested retail price of $39.99.
Phillips Screw Innovation LLC
100 Crosby Drive
Suite 102
Bedford, MA 01730
(866) 508-0289
www.phillips-screwinnovation.com
Reader Service #265
---
Solar signpost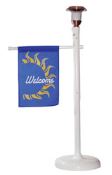 Welcome folks to your campsite wherever you are parked while providing environmentally friendly night light with the portable Solar ID signpost from UniquelyRV.
The Solar ID combines a telescoping signpost "" which can display flags, banners, and signs "" with the convenience of solar lighting. The 45-inch-tall unit can be disassembled, collapsed, and packed into the included tote bag for storage. It includes a 13-inch-diameter hard plastic base that is suitable for all firm, level surfaces and can be filled with gravel or rocks for extra stability.
The Solar ID has a manufacturer's suggested retail price of $119.25 and includes a "Welcome" banner.
UniquelyRV
P.O. Box 67003
Lincoln, NE 68506
(402) 488-6872
www.uniquelyrv.com
Reader Service #266
---
CEll phone information backup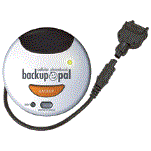 The Backup-Pal from Advanced Wireless Solutions LLC is said to provide a fast, easy-to-use solution for backing up and restoring cell phone information.
According to product literature, the battery-powered Backup-Pal instantly downloads and saves a copy of the user's cell phone contacts without the complexity of software setup and computer use. This safeguards the information in the event that the phone is lost or damaged and makes it easy to transfer the information to a new phone. The lightweight, 4-inch-diameter device connects to the phone via interchangeable adapter tips, making it compatible with nearly every cell phone on the market.
The individual kit (one adapter tip) has a manufacturer's suggested retail price of $39.99, while the universal kit (covers all major brands with nine tips) is priced at $49.99.
Advanced Wireless Solutions LLC
1631 Wilson Ave.
Burbank, CA 91504
(888) 847-0483
(818) 847-0483
www.backup-pal.com
Reader Service #257
---
Wi-Fi range extender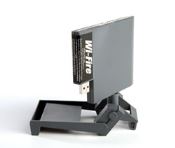 The Wi-Fire from hField Technologies Inc. is a Wi-Fi transceiver that is said to find and enhance normal Wi-Fi signals at campgrounds or local hot spots.
The small device connects to the computer's USB port and reportedly can extend Wi-Fi reception up to as much as 1,000 feet, often at higher speeds and even in locations where no wireless signal could be detected by the computer's built-in adapter. The manufacturer has reported wireless connectivity at distances in excess of 3,000 feet in clear line-of-sight situations.
The Wi-Fire, which measures 3 inches high by 4 inches wide and 3/8-inch thick, can stand alone on any flat surface or be attached to the computer using the mounting device. It has a manufacturer's suggested retail price of $79.
hField Technologies Inc.
116 Research Drive
Bethlehem, PA 18015
(877) 743-4353
(610) 419-2154
www.hfield.com
Reader Service #260
---
Satellite phone

Stay in touch no matter where you roam with the 9555 satellite phone from Iridium Satellite LLC.
According to product literature, the compact Iridium 9555 provides users with global coverage, utilizing a network of 66 low-earth-orbiting, cross-linked satellites. The phone includes an intuitive user interface, enhanced short messaging service (SMS) and e-mail messaging capability, an integrated speakerphone, an internally stowed antenna, a mini USB data port, a headset for hands-free capability, and more.
The phone comes with AC and DC chargers, an international plug kit, a holster, and an auxiliary antenna and adapter. The Iridium 9555 has a manufacturer's suggested retail price of between $1,100 and $1,300, with service plans available through various providers.
Iridium Satellite LLC
6707 Democracy Blvd.
Suite 300
Bethesda, MD 20817
(866) 947-4348
(480) 752-5155
www.iridium.com
Reader Service #261
{loadpositionEndBlurbProducts}