Ed and Dorothy Casada bought their first motorhome in 1966 and quickly discovered a wealth of friends and fun in FMCA that they still enjoy.
Family & Friends
By Pamela Selbert
November 2009
We first noticed the big Dutch Star motorhome with a white Ford van in tow as it eased alongside us in barely moving traffic on the interstate through Atlanta. Over the next three hours and 40-plus miles, while wedged into the tightest traffic jam we can ever remember, our RV and the Dutch Star slowly pulled past each other at least a dozen times. Finally my husband, Guy, and I chose a parallel road.
Unfortunately, we ended up in another jam "" apparently we weren't the only travelers who had the same idea "" so we returned to the interstate, this time past the cause of the backup. We soon pulled off at a rest stop.
What had made the tan and white motorhome catch our eye was the FMCA "goose egg" on the back, bearing the remarkably low FMCA membership number 1404. We hadn't expected to see the coach again, but as we pulled into the crowded rest stop lot, we pulled right alongside the same Dutch Star, which was already parked. Immediately the driver emerged, eager to commiserate over so much wasted time.
That is how we met Ed and Dorothy Casada, L1404, of Highland, Indiana. The Casadas, both 85, have been members of FMCA for 42 years, having joined in March 1967. They had purchased their first motorhome, a 27-foot Dodge, a year earlier, and some friends recommended that they join FMCA.
Soon after they became members, Ed received a call from Charlie Owens, L44, FMCA's national president at the time, who lived in Indiana not far from the Casadas. Though the association's membership at the time was still quite small, Ed said that he was nonetheless flattered and pleased with the welcome.
Since then the couple has belonged to numerous FMCA chapters. They include the Hoosier Cruisers, which the Casadas and another member, Paul Wallace, started in 1974. Both Ed and Dorothy served as president of the chapter, and Ed has served as its national director.
They continue to be members of the Bits & Bytes and Cat RV Club chapters, as well as the MIME International chapter, of which Ed is the national director. According to the chapter's bylaws, MIME is an acronym for "mouse in motorhome experience."
"It's a fun group "" we get together for breakfast during every convention," he said. "To become a member you have to admit a mouse has gotten into your motorhome, but you don't have to provide proof!"
The Casadas also belong to the Pipe Dreamers chapter, which is open to anyone who joined FMCA from 1963 to 1977 (membership numbers of 28284 and under). The pipe-smoking Ken Scott, FMCA's first executive director, had written a column for the magazine titled "Pipe Dreams," hence the chapter name.
The couple is proud to have attended every FMCA Governing Board meeting since 1967 except for the one in 1977, when Ed's father had just passed away. They also have attended 74 FMCA international conventions, plus numerous chapter and area rallies. They purchased a family life membership in 1976.
"Other than family reunions, most of our traveling has been to conventions and rallies," Dorothy said. "Most weekends we're on the road."
Dorothy is originally from Wisconsin; Ed is from Kentucky, where he still has family. The two met during World War II when Dorothy was a student at the University of Wisconsin and Ed was stationed at a nearby Air Force base.
"He was looking for a gorgeous Wisconsin girl," Dorothy said, laughing and posing. "I had a job lined up to teach high school English, but got married instead."
That was in 1945. Ed, also with a degree from the University of Wisconsin, became an electrical engineer for a steel mill in Indiana, where the couple has lived since 1950. Ed retired from his job in 1982. The couple has two children: daughter Louise Hillery, who lives in Indiana, and son Larry, now in Colorado. They also have two grandchildren and one great-grandchild.
Before their children were grown, the Casadas said, they did little traveling. But since buying that first motorhome "" they've had five through the years "" the couple has more than made up for the lack of travel earlier in their lives. Dorothy said that they've visited every U.S. state, every Canadian province except Newfoundland, and every Mexican state except Sonora. Of course, they didn't visit Hawaii in their motorhome, although Dorothy joked that "when they build a bridge, we'll go in the coach."
Ed said that when they "used to keep track of time on the road, it was nearly always one day more than half the year." He added that he enjoys going back to every place they've been. Dorothy pointed out that despite their many weeks on the road, they are not full-timers and have no plans to be.
She said that when they're traveling, she is the navigator with a map in hand. But in camp and at home, she enjoys knitting and cross-stitching, and for more than 30 years has worked on family genealogy. Because Ed's family is so large "" he has 16 aunts and uncles on his father's side and eight on his mother's side "" she had spent more time researching the Casada lineage than her own far smaller family.
Recalling the early days of FMCA, Ed said that conventions were simple and small. For evening entertainment, the audience sat in lawn chairs, and a flat-bed truck served as the stage. Nowadays, of course, convention attendees enjoy the show in auditoriums or outdoor stadiums.
When asked what they value most about their four-plus decades as FMCA members, Ed and Dorothy agreed. "It's the people," they said, with Ed adding, "We've made lots of wonderful friends."
---
Happy (OK) Wanderers Help Christen New Campground
Family & Friends
By Darrell Gilliland, F153488
November 2009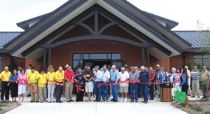 The Happy (OK) Wanderers chapter became a part of history when it held its June rally at the new Durant/Choctaw Casino KOA in Durant, Oklahoma. The chapter was the first group to use this beautiful facility, built specifically to attract and accommodate motorhome and RV clubs. The park opened on June 15 and our rally host arrived just eight days later to prepare for the event, which began Thursday, June 25.
This is the second time the Happy (OK) Wanderers have helped open a new Indian campground. In 2005, with the assistance of chapter member Joe David Melott, a member of the Citizen Potawatomi Nation tribe, and his wife, Eileen, the chapter became the first group to use the campground of the Citizen Potawatomi Nation in Shawnee, Oklahoma. Following that experience, the Citizen Potawatomi Nation opened the campground to RV groups when not in use for tribal activities. That campground, however, is not open to the public for overnight camping.
The new Choctaw Casino KOA has all the amenities that any chapter's host committee would want in planning and implementing a successful rally. The first phase of the RV park has 77 sites with a heated saltwater swimming pool; a dog park with many toys; a children's playground; and a meeting room that can accommodate more than 100 people. The spacious kitchen has many appliances and plenty of counter space to handle food preparation and cleanup for large groups.
The meeting room includes a huge fireplace and two large plasma TVs. Besides the meeting room and kitchen, the main building includes a game room with a pool table, air hockey table, and shuffleboard; a vending room with assorted electronic games; and a business center equipped with computer workstations and Internet access. A large portion of the building contains a laundry facility and a shower and rest room complex.
Future development phases include another 75 RV sites and cabins that can accommodate chapter members whose motorhome may be in the shop or family associate members who no longer own a motorhome.
Thirty coaches registered for the June rally. Most arrived on Wednesday and Thursday, with many of their occupants going directly to the casino. Arrangements had been made by the RV park to secure rally-goers with some nice casino promotions, including $10 each for play on the slots, coupons for poker and blackjack, and a discount at the buffet. Of course, there are always winners and losers . . . but most importantly, all had fun.
On Thursday, 40 members drove to Huck's Catfish near Denison, Texas, for an evening dinner. Huck's specializes in "" you guessed it "" catfish, and many thought it ranked up there with the best they'd ever eaten.
The grand opening of the Choctaw Casino KOA took place on Friday and was attended by more than 250 people. Guests of the Choctaw Nation, besides the Happy (OK) Wanderers, included members of the Durant City Council, the Durant Chamber of Commerce and Visitors Bureau, casino staff, and KOA representatives. Following brief speeches by tribal leaders and casino staff in the meeting room, the group stepped outside for the ribbon-cutting ceremony to officially open the Choctaw Nation's first of many planned RV parks. (Additional parks are slated to open at some of its other casinos throughout southeastern Oklahoma.)
Saturday started with a breakfast of "eggs in a bag." Members began with a resealable plastic bag of beaten eggs and then added all their favorite ingredients, such as ham, onions, peppers, mushrooms, and/or cheese. They then mixed it all together and dumped it onto hot grills to make an omelet. Prior to the business meeting that followed breakfast, chapter president Steve Bivin presented Choctaw Nation of Oklahoma Chief Gregory E. Pyle with a certificate of appreciation recognizing the park's support of the chapter and its members. That evening we enjoyed hamburgers outdoors, and following dinner, chapter members enjoyed playing a horse-racing game.
July weather in Oklahoma and Texas is never anything but hot. During the days several people visited sites in the area, some sought the cool comfort of the meeting room, and others searched for the "jingle" of the slots in the adjacent casino. Still others enjoyed the entertainment on Friday and Saturday afternoon and evening in the casino. Appearing on center stage was an American Indian dance exhibition, followed by the Evan Michaels Band in a free live concert.
The Happy (OK) Wanderers are blessed with members who have varied experiences and talents. We conclude each of our rallies with breakfast on Sunday mornings followed by music from our own chapter choir and a brief religious message from chapter chaplain Ron Wadley. Perhaps the worst part of the entire rally is saying good-bye to everyone before leaving for our homes or the next travel destination.
During our meeting with the chief of the Choctaws and some of the tribal elders, we learned that the Choctaw Nation of Oklahoma consists of 10 1/2 counties in the southeastern part of Oklahoma. They are second in population only to the Cherokees.
Among the many enterprises of the Choctaw Nation are casinos and resorts, manufacturing and development, management services enterprises, Texoma Print Services, and a bookstore. Profits from its various enterprises directly benefit the tribe's more than 190,000 members. Most of those benefits go to children and families.
The new Durant/Choctaw Casino KOA is on U.S. 69/75, three miles south of Durant, Oklahoma, and about 10 miles north of the Red River that borders the Oklahoma-Texas state line. FMCA chapters based in Arkansas, Oklahoma, and Texas will certainly want to note the location and the amenities of this new facility when booking future rallies. Group camping costs are very reasonable, and for chapters with 20 or more coaches, there is no cost to use the meeting room. For more information about the park and to make rally reservations for your chapter, contact Charlie Tyree at (800) 788-2464 ext. 9. For additional information, visit the park Web site at www.choctawcasinos.com/RVParkDurant.asp.
---
Happy Birthday, Keystone Chapter!
Family & Friends
By Cleo Hartman
November 2009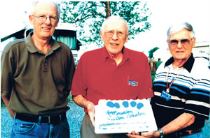 Twenty members of the Keystone Travelers celebrated the chapter's fifth anniversary May 15 through 17, 2009, during a rally at Flory's Cottages & Camping in Ronks, Pennsylvania. Past chapter presidents (left to right) Paul Debus, Bill Sidebothom, and Maurice Hobaugh were on hand to lead the group during the singing of "Happy Birthday," followed by cake and ice cream. The chapter, which includes members who live within a 75-mile radius of Lancaster, Pennsylvania, received its FMCA charter on May 15, 2004.