Family & Friends
By Rita Millspaugh, F250144
August 2009

The Sooner Coaches chapter held its annual Christmas Rally December 12 through 14, 2008, at Twin Fountains RV Park in Oklahoma City, Oklahoma. And what a great time we had! Everyone enjoyed the food, fun, and the "Dirty Santa Game," and being together to watch Oklahoma University quarterback Sam Bradford be awarded the Heisman Trophy was icing on the cake!
The rally began with a potluck in the clubhouse on Friday evening. Saturday morning, the men were in charge of fixing breakfast, and they did a great job. The ladies gathered Saturday afternoon to decorate the tables for our catered dinner that evening. They creatively transformed the whole room into a warm and inviting Christmas wonderland. After Sunday morning breakfast, there were lots of hugs and good-byes as we departed.
During the business meeting held at the rally, chapter president George Dorris kept us on track, and we got a great deal accomplished. Our activities planned for 2009 have included attending the FMCA international convention in Perry, Georgia, in March; staging our Sooner Coaches Spring Rally in April; and traveling to the FMCA international convention in Bowling Green, Ohio, in July. We also plan to be at the FMCA South Central Six-State Rally in Shawnee, Oklahoma, in September, followed by OU football tailgate parties; caravanning to the Big 12 Championship Game (hopefully) at the Dallas Cowboys' new stadium in December; and ending the year with our annual Christmas rally. We also are planning a Web site that will be linked to FMCA.com.
The Sooner Coaches chapter received its charter in 2005, and if you haven't guessed by now, we are all fans of Oklahoma University sports. FMCA past national president R.G. Wilson is a charter member. The chapter has grown steadily, attracting members from all over Oklahoma as well as out-of-state. To accommodate our diverse membership, our chapter is set up a little differently from most. We have a spring rally, a Christmas rally, and tailgate parties during the football season.
Oklahoma University provides one of the nation's best college RV parking areas. It's called "SooneRVillage." It's paved, has great lighting, includes 30-amp and 50-amp electric, has security patrols, and even has an area for pets.
Great friendships have been formed between chapter members, and for many of us the group has become a second family. Our membership directory even has a family album section. We have members who are retired, who are still working, grandparents, and parents of school-age children. The tie that binds is that we all enjoy the motorhome lifestyle and we're all Oklahoma Sooner fans.
Every FMCA motorhome owner should belong to a chapter. This is the best way to meet people and make new friends. All Oklahoma University Sooner fans are invited to join our group. Our annual dues are only $10, but the friendships are priceless! Contact Vernon Millspaugh at golfcarcenter@cox.net or (405) 820-7177 for more information.
---
Cotton Country Travelers Celebrate Five Years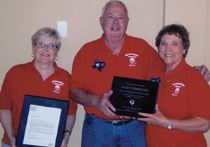 By Marolyn Rinne, F296715
August 2009
During the Cotton Country Travelers' first quarter rally, held April 29 to May 3, 2009, at the Oasis RV Resort in Amarillo, Texas, 14 family member coaches gathered to celebrate the chapter's five-year anniversary. We also used the event to acknowledge the contributions of Gary and Berta Simmons by awarding the couple with a plaque and a letter written by FMCA South Central Area vice president Fred Kennedy
The Simmonses attended FMCA's international convention in Albuquerque, New Mexico, in 2004 and inquired whether any chapters existed in the Lubbock, Texas, area. After being told that there were none, they set out to remedy the situation by contacting FMCA's Chapter Services Department and requesting information about how to form a chapter. The Simmonses then began contacting motorhome owners in the area, holding meetings, and maintaining communication with FMCA.
During the chapter formation period, Tony Innocenti, then national vice president for the South Central Area, and his wife, Geri, traveled to Lubbock for the organizational meeting, offering encouragement and advice to potential members of the new chapter.
Like most new organizations, there were struggles, along with lots of fun getting the chapter up and running. With 31 charter members "" 15 were new members of FMCA "" the Cotton Country Travelers chapter received its charter on May 27, 2004, with Gary Simmons as our first president. Since then, Albert Rinne, Martin McIntyre, and Marolyn Rinne (current) have served as chapter presidents. Now, five years later, we still have a thriving chapter.
We planned other local rallies for June, September, and December 2009. We look forward to having Fred Kennedy and his wife, Lou, visit our December rally in Bandera, Texas. We also hold monthly socials at local restaurants or members' homes, enjoying the fellowship and relationships that have been fostered through the chapter.
Members of the Cotton Country Travelers chapter also have participated in FMCA's international conventions in Charlotte/Concord, North Carolina, and Perry, Georgia. During the most recent convention in Perry, seven family members from the chapter made the 1,200-mile journey, with four of them attending their very first convention. We also participated in the Chapter Fair at several conventions. In 2008 we had 10 families attend the Six-State Rally in North Little Rock, Arkansas, and in 2007, nine families attended the area rally in Sedalia, Missouri.
The organization that was the dream of Gary Simmons has matured into a tight-knit group of people who truly enjoy the company and fellowship of other motorhome owners.
For more information about the Cotton Country Travelers, contact Marolyn Rinne at (806) 828-3929 or (806) 438-5011; rinad@nts-online.net; or Dick Phillips at (806) 798-1567 or (806) 543-6860; djphillips08@hotmail.com.