Folding table
The Magic Table from B&R Plastics Inc. is a portable, plastic version of the popular wooden Amazing Magic Table and, like the original, has many uses inside the motorhome.
The lightweight, compact folding table has a pivoting top that can be rotated and opened to three separate positions, with up to five height adjustments. The table also has a convenient compartment on the bottom that can be used for storing books, games, or magazines.
The Magic Table has a manufacturer's suggested retail price of $59.99.
B&R Plastics Inc.
4550 Kingston St.
Denver, CO 80239
(800) 624-4945
---
Portable grill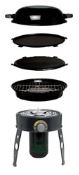 The Safari Chef gas grill from CADAC North America is touted in product literature as possibly the most versatile portable grill on the planet.
The five-in-one cooking system makes it possible for outdoor chefs to barbecue, fry, boil, roast, and even stir-fry using its nonstick, easy-to-clean, and dishwasher-safe interchangeable cooking surfaces. The grill "" which measures 20 inches by 15 inches by 17 inches and weighs less than 9 pounds "" operates on 1-pound disposable propane gas cylinders that enable it to create up to 7,300 Btu of cooking heat. It also includes foldaway support legs and a convenient carrying case.
The Safari Chef grill has a manufacturer's suggested retail price of $119 and comes with a two-year warranty.
CADAC North America
1310 S. Powerline Road
Deerfield Beach, FL 33442
(954) 956-2272
www.safarichef.com
---
Pet towel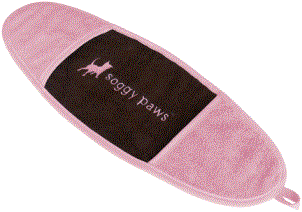 The Soggy Paws pet towel from Farfetched Inc. lets pet owners quickly clean and wipe down a pet's paws.
The oval towel includes two pockets for your hands that make it easier to hold on to and dry the dog. The pockets also allow the owner to get to hard-to-reach areas where dirt and moisture collect. The towel is made of high-quality, super-absorbent terry cloth that has been prewashed, preshrunk, and will not fade.
Soggy Paws towels come in small (10 inches by 30 inches) and large (14 inches by 54 inches) sizes and are available in several colors. The towels have manufacturer's suggested retail prices of $15 (small) and $20 (large) and can be purchased at pet stores.
Farfetched Inc.
960 Palm Terrace
Pasadena, CA 91104
(310) 452-0424
www.farfetchedinc.com
---
Music to go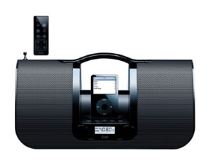 The iLuv i552 portable stereo audio system for iPod lets music lovers enjoy their favorite tunes wherever they go.
According to product literature, the i522 produces rich sound using jAura acoustic speaker technology. The lightweight unit measures 14.2 inches wide, 7.5 inches high, and 6.1 inches deep. It includes a universal iPod dock and charger; an AM-FM radio with programmable station settings; an auxiliary input for first- and second-generation iPods and other audio devices; a remote control; and an AV cable to connect to a TV for iPods that have video capability.
The i552 operates on eight "C" batteries or through the included AC power cord. The unit is available in white or black and has a manufacturer's suggested retail price of $89.99.
iLuv
2 Harbor Park Drive
Port Washington, NY 11050
(866) 807-5946
(516) 626-7188
www.i-luv.com
---
Awning addition
The Girard Systems Auto-Valance can be added to Girard's G-2000 awning to provide shade from low sun angles, as well as convenient nighttime lighting.
According to product literature, the shade features a separate motor, roller, fabric, and housing, and includes several control and shade options. The Auto-Valance can be extended from 2 inches to 46 inches, and LED lighting runs the full length of the awning. The shade features Sunworker sun control fabric from Sunbrella, which reportedly repels up to 94 percent of solar heat without blocking the view.
The Auto-Valance has manufacturer's suggested retail prices starting at $2,595 for the 12-foot model, plus installation.
Girard Systems
1361 Calle Avanzado
San Clemente, CA 92673
(800) 382-8442
(949) 259-4000
www.girardrvawnings.com
---
Sun visor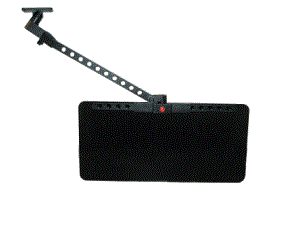 According to product literature, the Protector from Rosen Sunvisor Systems LLC is the first multiposition, see-through sun visor for the RV industry, providing a protective shield while still allowing a clear view of the road.
The transparent visor reportedly filters harmful ultraviolet radiation and glare without blocking the driver's view of oncoming traffic. The device's fully adjustable multiposition arm allows the driver or passenger to place the system's lens over virtually any part of the windshield or side windows as the sun changes position. Lenses are available in various sizes, ranging from 9 inches by 12 inches to 10 inches by 28 inches. The visor comes with black anodized aluminum hardware and instructions.
The Protector has a manufacturer's suggested retail price of $399.
Rosen Sunvisor Systems LLC
86365 College View Road
Eugene, OR 97405
(800) 284-7677
www.rosenvisor.com
---
Lubricant spray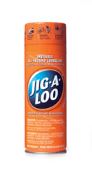 According to product literature, Jig-A-Loo is a revolutionary product that combines the power of a lubricant with the properties of a water repellent in one spray.
Jig-A-Loo is said to stop squeaks, to loosen stuck items, to protect against rust, and to repel moisture. The dry, silicone-based lubricant contains no oil, grease, wax, petroleum distillates, or detergent, so it doesn't stain or leave a bad smell. The spray can be used on wood, metal, glass, rubber, leather, fabrics, most plastics, and other surfaces to help items operate and slide better.
A 10.9-ounce can of Jig-A-Loo has a manufacturer's suggested retail price of $4.99.
Jig-A-Loo USA
206 Cooper St.
Suite 115
Statesville, NC 28677
(888) 544-2566
(704) 871-0308
www.jigaloo.com
---
Tire pressure monitor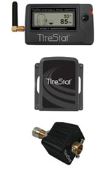 The TireStat tire pressure monitoring system from Mobile Awareness LLC is said to help motorists improve fuel efficiency, enhance safety, and extend tire life by alerting them to extreme tire temperatures as well as overinflation, underinflation, or rapidly decreasing tire pressures.
The system includes lightweight sensors that mount to the valve stems, allowing air input without sensor removal. The sensors feature an integrated antitheft locking mechanism. Each sensor is preprogrammed by wheel position for ease of installation, yet can be changed by users who wish to set their own warning alert levels by axle position. The system also includes a transceiver that continuously sends wireless signals to the rechargeable handheld monitor.
The TireStat system is available for single vehicles or combinations with up to 10 tires and has manufacturer's suggested retail prices ranging from $395 (four wheels) to $885 (10 wheels).
Mobile Awareness LLC
34305 Solon Road
Suite 51
Solon, OH 44139-2660
(866) 653-5036
(440) 248-5523
www.mobileawareness.com
---
Towed vehicle lights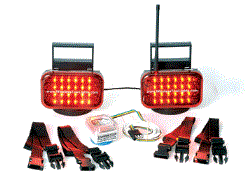 According to product literature, Wireless Tow Lights from Wireless Tow Lights Inc. are a fast and easy way to add taillights, braking lights, and turn signals to a towed vehicle for towing safety.
The system includes a transmitter that connects to a four-way flat plug coming from the motorhome, which sends a signal to activate the LED lights that attach to the rear of the towed vehicle. The lights are held to the towed vehicle by powerful nonscratching magnetic bases or optional straps. If your motorhome has a four-way round or a seven-way round plug, adapters are available to convert them to a four-way flat plug. The lights operate on four "AA" lithium batteries.
A set of Wireless Tow Lights has a manufacturer's suggested retail price of $169.95.
Wireless Tow Lights Inc.
12403 CR 2300
Lubbock, TX 75087
(800) 687-4940
(806) 795-2042
www.wirelesstowlights.com
{loadpositionEndBlurbProducts}