Inflatable Pedal Kayak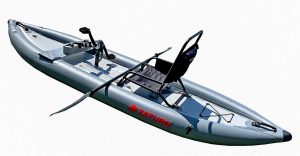 Whether you prefer to paddle or to pedal, you can propel yourself through water with BoatsToGo's Saturn 12-foot Inflatable Pedal Kayak PK365. The kayak can be used with or without its aluminum pedal drive, which you drop into a cutout in the kayak's floor. The cutout is closed with a hook-and-loop cover. A rotomolded mount secures the pedal drive to the kayak's aluminum bench. When you beach the kayak, the pedal drive can be lifted up and out of the way.
Any beach or lawn chair (not included) can be mounted to the kayak floor using provided double D-rings and straps. The kayak weighs 33 pounds, and the pedal drive weighs 15 pounds. A paddle is not included. The price is $799.
BoatsToGo Inc.
(866) 299-7740
www.boatstogo.com
---
Fire Pit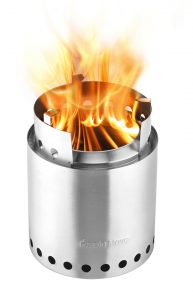 We love campfires, but not the annoying smoke or the smell that permeates our clothes. The Ranger, a portable, stainless-steel fire pit from Solo Stove, is designed to burn wood while greatly minimizing the smoke and smell.
According to the product description, Ranger's patented double-wall design creates a burst of hot air over the fire, resulting in complete combustion, a hotter fire, and reduced smoke. Cleanup is just a matter of dumping the spent ultrafine ash. The Ranger weighs 15 pounds. It's 15 inches wide and 12.5 inches high. A carry case is included. The price is $229.99.
Solo Stove
(817) 900-2664
www.solostove.com
---
Ventilated Hat
Peruse the website of hatmaker Tilley and you'll see scads of hats for men and women. The best-seller is the LTM6 Airflo, a broad-brim hat made from Supplex nylon affixed to a polyurethane membrane. It's guaranteed for life against normal wear and tear, poor workmanship, or faulty material.
Features include fabric that's certified UPF 50+ for maximum sun protection; a ¾-inch mesh panel around the crown for ventilation; a water-repellent finish; a sweatband that wicks away moisture; and a secret pocket for stashing valuables. Plus, the hat floats. It's available in 10 colors. The price is $90.
Tilley
(800) 363-8737
www.tilley.com
---
Collapsible Lantern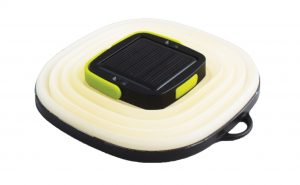 Pack it away for use in an emergency, or use it to brighten your next campsite party. The Crush Light Chroma, from Goal Zero, features six color modes, a multicolor fade mode, a candle flicker mode, plus regular ol' white light settings. The lantern provides 60 lumens of LED light on its high setting, with a run time of three hours; on low power, it provides 6 lumens, with a run time of 35 hours.
The lantern can be charged using its provided USB cable or its built-in solar panel. The "crush" part of the name refers to the silicone lampshade, which collapses to slightly more than a half inch. When not crushed, the lantern is 3.6 inches high and has a 5-inch base. The price is $24.95.
Goal Zero
(888) 794-6250
www.goalzero.com
---
Insect Repellent

Mosquitoes have been around for 30 million years, so we can stop wishing they'd go away and instead focus on protecting ourselves. The active ingredient in Proven Insect Repellent is a 20 percent concentration of picaridin, which studies have shown to be effective in warding off mosquitoes, ticks, black flies, biting flies, chiggers, and other pests. The Centers for Disease Control and Prevention notes that picaridin is safe even for pregnant and breastfeeding women. Unlike DEET (the active ingredient in many repellents), picaridin is nongreasy and does not dissolve plastics or other synthetics.
Proven 12 Hour Spray and Proven 14 Hour Lotion are available in odorless or gentle scent variations. The manufacturer's suggested retail price ranges from $7.95 to $12.95.
Proven LLC
[email protected]
www.provenrepellent.com
---
Shower Extender
In a small RV shower, it's bound to happen: The shower curtain sticks to your wet backside. Such annoyance can be eliminated by installing Stromberg Carlson's Extend-A-Shower, a shower rod that provides extra space in the stall. The company describes it as a slideout for the shower.
When not in use, Extend-A-Shower can pivot into the shower. The rod also can be used to allow laundry to drip dry over the shower basin. Extend-A-Shower models that fit showers 35 inches to 42 inches wide include the EXT-3542 (white finish), $49.95; EXT-3542ORB (oil-rubbed-bronze finish), $59.95; and EXT-3542S (satin finish), $61.95. Models also are available for openings 54 inches to 60 inches wide, with prices from $59.95 to $69.95.
Stromberg Carlson Products Inc.
(231) 947-8600
www.strombergcarlson.com
---
Pop-Up Hamper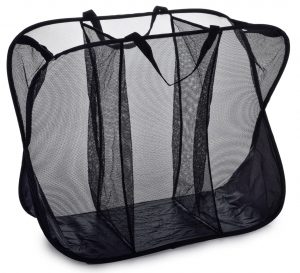 Technically, it's a pop-up laundry hamper that makes it easy to sort clothes before you're ready to wash them. But the Three Compartment Popup Hamper from Handy Laundry can double as an organizer for kids' toys, sports equipment, or what have you.
The lightweight sorter freely stands open, and its mesh compartments allow air to circulate, which can help reduce odors. It has handles on either side. The sorter is 29 inches long, 13.5 inches wide, and 23.5 inches high. When not in use, it folds flat. It's available in white or black. The suggested retail price is $9.99.
Handy Laundry Products Corp.
(800) 263-5973
www.amazon.com/dp/B08359K499
---
Remote-Control Searchlight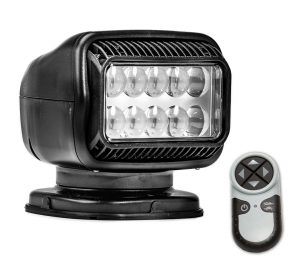 Among the uses for a searchlight: surveying a possible campsite; searching for house numbers and street signs; and checking for wildlife. Golight's 20004GT White and 20514GT Black models are permanent-mount, exterior searchlights that can tilt 135 degrees and rotate 370 degrees using the wireless handheld remote control. The lamps are available in 12-volt and 24-volt versions.
Features include 10 high-flux LEDs, a beam that focuses at an 8-degree angle, and a 14-gauge stainless-steel mounting bracket. According to the product description, the lamps are resistant to weather, ultraviolet light, and saltwater. The typical retail price is $259. Also available: portable models, halogen models, and hardwired or wireless dash remote controls.
Golight Inc.
(308) 278-3131
www.golight.com
---
Extension Cord Protection

If you use extension cords designed for outdoor use, be sure to follow safety guidelines, including this: Water must not enter the connection area. Twist and Seal is designed to offer such protection. Made of commercial-grade, UV-resistant plastic, it clamps over a connection's male and female ends. Rubber gaskets help ensure that moisture stays out.
Four Twist and Seal versions are available: Mini (for holiday lights); Cord Protect (for small/light-duty connections); Maxx (for heavy-duty connections); and Cord Dome (for multiple cord connections). Prices range from $4.99 to $29.95.
Twist and Seal
(888) 945-4545
www.twistandseal.com