Pet Toy
The Petprojekt Bonbal from Otomik Products Inc. is a two-in-one toy said to provide hours of entertainment for your dog.
The Bonbal starts as a bright, bouncy ball made from durable, natural rubber that has ridges to make it extra fun for the dog to catch, chew, and chomp. Flip the ball inside out and it becomes a bone-shaped toy. The toy is available in small and large sizes and in three colors "" blue, green, and pink.
The Bonbal has manufacturer's suggested retail prices of $8 (small) and $14 (large).
Otomik Products Inc.
6919 Silverton Ave.
Cincinnati, OH 45236
(877) 776-5358, ext. 501
www.otomik.com
---
Storage Containers

Packaways from Technology Container Corporation are reusable corrugated plastic storage boxes that are said to be easy to set up and collapse flat when not being used.
The containers feature a self-locking bottom and top design that allows the boxes to "pop" into place without the use of tape or glue. According to product literature, the boxes are not affected by moisture and humidity and are tough enough to be used hundreds of times. They are available in 12-gallon, 14-gallon, 18-gallon, and 21-gallon sizes.
Packaways boxes come two in a pack and have manufacturer's suggested retail prices starting at $15.80 (12-gallon).
Technology Container Corporation
418 Boston Turnpike
Shrewsbury, MA 01545-3413
(800) 962-9218
(508) 845-6333
www.packaways.com
---
Battery-Powered Lantern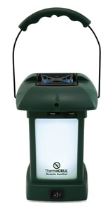 According to company literature, the GE LED Carriage Lantern from Jasco Products Company is a long-life, energy-efficient lantern with a contoured design that will add style and sophistication to any patio area.
The lantern features a 1/2-watt LED with high and low light levels that allow the user to select the right amount of light for any occasion. The lantern will operate for up to 100 hours on four D-size batteries and comes with a convenient hanging loop.
The LED Carriage Lantern has a manufacturer's suggested retail price of $34.99.
Jasco Products Company
10 E. Memorial Road
Building B
Oklahoma City, OK 73114-2205
(800) 654-8483
(405) 752-0710
www.jascoproducts.com
---
Portable Chair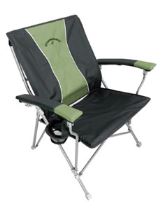 According to product literature, the Strongback portable chair is the most comfortable and ergonomically healthful travel chair available.
The Strongback is designed using frame-integrated lumbar support technology that correctly aligns the spine for superior back comfort. Two models are available: the compact Zen weighs 7.7 pounds and has a 225-pound seating capacity, while the more spacious Elite weighs 11.9 pounds and has a 300-pound seating capacity. Both chairs fold up for easy storage.
The Strongback Elite has a manufacturer's suggested retail price of $59.99, while the Zen is priced at $39.99.
Strongback Chairs LLC
802 Olive St.
Petaluma, CA 94952
(415) 787-3033
www.strongbackchair.com
---
Folding Electric Bicycle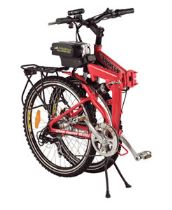 The XB-310Li from X-Treme Scooters is an electric bicycle that can be folded in half for easy transportation.
The bicycle is powered by a 300-watt rear hub motor and seven lightweight rechargeable lithium-ion batteries (AC charger included). The bike features a seven-speed Shimano Tourney gear and shifter system, along with front and rear suspensions. The 52-pound bike has an aluminum-alloy frame that's capable of holding a rider weighing up to 350 pounds. The XB-310Li can travel at speeds up to 20 mph and has a range of 20 to 25 miles per charge. The bike measures 72 inches long and stands 37 inches high (to handlebars), with an adjustable seat height from 37 3/4 inches to 45 3/4 inches. Simply unlock the center latch to fold the bike in half for storage.
The XB-310Li has a manufacturer's suggested retail price of $1,299.
X-Treme Scooters
3702 S. Fife St., #199
Tacoma, WA 98409
(253) 777-0690 "" customer service
www.x-tremescooters.com
---
Portable Speaker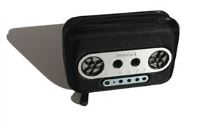 The iMainGo X from Portable Sound Laboratories Inc. is a portable speaker system and protective case for iPod (except Shuffle), iPhone, and iPod Touch devices; most MP3 players; and nearly all other electronics equipped with a 3.5-millimeter port.
The system features a foam-padded storage compartment with a clear touch-sensitive screen so users can view and control the audio device without opening the case. Flip the case over and the iMainGo X has stereo speakers with tuned porting for exceptional bass reproduction along with two headphone ports, one of which can be used to connect to another speaker. The device includes a rechargeable lithium-ion battery that can provide power for up to 12 hours of play time. It comes with an AC charging unit, a small wrist strap, a larger carrying strap, and a custom travel bag.
The iMainGo X has a manufacturer's suggested retail price of $69.95.
Portable Sound Laboratories Inc.
14141 Covello St. #5D
Van Nuys, CA 91405
(818) 778-6170
www.imaingo.com
---
Handheld Video Recorder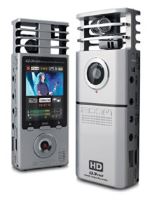 The Q3HD Handy Video Recorder from Zoom Corporation is said to be the only handheld capable of recording in both high-definition video and high-definition audio.
The point-and-shoot Q3HD features both full HD 1080p resolution at 30 frames per second (fps) and 720p resolution at 30 or 60 fps. It includes a 4x digital zoom lens and three lighting settings to ensure the perfect amount of light for any occasion. For high-definition stereo sound, the recorder uses a pair of microphone capsules configured in a wide 120-degree pattern for sound quality and depth. The device also includes an HDMI port to connect to a high-definition TV; a built-in USB cable to connect to a computer; a 2GB SD card that will record up to 45 minutes of HD video (will accept up to a 32GB SD card); HandyShare editing software; and is powered by two AA batteries.
The Zoom Q3HD has a manufacturer's advertised price of $299.
Samson Technologies Corporation (U.S. Distributor)
45 Gilpin Ave., Suite 100
Hauppauge, NY 11788
(631) 784-2200
www.samsontech.com
---
Measuring Screwdrivers

Wiha Quality Tools recently introduced its newest line of hardware: Measure-Up screwdrivers.
The screwdrivers "" in both slotted and Phillips tip styles "" feature laser-engraved inch and metric measuring scales on the shaft, making it easy for users to measure small parts on the job or check the depth or diameter of drilled holes. The drivers have hardened and tempered steel shafts and a cushion-grip, ergonomic handle for maximum torque and user comfort.
The Measure-Up set includes 5-inch slotted and 4-inch Phillips screwdrivers and has a manufacturer's suggested retail price of $19.68. Each screwdriver also can be purchased individually.
Wiha Quality Tools
1348 Dundas Circle
Monticello, MN 55362
(800) 494-6104
www.wihatools.com
---
Kitchen And Bath Cleaner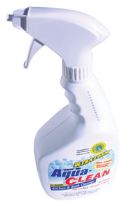 Ultra-Foam Aqua-Clean Kitchen and Bath Cleaner from Thetford Corporation is a multipurpose cleaner that is said to save users time and to be safe for the environment.
According to product literature, the cleaner is strong enough to remove soap scum, rust stains, and hard water spots but is gentle enough to use on all kitchen and bath surfaces and is safe for seals. Ultra-Foam Aqua-Clean's foaming bubbles cling to surfaces to limit running and dripping, so less cleaner is needed for the task. The product does not contain any inorganic phosphates, hazardous solvents, or environmentally harmful surfactants.
A 32-ounce bottle of Ultra-Foam Aqua-Clean Kitchen and Bath Cleaner has a manufacturer's suggested retail price of approximately $8.
Thetford Corporation
7101 Jackson Road
Ann Arbor, MI 48103
(800) 543-1219
(734) 769-6000
www.thetford.com
{loadpositionEndBlurbProducts}