Air Purifier
The Breathe Easy air purifier from Dometic Corporation is a portable, compact unit that is said to purify up to 800 cubic feet of air, potentially helping those who struggle with allergies, asthma, and chemical sensitivities.
The device measures 6.25 inches by 4.5 inches by 1.75 inches, and it can be powered by AC or DC electric using the included plugs. According to product literature, the purifier reduces mold spores, mildew, viruses, bacteria, and fumes circulating in the air and also eliminates unpleasant odors. The unit utilizes photocatalytic nano-mesh technology and ultraviolet light to destroy airborne contaminants.
The Breathe Easy air purifier has a retail price of $129.99.
Dometic Corporation
P.O. Box 490
Elkhart, IN 46515
(800) 544-4881
www.dometicusa.com
---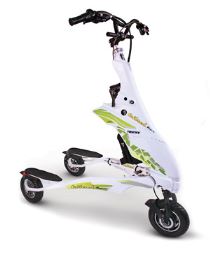 Electric Personal Vehicle
The Tribred Pon-e 48V electric vehicle from Trikke Tech Inc. is a stable, three-wheeled vehicle that you stand on and that leans with you into turns, thanks to its patented cambering (leaning) frame design. It offers motorhomers a portable, emissions-free method of getting around when camping.
The 48V features a 350-watt brushless, free-wheel hub motor and a 48-volt/11.25-amp-hour lithium-ion battery that is said to recharge fully in three hours. The vehicle is capable of reaching speeds up to 16 mph and has a 24-mile range after a full charge (extended range battery). The 46-pound vehicle (with battery) has a foldable aluminum frame, adjustable handlebars, dual disc brakes with a parking lock, and motorcycle-grade tires. When folded, it measures 58 inches long.
The Tribred Pon-e 48V has a retail price of $2,199. The company also offers 36V ($1,899) and 36V lite ($1,299) models.
Trikke Tech Inc.
85 Industrial Way, Suite F
Buellton, CA 93427
(877) 487-4553
www.trikke.com
---
Wireless Keyboard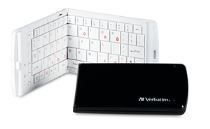 The Bluetooth Wireless Mobile Keyboard from Verbatim Americas LLC features a compact design that folds for maximum portability.
According to product literature, the keyboard works with Bluetooth-enabled devices with HID keyboard support and Bluetooth connectivity, and it can be paired with up to six devices at one time. The keyboard features soft-touch keys for a crisp, responsive feel when typing, and a built-in media console that lets the user play, pause, and control digital music with the touch of a button. It also includes smart keys for added convenience for Apple iOS devices, including cut, copy, paste, and undo; brightness control; and more. The keyboard operates on two AAA batteries (included) and comes with a carrying case and stand.
The Bluetooth Wireless Mobile Keyboard has a retail price of $79.99.
Verbatim Americas LLC
1200 West W.T.
Harris Blvd.
Charlotte, NC 28262
(800) 538-8589
www.verbatim.com
---
Cell Phone Protection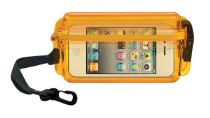 The Watertight Cell Phone Dry Box from Outdoor Products is designed to keep your cell phone protected when around water.
The case will fit most cell phones and is made of an ultra-clear, shatterproof polycarbonate material. It features a durable latch closure and an O-ring to ensure a watertight seal and also includes a woven leash and a swivel clip attachment to hook to your belt or a backpack. While the case will keep your cell phone dry, it is not intended for full submersion.
The Watertight Cell Phone Dry Box comes in three colors and has a retail price of $11.
Outdoor Products
1919 Vineburn Ave.
Los Angeles, CA 90032
(800) 438-3353
www.outdoorproducts.com
---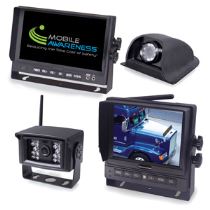 Vehicle Camera System
The VisionStat Triple Side View Camera System from Mobile Awareness LLC is designed to give motorhome drivers unobstructed views behind and to the sides of the vehicle.
The system includes a pair of low-profile, side-mount 9IR LED cameras that can be adjusted similar to a mirror and configured so that the image appears on the 5.6-inch or 7-inch LCD color monitor whenever the turn signals are used. Also included is a low-light 18IR LED rear camera that contains an embedded microphone that can be configured to switch on whenever the vehicle is put in reverse. The monitor includes an audio speaker to give the driver access to sounds at the rear of the motorhome.
The VisionStat Triple Side View Camera System has a retail price of $915.
Mobile Awareness LLC
31200 Solon Road, Suite 12
Solon, OH 44139-2660
(866) 653-5036
(440) 248-5523
www.mobileawareness.com
---
Rechargeable Light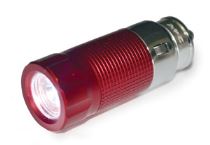 According to product literature, the Mini LED PlugLite from SafetyBright.com is a rechargeable light for work, play, and other activities.
The PlugLite includes a bright white LED with a high-quality optical lens that provides 35 lumens of light. The device plugs into any 12-volt or 24-volt DC accessory outlet and will recharge fully in two hours to provide more than six hours of continuous light. The light's body is made of anodized aluminum with a steel casing for durability and toughness. It measures 2.4 inches long and less than 1 inch wide and weighs just 1.2 ounces. It includes a carabiner with a suction cap that makes it convenient to connect the light to a key chain, handbag, belt loop, and more.
The Mini LED PlugLite is available in three colors and has a retail price of $19.95.
SafetyBright.com
S. 57 W. 23102 Marcelle Drive
Waukesha, WI 53189
(414) 550-5760
www.safetybright.com
---
Automatic Transfer Switch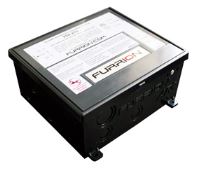 Furrion Power Products recently introduced its Automatic Transfer Switch for 30-amp and 50-amp electrical applications. The product is designed to automatically switch a motorhome's electrical source between shore power and RV generator or inverter power. It features a mechanical interlocking system to prevent two power sources from being connected together, as that could cause a short circuit, over voltage, generator or inverter failure, or electrocution hazard. It includes vibration-resistant brass terminals for improved thermal and electrical conductivity, a UL94 fire-resistant plastic casing, multiple cable strain punch-out holes for easier installation, and double grounding connection points for direct park site connection.
The Furrion Automatic Transfer Switch has retail prices of $172.82 for the 50-amp model and $83.36 for the 30-amp model.
Furrion Power Products
P.O. Box 3361
Waterbury, CT 06705
(888) 354-5792
(203) 528-8422
www.furrion.com
---
Health Portfolio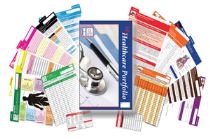 The My Healthcare Portfolio from Innovative Health Media LLC was designed by an emergency room nurse (and RVer) to help individuals organize their current medical records, become more educated about common health-care issues, and communicate better with health-care providers.
Motorhomers are often far away from their primary care physicians and health-care providers. When an emergency or health situation arises, it is critical that their medical information be available for health-care providers and emergency personnel.
The portfolio provides areas to record your medical, surgical, and family history and includes space for your medication schedule, doctors' contact information, and lab results. It also offers emergency instructions and more. Medicare beneficiaries can have their health provider complete their portfolio as part of their annual wellness visit.
The My Healthcare Portfolio has a retail price of $24.95.
Innovative Health Media LLC
7730 Raytown Road, Suite A
Raytown, MO 64138
(816) 309-2768
www.yourhealthcareportfolio.com
---
SNAD (snap adhesively attached) fasteners from YKK Snap Fasteners America Inc. are designed to attach to conventional metal snaps that are applied to canvas and other fabrics.
The snaps (socket and stud) have a unique dome shape and come in either automotive-grade plastic or flexible-base silicone. Each contains a pad of 3M VHB acrylic conformable foam adhesive on the underside that enables the product to be placed on nearly any surface without having to drill a hole. The plastic snap fasteners are designed to be used on flat surfaces, while the flexible-base silicone snaps work on convex and concave surfaces.
SNAD snaps are available at www.sailrite.com and have a price of $2.25 each (socket or stud).
YKK Snap Fasteners America Inc.
302 Factory Ave.
Lawrenceburg, KY 40342
(800) 786-2561
(502) 839-6971
www.ykksnap-america.com
{loadpositionEndBlurbProducts}