Broaden your knowledge about the history of RVs and enjoy the thrill of finding that special postcard when you dive into this interesting hobby.
By John Brunkowski and Michael Closen, F158241
February 2012
Postcard collecting is an ideal hobby for RVers. It is interesting, affordable, and informative. Plus, postcards won't put too much extra weight on your motorhome's chassis as you travel from place to place. For storage, postcards can fit neatly into photo albums, notebooks with divided plastic page protectors, file card drawers, or even shoeboxes. There are plenty of postcards around, including many vintage cards, and you can collect cards about virtually any topic that tickles your fancy.
For RVers, an even more perfect union may be to collect RV-related postcards. After all, RVing is something they're already interested in. So, why not?
It may surprise some to learn just how prevalent postcard collecting is. And it is relatively inexpensive. You can buy many postcards for 50 cents to $10 each, and most of the rest sell for $20 to $50.
Postcards are readily available in numerous ways and from many sources. Postcards can be found here and there at antiques shops and shows, flea markets, estate auctions, and garage sales. Some stamp, coin, and book dealers and many folks who work in ephemera (paper materials such as old documents and advertising materials) also sell postcards. Then there are the three best sources of all for finding collectible postcards: online sites, postcard shows, and collectors' clubs and organizations. Let's examine these options.
First, in these days of online auctions and dealer Web sites, tens of thousands of postcards are available for sale online every day. For instance, visiting eBay.com one day in late 2011 and typing in the search word "postcards," more than 2 million listings appeared. Of course, you do not have to sort through that many entries to find the particular type of postcards you want to collect. You can formulate a specific search request, such as "transportation," to eliminate most of the cards in which you have no interest. As general examples, some of the search terms you might use could include motorhomes, RVs, campgrounds, KOA, and so forth.
Second, millions of postcards are available for purchase every weekend at various postcard shows held around the country. Postcard dealers are savvy enough to know that if several of them get together, advertise the event in advance, and hold a show, the event will draw a crowd of devoted collectors. All of us are familiar with RV shows, car shows, boat shows, gun shows, and the like. The same process works for postcard shows, too.
For example, each January in Orlando, Florida, a postcard show is attended by some 40 to 50 dealers, who each bring 100,000 to 500,000 postcards. The dealers line up in an auditorium-sized building at the Central Florida Fairgrounds. Rows of tables are neatly arranged and filled with long display cases that look like elongated shoeboxes jammed full of cards, meticulously divided and subdivided by subjects in alphabetical order. Attendees simply walk up and down the aisles of tables and search for cards in their areas of interest. At least 10 million cards could be viewed when we attended that two-day show in 2009. It was amazing.
And that was not the only postcard show scheduled during that weekend. Another smaller card show took place only a mile away, and additional postcard shows were held in other parts of the country. We have been to many such shows. Large cities and small towns play host to these kinds of events "" of course, on smaller scales in the smaller communities.
The third way to find cards is through postcard collectors' clubs and organizations that have been established in many regions of the country. Just about all of them hold regular meetings at which members and local dealers get together to buy, sell, and swap postcards. The members are delighted to have visitors attend who are also interested in buying, selling, and exchanging cards.
Learn more
It's easy to find published sources of information about postcards and the collecting hobby, including calendars of postcard shows and contacts for area collectors' groups. You can contact a local postcard dealer or attend a postcard show and ask for information. Many Web sites exist for postcard collectors, dealers, and groups. Numerous books about postcards and collecting have been published, which can be found in local libraries and through online searches. Included among those helpful books are several postcard price guides that have been published through the years. One helpful source we discovered is the 2006 Syracuse University Press book Real Photo Postcard Guide, by Robert Bogdan and Todd Weseloh, which contains an extensive bibliography of postcard references.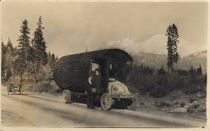 We know from experience about the vast possibilities involved with collecting RV postcards. We began accumulating cards a number of years ago in conjunction with our RV toy collecting hobby, especially after we had decided to write a book about RV toys. In 2008 we published RV & Camper Toys: The History Of RVing In Miniature, a coffee-table-style book packed with colorful pictures of toys. On several pages of the book we used postcards of RVs as background accents to add variety to the photography. Now we have published a book about RV postcards. (See information above.)
One thing we learned immediately when we began acquiring RV postcards is that we could have specialized in collecting cards about one or more very narrow topics within that category. Because so many RV postcards exist, you could concentrate on cards featuring motorhomes, truck campers, or camper vans. You could keep cards exclusively from Canada or other countries. You could specialize in period cards from a particular decade or two.
Within a subcategory, you could narrow it further. To illustrate, you could save comic postcards from the 1930s to 1950s and could find enough cards for a collection about "RV outhouse humor," because those were the days before RVs (travel trailers at that time) had their own self-contained bathrooms. A lot of postcards poked fun at RVing, since travelers found it necessary to use "outhouse" facilities at public parks, campgrounds, and gas stations. As another example, if you decided to collect RV campground cards, you could specialize in postcards for vintage RV parks, for campgrounds in a particular state (especially the largest RV states such as Arizona, California, Florida, Texas, and others), for KOA parks, or for public campgrounds (local, state, or national parks).
People even collect "QSL" or ham radio cards. In earlier years when operating amateur radios was more popular, many ham radio operators acquired their own postcards to exchange with other radio hobbyists, and some of those operators who were RVers personalized their QSL cards with images of their RVs.
We really enjoy the challenges and intrinsic rewards of collecting RV postcards. We feel a true sense of accomplishment if we find a card we've never seen before, perhaps the only remaining card of that design. It's a super day if we discover one of those hard-to-find cards on which the RV is merely a part of the background or an incidental element of a postcard intended to be about some other subject, because we can then convert it to our collecting category. It's actually a lot of fun to collect postcards.
As the old saying goes, "A picture is worth a thousand words." Looking at just the small number of picture postcards shown in this article is like reading a substantial essay about RVs. And if you collect 100, 500, or even more RV postcards, consider the worth and the pleasure of that. It's a pretty effective way to learn more about RVs and to preserve a valuable piece of RVing history.

---
Pictorial Guide To RVing ($24.99, Schiffer Publishing) by John Brunkowski and Michael Closen is available from the publisher and from online booksellers. The 128-page book covers RV activity from the 1900s to the 1970s with postcard images from more than 20 countries, and topics ranging from car camping and campgrounds to advertisements and RVing humor.