In Apalachicola and Carrabelle — and the area between and around them — you'll find "old" Florida in more ways than one.
By Lazelle Jones
February 2012
Think of Ben Franklin, and you'll likely recall that he was one of the founding fathers of the United States, or that he flew a kite in an electrical storm. But did you also know that many counties in the United States were named after him? Franklin County, Florida, is one. Nestled along the Gulf of Mexico in western Florida, 80 miles east of Panama City, Franklin County is a garden spot where RV snowbirds can spend the winter months basking in the glow of mild temperatures and warm sunshine.
The county's 200-plus miles of shoreline, beaches, coves, and waterways are tucked along a coastline that is sheltered by four barrier islands. Counting Alligator Point in the east, the other islands (east to west) are Dog Island, St. George Island, and St. Vincent Island. The mellow waters that wash up against the unspoiled beaches between the barrier islands and the mainland come with interesting-sounding names like Apalachicola Bay and St. George Sound. This haven beckons with its near-perfect winter climate and a litany of delightful opportunities that will satiate all appetites.
Franklin County is a 545-square-mile body of land, and 87 percent of it is protected either by the state or the federal government. It remains undisturbed and pristine. Folks at the Franklin County Convention and Visitors Bureau assured me that the seaside communities, estuaries, islands, beaches, parks, refuges and deep Gulf waters off the coast did not experience negative effects from the Deepwater Horizon oil spill that occurred in 2010. It continues to represent an excellent choice for the RVing snowbird. Daytime temperatures in January and February — even with a windchill factor — may get all the way down to 70 degrees. It's almost cruel to point this out to those who won't be coming here for the winter.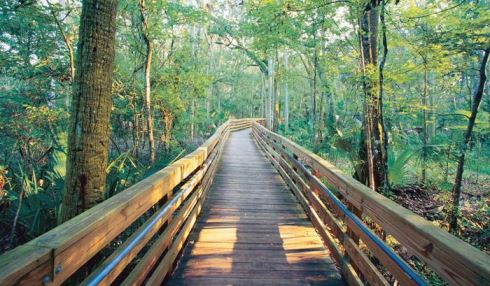 The seaside communities of Apalachicola and Carrabelle merit a closer look to learn what makes this part of the Florida Gulf Coast so charming and attractive. One thing for certain is that these folks have preserved their local history, which dates back to the early part of the 19th century. For example, in Apalachicola alone, 200 buildings are listed on the National Register, some built as early as 1831. Here you can stroll down streets from another time or rent a fat-tired beach-cruiser-type bicycle and just as casually explore the downtown area. The town also hosts the Apalachicola Maritime Museum, which has hands-on displays that invite learning about this town's relationship with the sea.
When cotton was king and the timber industry was thriving, Apalachicola was the third-largest seaport along the Gulf Coast. Then the railroads arrived to move huge quantities of harvested cypress forest to the growing urban centers up the Atlantic seaboard. Today Victorian and Greek Revival-style homes built by the early cotton and timber magnates, along with the warehouses and merchants' stores that still stand today, are all beautifully preserved as national historic sites. What can often be heard when a visitor sees this collection of elegant and timeless architecture for the first time could be characterized as the "ah factor" — for this is the sound you hear ricocheting off the walls of the old brick and wood buildings. The historic side of Apalachicola is truly a sweet experience! Also in Apalachicola, shoppers will enjoy a plethora of boutiques, art galleries, and antiques shops.
Carrabelle's history includes a World War II camp. At the Camp Gordon Johnston Museum, visitors get to see fascinating photos, artifacts, and other memorabilia. It's all related to the fact that this is where soldiers trained for the amphibious landings needed during World War II, including D-Day.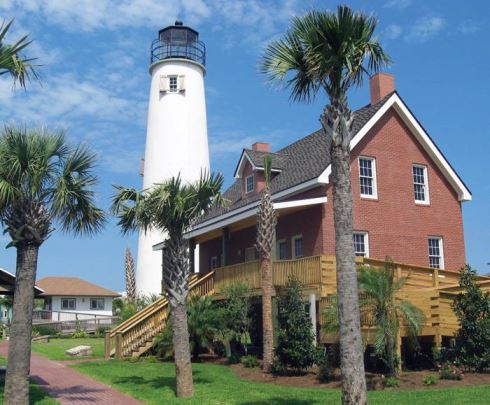 Carrabelle also claims the Crooked River Lighthouse, which has a new keeper's-house museum at its base that is open Thursday through Sunday. The other area beacon, the Cape St. George Light, is at the center of St. George Island. It is a beautifully rebuilt version of the lighthouse that collapsed into the Gulf of Mexico in 2005.
Franklin County is without question the place to go for great seafood because it's so close-to the waters of the bay, sound, and gulf. A huge and very lucrative commercial fishing industry here harvests oysters that are consumed across North America. Fresh flounder, red snapper, mahi-mahi, grouper, and wahoo are brought to market in huge quantities. All sorts of delicacies can be found at the oyster bars, bistros, and casual beachfront eateries that line the boardwalks and wharves.
For the same reason the commercial fishing interests and eateries are located here, anglers consider this place heaven. You can try for some of the 186 species found in Apalachicola Bay and the Gulf of Mexico by way of eight marinas, 26 charter boat companies, and 50 professional fishing guides — you choose freshwater or salt water. If you bring along your own boat, look for public boat-launching ramps on St. George Island, Alligator Point, and Carrabelle, a dozen of which provide creek access along State Route 65 north. Not surprisingly, Franklin County hosts many professional fishing tournaments. Boat rentals (including kayaks) and charter trips also are available.
Of the barrier islands that shelter the coast of Franklin County from the Gulf of Mexico, two of them (Alligator Point and St. George Island) can be reached by vehicle, while the other two (Dog Island and St. Vincent Island) are reached by boat. At their widest points, St. George Sound and Apalachicola Bay are several miles across. Here parks and wildlife refuges abound, including the 12,000-plus-acre St. Vincent National Wildlife Refuge, which is accessible only by boat. For the birder this refuge represents an opportunity to observe an important migratory bird stopover, as well as nesting sites of bald eagles. Loggerhead turtles live here, too, and a site is exclusively set aside for the propagation of the red wolf.
The 202,000 acres that compose Tate's Hell State Forest invite canoeing, kayaking, boating, and fishing in 35 miles of rivers, creeks, and streams. Black bear, gopher tortoise, and jaguarundi call this place home. It very quickly becomes obvious that in Franklin County, nature and the preservation of nature leads the local list of priorities.
Case in point is the huge effort the residents of Franklin County place on protecting the loggerhead sea turtle. Six active area organizations — a combination of volunteers and national and state agencies — work to that end. These groups are the only advocates the loggerhead turtles have. Should you take a stroll along the county's shorelines, don't be surprised to see signage that reads, "Do Not Disturb Sea Turtle Nests."
And, while you're in Franklin County, you'll notice that nature has a calming effect on you. You may, like a turtle, decide to take things a bit more slowly and savor all it has to offer.
Further Info
Franklin County Tourist Development Council
P.O. Box 819
Apalachicola, FL 32329
(866) 914-2068
(850) 653-8678
E-mail: [email protected]
www.anaturalescape.com
Area Campgrounds
Please check your favorite campground directory or the RV Marketplace directory, found in the January and June issues of FMC and online at FMCA.com, for additional listings.
Carrabelle Beach
1843 U.S. 98 W.
Carrabelle, FL 32322
(850) 697-2638
www.carrabellebeach.rvcoutdoors.com
Dr. Julian G. Bruce St. George Island State Park
1900 E. Gulf Beach Drive
St. George Island, FL 32328
(850) 927-2111
www.floridastateparks.org/stgeorgeisland
Gulf View Campground
897 U.S. 98
Eastpoint, FL 32328
(850) 670-8970
Ho-Hum RV Park
2132 U.S. 98
Carrabelle, FL 32322
(850) 697-3926
www.hohumrvpark.com