Archery Set
designed to make it easy for kids to hit the target every time.
The set includes a special bow with a spinning finger-grip handle that draws the string back and a barrel into which the arrows are loaded. The set also comes with a quiver to hold the three included arrows.
The Faux Bow has a suggested retail price of $24.99.
Marky Sparky Inc.
2180 Chablis Court, #102
Escondido, CA 92029
(800) 781-8110
(760) 737-7300
www.markysparkytoys.com
---
Fishing Kit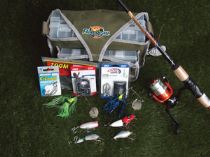 .
The kit features a 5-foot-6-inch Shakespeare Amphibian rod and spinning reel preloaded with 6-pound-test fishing line. Also included is a Flambeau over-the-shoulder tackle bag with three tackle boxes packed with artificial baits, including crank baits, poppers, worms, a spinner, and a package worm hooks.
The Bass Kit has a suggested retail price of $65.
The Kids Fishing Shop LLC
47 Washington St.
Keyport, NJ 07735
(908) 692-6163
www.thekidsfishingshop.com
---
Snorkeling Set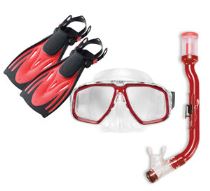 Each set includes a twin-lens, silicone scuba mask that features tempered safety glass and heavy-duty adjustable swivel buckles; a pair of open-heel Rocket fins with stretchable straps that are said to be easy for kids to put on; and a dry snorkel with a kid-size mouthpiece and a safety orange top for visibility in the water. Sets are available in red, blue, pink, or yellow.
The Joe's Squidz Mask, Fins & Snorkel set has a suggested retail price of $99.95 but is available from Joe Diver America for $48.73.
Joe Diver America
12801-17 Commonwealth Drive
Fort Myers, FL 33913
(239) 437-2900
www.joediveramerica.com
---
Card Games With Dice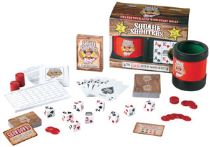 The game features a full deck of cards and a pair of jokers printed on nine dice. To play the feature game, players draw a game card and then try to match the hand shown in three rolls of the dice or less. By rolling the hand indicated on the card, the player receives one or more chips, depending on the difficulty. The dice also can be used to play games such as war, rummy, 21, or poker. Players can even make up their own games.
The Square Shooters basic set comes with nine dice, 42 game cards, 100 scorekeeping chips, a storage pouch, and instructions and is priced at $12.99. The deluxe set includes all of the above, but with 200 chips, a dice cup, and a deck of playing cards for $19.99.
Heartland Consumer Products LLC
18615 Detroit Ave., #203
Lakewood, OH 44107
(216) 712-4100
www.squareshooters.com
---
Game Book
Bored Games (Capital Books Inc.) by Lee Silber and Mike Metz features more than 100 cool activities and games to keep kids occupied and engaged.
The 160-page book includes creative ideas to entertain kids during travel time and at the campground. While many of the activities can be done independently, they also give parents and grandparents great ideas for interacting with the youngsters. Examples include the Newlywed Game, as participants test their knowledge about their siblings, parents, grandparents, or friends; Cell Phone Photo Scavenger Hunt, where kids are instructed to find items and take pictures of them on their cell phone or mobile device; and Finish the Face, in which one person draws a shape and the paper is passed around for everyone to complete the face.
The book has a suggested retail price of $9.95 and is available at bookstores, through online booksellers, or from the publisher.
International Publishers Marketing
22841 Quicksilver Drive
Dulles, VA 20166
(800) 758-3756
www.internationalpubmarket.com
---
Memory Game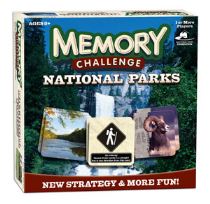 The game includes more than 100 picture cards featuring park names and beautiful photography. Rules and Regulations cards can be used to create new game play action, allowing players to swipe matches, take extra turns, and peek at more cards.
The Memory Challenge: National Parks Edition has a suggested retail price of $14.95.
USAopoly Inc.
5607 Palmer Way
Carlsbad, CA 92010
(888) 876-7659
(760) 431-5910
www.usaopoly.com
---
Bug Flashlight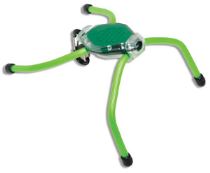 The base is an INOVA LED micro flashlight encased in a durable housing and features four light functions: high, low, strobe, and signal. The light has an effective range of up to 50 feet and 1 mile of visibility. The securely attached legs are two flexible, fully moldable 6-inch Nite Ize Gear Ties that can be bent, wrapped, or twisted to help the BugLit stand, sit, and hang. The device also includes an S-biner clip for easy attaching. The flashlight comes with two replaceable 2016 3-volt lithium batteries and is available in red/black, green/black, blue/lime, and black/green.
The BugLit has a suggested retail price of $12.99.
Nite Ize Inc.
5660 Central Ave.
Boulder, CO 80301
(800) 678-6483
(303) 449-2576
www.niteize.com
---
Telescope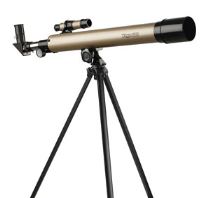 With 30x to 150x magnification and rack-and-pinion focusing, youngsters will be rewarded with bright, clear images, making it great for viewing birds and animals, as well as the moon, planets, and constellations. The telescope features a 50-millimeter achromatic objective lens; all-glass optics; two interchangeable eyepieces; an optical finder scope; a full-height, adjustable tripod; and an image erector for viewing terrestrial subjects.
The GeoSafari Vega 600 Telescope has a suggested retail price of $89.99.
Educational Insights Inc.
152 W. Walnut St., Suite 201
Gardena, CA 90248
(888) 800-7893
www.educationalinsights.com
---
Treasure-Hunting GPS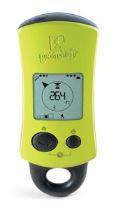 Introduce youngsters to the fun of geocaching – high-tech treasure hunting — with the Geomate.jr GPS from Brand 44 Colorado.
This kid-friendly GPS is preloaded with more than 250,000 geocache locations in the United States. Just turn it on and the device immediately directs you to the closest cache. It also provides information about the size of the cache, the terrain you will need to navigate, how difficult the cache is to find, and the cache ID. In addition, the GPS has compass, latitude and longitude, and height displays, making it the perfect companion to a topographical map. The device measures 1.9 inches by 3.7 inches by 1 inch and weighs 2.5 ounces plus the weight of the two AAA batteries that power it. An Update Kit links the Geomate.jr to your computer to download the latest geocaches and obtain lists for other countries.
The Geomate.jr has a suggested retail price of $69.95; Update Kit, $24.95.
Brand 44 Colorado
169 Corona St.
Denver, CO 80218
(303) 339-0482
www.mygeomate.com