Fire Extinguisher Mount
The Quick-Release Fire Extinguisher Bracket from Mac's Custom Tie-Downs provides a secure mount for your handheld fire extinguisher yet allows it to be accessed quickly in the event of a fire emergency.
The bracket is made of machined billet aluminum with stainless-steel hardware and is available with tubular or panel mounts for use on floor pans or interior walls within easy reach. The aircraft-style ball detent pin maintains a snug fit for maximum security but can be removed quickly with one hand.
The Quick-Release Fire Extinguisher Bracket has a retail price of $149.95.
Mac's Custom Tie-Downs
P.O. Box 1140
Sagle, ID 83860
(800) 666-1586
www.macstiedowns.com
---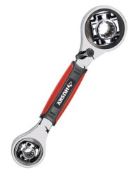 Socket Wrench
The Husky 48-in-1 Ratcheting Rotary Socket Wrench is an all-in-0ne tool that provides eight standard socket sizes and will fit six different types of bolts.
The ratchet has a rotating socket head on each end of the wrench. The universal teeth design allows the sockets to fit square, 12-point, hex, rounded hex, spline, and torx bolts. The small head includes 5/16-, 3/8-, 7/16-, and 1/2-inch sockets, while the large head has 9/16-, 5/8-, 11/16-, and 3/4-inch sockets. The rotary is said to be easy to use when changing head size, and the wrench has a small switch to change the position of the ratchet.
The 48-in-1 Ratcheting Rotary Socket Wrench has a retail price of $19.88 and can be purchased at Home Depot.
Husky Tools
624 Military Trail
Deerfield Beach, FL 33442
(954) 596-1090
www.homedepot.com
---
RV Water Pump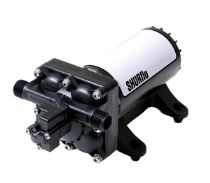 According to product literature, the new 4048 High Flow Pump from SHURflo delivers up to 4 gallons of fresh water per minute at pressures up to 55 psi.
The 4048 features a four-chamber design that incorporates the company's patent-pending Flow Reaction Technology, which is said to reduce noise, vibration, and excessive pump cycling. It also includes an over-molded single-piece diaphragm, an adjustable bypass and pressure shutoff switch, thermal overload protection, and the company's umbrella valve design.
The SHURflo 4048 High Flow Pump has a retail price of $191.85.
SHURflo
5900 Katella Ave.
Cypress, CA 90630
(800) 854-3218
(562) 795-5200
www.shurflo.com
---
Advanced Driver Assistance System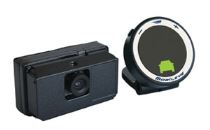 The Mobileye C2-270 from Mobileye Inc. is a collision prevention and mitigation system that alerts drivers to potentially dangerous situations.
The C2-270 provides headway (following too closely), forward collision, pedestrian collision (including bicycles), and lane departure warnings, and it also will intelligently control the high-beam headlights. The system features a single "smart" camera that attaches to the windshield and includes the company's proprietary "EyeQ" computer chip and algorithms. In addition to an audio alert buzzer, the device also includes a visual display. The system operates day and night under almost all weather conditions.
The Mobileye C2-270 has a retail price of $749 and can be installed on nearly any vehicle.
Mobileye Inc.
100 Shames Drive, Suite B
Westbury, NY 11590
(877) 867-4900
www.mobileye.com
---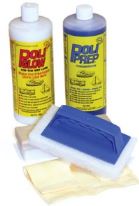 Cleaning And Polishing Kit
The Poli Glow Kit from Poli Glow Products Inc. is touted as an easy way to help restore the luster to the exterior finish on older motorhomes.
The kit includes Poli Prep to remove stains and oxidation. Once the surface is clean, Poli Glow polish is applied. Unlike other polishes, Poli Glow goes on like paint and should be applied in thin, overlapping strokes and allowed to dry. A minimum of five coats should be applied. When finished, the shine reportedly will last for up to 12 months with regular cleanings using soap and water. The kit is designed to complete a 36-foot motorhome.
The Poli Glow Kit, which includes 32-ounce bottles of Poli Prep and Poli Glow, a 7-inch applicator, a scrub pad, and gloves, has a retail price of $69.95.
Poli Glow Products Inc.
3789 Oleander Ave.
Fort Pierce, FL 34982
(800) 922-5013
(772) 595-5755
www.poliglow-int.com
---
Bite And Sting Relief

The Therapik from MorePower2U is a small, portable handheld device designed to provide relief from the pain and itching caused by bug bites and stings.
Most insect venom is sensitive to heat, and Therapik's patented technology delivers heat in the precise temperature range to deactivate the venom from more than 20,000 different types of insects and sea creatures. As the heat neutralizes the venom and increases blood flow to the affected area, swelling, itching, and pain are reduced. One 20- to 30-second application typically stops the itch and pain, but the device can be used as often as necessary until relief is obtained. It is not intended for spider or snake bites.
The Therapik has a retail price of $12.95.
MorePower2U
4638 N. Hiatus Road
Sunrise, FL 33351
(954) 578-6909
www.therapik.com
---
Pet Shelter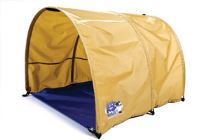 The K-9 Koolee from B Anthony Core Group LLC is a portable shelter and cooling system to keep dogs comfortable while they are outside for extended periods of time.
The portable, lightweight product features the B Core Polymer System, which utilizes cooling inserts that, once filled with water and refrigerated, provide a cool resting spot for your dog. The K-9 Koolee also includes an integrated pillow and padding for ultimate comfort and a pop-up canopy for instant shade. The product has a built-in handle and shoulder strap for transport.
The K-9 Koolee is available in two sizes: the small/medium model (dogs up to 55 pounds) has a retail price of $169, while the large version (55 to 125 pounds) is priced at $189.
B Anthony Core Group LLC
11625 Fox Creek Drive
Tampa, FL 33635
(813) 420-2480
www.k9koolee.com
---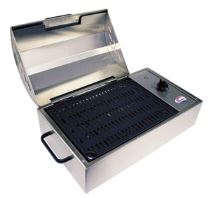 Electric Grill
According to product literature, the PowerChef Convertible Electric Grill from Dimplex North America Ltd. makes it easy to cook like a pro.
The portable electric grill features a dual-element cooking system and 216 inches of grilling surface. The upper element, which reaches up to 650 degrees, sears meat directly. The lower element provides precise, even heat to gently cook food. The grill plugs into a 120-volt-AC outlet and includes a manual and an electronic control system. With the electronic control, users can program the type of food being cooked, its thickness, and how they want it cooked. The control will chime when it's time to flip the food and again when it's done, all based on programmed information. The grill measures approximately 22 inches wide, 12 inches high, and 20 inches deep, and it weighs 35 pounds.
The PowerChef Convertible Electric Grill has a retail price of $449.
Dimplex North America Ltd.
1367 Industrial Road
Cambridge, ON N1R 7G8
Canada
(800) 668-6663
www.dimplex.com
---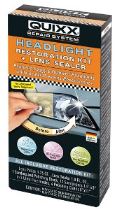 Headlight Restoration
The QUIXX Headlight Restoration Kit and Lens Sealer from Quixx Care System can be used to restore hazy plastic headlight lenses to what the company calls "like-new" condition.
Not only do they look bad, but foggy, yellow, or scratched lenses can reduce the effectiveness of the headlights, potentially creating a dangerous driving situation at night or during inclement weather. The kit reportedly will restore up to 95 percent of the headlight's original clarity and light performance. The kit includes QUIXX polishing compound, ultrafine sandpaper, a sanding/polishing block for extremely yellowed or scratched lenses, and polishing cloths. It also comes with Headlight Lens Sealer to keep the lenses from becoming cloudy, yellowed, and scratched once they are restored.
The QUIXX Headlight Restoration Kit and Lens Sealer has a retail price of $19.99.
WNV Sales Inc.
6100 Blue Lagoon, Suite 105
Miami, FL 33126
(305) 261-6755
www.quixx-usa.com{loadpositionEndBlurbProducts}