All-Natural Lip Balm

All Good Lips from Elemental Herbs Inc. is an all-natural lip balm that keeps lips healthy and moisturized with organic healing herbs and essential oils.
The balm also has an SPF of 12 to protect lips from the sun's harmful rays. It is available in original, sweet tangerine, and cool spearmint flavors. A non-SPF moisturizing-only formula also is available.
A tube of All Good Lips has a manufacturer's suggested retail price of $3.50.
Elemental Herbs Inc.
P.O. Box 203
Morro Bay, CA 93443
(877) 239-4667
www.elementalherbs.com
---
Nose Wipes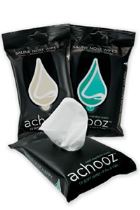 Achooz nose wipes from Little Busy Bodies Inc. are said to help relieve congestion and eliminate red, chapped noses caused by wiping with regular tissues.
Each Achooz wipe includes a drug-free saline solution to help clear up nasal congestion along with Vitamin E and aloe to moisturize the nose and soothe irritation. The wipes are available in fragrance-free and cool menthol for extra stuffy days.
A pack of 15 Achooz wipes has a manufacturer's suggested retail price of $1.99.
Little Busy Bodies Inc.
7874 S.W. Nimbus
Beaverton, OR 97007
(503) 469-8888
www.achooz.com
---
Traveler's Jacket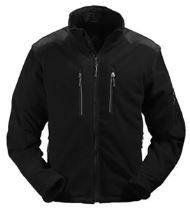 The Fleece 5.0 Jacket from SCOTTEVEST Inc. is a medium-weight travel jacket that includes 24 pockets that wearers can use to carry a multitude of personal items and gadgets.
The jacket is designed with pockets for nearly anything you might want to carry, such as secure travel documents, a cell phone, a GPS unit, a water bottle, a digital camera, glasses, mobile devices, MP3 players, and more. The jacket also includes the company's Personal Area Network, which is a series of conduits to connect wires to devices while in the pockets. The jacket is made of lightweight polyester microfleece; includes reflective piping on the front and back; and has removable sleeves for use in spring, fall, and winter.
The Fleece 5.0 Jacket has a manufacturer's suggested retail price of $140.
Scottevest Inc.
P.O. Box 2626
Ketchum, ID 83340
(866) 909-8378
(208) 727-6700
www.scottevest.com
---
Polarized Sunglasses With Readers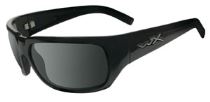 Wearing sunglasses on bright days is a must when driving, sight-seeing, or participating in outdoor activities. But for many people it can be difficult to read maps, instructions, or other written material with nonprescription sunglasses. Ono's Trading Company has solved this problem with its line of polarized sunglasses that have readers built in.
With these glasses, farsighted people can enjoy outdoor activities without the hassle of having to switch glasses or purchase prescription bifocal sunglasses. The company offers 14 styles with multiple lens colors and powers from which to choose.
Ono's Trading Company polarized sunglasses with readers have manufacturer's suggested retail prices starting at $89.99. The company also has an online prescription program.
Ono's Trading Company
1606B Industrial Park Circle
Mobile, AL 36693-5648
(866) 865-4695
(251) 338-0351
www.onostradingcompany.com
---
Mobile Device Portable Keyboard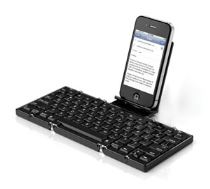 The Jorno portable Bluetooth keyboard from Cervantes Mobile LLC is a rigid, pocket-sized keyboard that adds functionality to your mobile device.
The lightweight keyboard, which works with numerous mobile and tablet devices, measures 8.5 inches long by 3.5 inches wide by 0.3-inch thick when unfolded to make typing e-mails, taking notes, and working on your device easier. When folded, the keyboard reduces to the size of a deck of cards to fit in a pocket or bag. The keyboard includes a rechargeable lithium-ion battery that is said to provide power for up to one month of use and is charged via a mini USB cable. It also comes with a detachable cradle to hold the device in portrait or landscape orientation.
The Jorno has a manufacturer's suggested retail price of $99.
Cervantes Mobile LLC
8033 W. Sunset Blvd.
Los Angeles, CA 90046
(877) 445-6766
www.jornostore.com
---
Waterproof Spotlight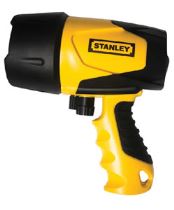 The Stanley Ultra Bright 5 Watt LED Waterproof Rechargeable Spotlight from Baccus Global LLC provides 200 lumens of illumination for up to 10 hours of use.
According to product literature, the spotlight can be submerged in water up to 6 feet and will float with the beam pointing up to make retrieval easier. It also is tough enough to withstand being dropped from heights up to 10 feet. The spotlight includes a rechargeable 7.2-volt NiMH battery and comes with both AC and DC charging cords. It features a rubber bezel and handle for a comfortable grip, a high-low dimmer control, and a carrying lanyard.
The Stanley 5 Watt LED Waterproof Rechargeable Spotlight has a manufacturer's suggested retail price of $59.99.
Baccus Global LLC
595 S. Federal Highway
Suite 210
Boca Raton, FL 33432
(877) 571-2391
www.baccusglobal.com
---
RV Central Vacuum System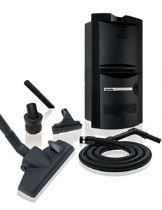 According to product literature, the RoadVac central vacuum system from InterVac Design Corporation will help owners keep their motorhome showroom-clean.
The vacuum features an 11-amp motor, a ribbed vacuum chamber, and hypoallergenic filtration that maximize airflow and suction. It also includes a 1-gallon-capacity hypoallergenic dust bag and a 40-foot stretch hose that shrinks to 8 feet for storage. The 120-volt-AC vacuum measures approximately 8 inches wide, 16 inches tall, and 4 inches deep, and can be flush- or surface-mounted, or even installed in the basement. The vacuum can be powered through a 6-foot plug-in cord or hardwired into the motorhome's electrical system.
The RoadVac has a manufacturer's suggested retail price of $278 and comes with the complete accessory kit, including the mini turbo head.
InterVac Design Corporation
2939 S.W. 42 Ave.
Palm City, FL 34990
(888) 499-1925
(772) 463-1400
www.roadvac.com
---
Folding Swivel Chair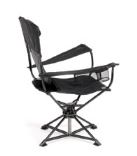 The rEvolve is a portable folding chair that can swivel 360 degrees, eliminating the need for those using the chair to twist around to look at something or talk with someone to the side or behind them.
The 6-pound chair features a patent-pending swivel base that rotates independently of the legs. The frame is constructed of carbon steel, and the seat is made of 1000-denier polyester fabric. The chair also includes a digital audio connection for MP3 players and a pair of speakers in the upper portion of the seat, along with a detachable headrest. It has a folded length of 40 inches and comes with a heavy-duty carrying case. The chair holds a maximum of 250 pounds.
The rEvolve has a manufacturer's suggested retail price of $59.95.
Revolve LLC
P.O. Box 3439
Gilbert, AZ 85299
(602) 725-5334
www.revolvechair.com
---
Windshield Shade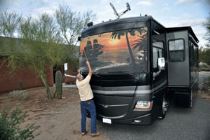 The Magne Shade from Hunckler Fabrication is designed to attach to the outside of a motorhome's windshield without the use of a ladder or exterior hardware.
According to product literature, the shade attaches via strong magnets mounted on the inside of the windshield with corresponding magnets sewn into the pockets of the shade. Once the inside magnets are aligned, users raise one corner of the shade with the supplied fiberglass rod to attach. When the opposite corner is raised, the center magnets attract and pull the fabric to the top of the windshield.
Each shade is custom made and is available in designer prints or custom designs.
The Magne Shade has manufacturer's suggested retail prices starting at $350 for Type C motorhomes and $395 for most Type As.
Hunckler Fabrication
768 Yadkinville Road
Mocksville, NC 27028
(336) 414-4364
www.magneshade.com
{loadpositionEndBlurbProducts}