Gear, Gadgets, And Gifts
Practical accessories and assorted goods designed to make life easier and more enjoyable for RVers.
By Skip Tate, Associate Editor
Cup Holder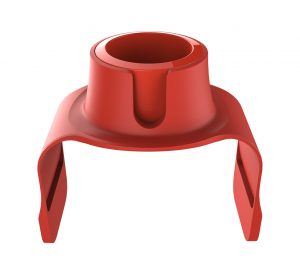 We're not entirely sure how human beings survived in the prehistoric days before there were cup holders. Fortunately, Hit Products came up with a solution so it doesn't really matter. Its clever little cup holder has weighted wings that flop over the arm of a couch, sofa, or armchair and hold your drink sturdy and steady. Round arms, flat arms, wide arms, skinny arms — it doesn't matter. Neither does the size of your drink. Mugs, tumblers, bottles, cans — they all fit, and a removable adapter can be inserted for skinny drinks. They're made in England, so unless you want to pay in pounds, you have to order from Amazon or The Grommet. Price is $25. Five colors are available.
Hit Products
www.couchcoaster.com
---
Magnetic Spice Jars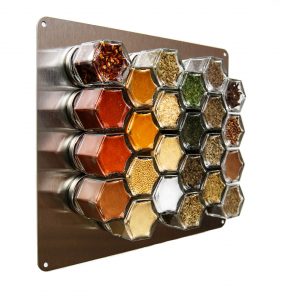 Don't use the refrigerator just for your kids' art projects. Spice it up a little. The creative cooks at Gneiss Spice (that's a fancy way to say Nice Spice) took some really cool six-sided glass jars and made the lids magnetic so you can stick them on the fridge — or anywhere else that's steel. They're colorful once filled with different spices, and are convenient yet out of the way. That also means more cabinet space. Who can't use that? Jars come in two sizes; individually or in a set; empty or prefilled with organic spices. Prices range from $5 for a single empty jar to $265 for 24 large prefilled jars and a steel wall plate.
Gneiss Spice
(347) 688-2376
www.gneissspice.com
---
Battery Fillers
Batteries are life. They keep everything running when you're off the grid. Unfortunately, batteries are also dead if you don't keep them adequately filled so they can maintain their charge, a chore about as exciting as pulling weeds. Thankfully, Flow-Rite found a way to ease the burden with its Pro-Fill onboard battery watering system. It permanently attaches to battery systems, and when connected to an external water source, it allows you to fill up to six batteries at once. It also vents gas and prevents battery acid from splashing out of the battery and ruining your new shirt. Price is $64.99 for a two-battery system.
Flow-Rite
(616) 583-1700
www.flow-rite.com
---
Space-Saving Hangers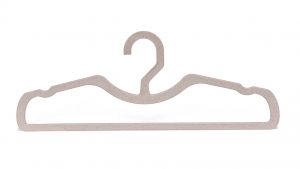 Closets feeling cluttered? Of course they are; you're living in an RV. Drew Cleaver had the same problem in his college dorm room, so he invented Higher Hangers, a short-neck hanger that lifts clothes several inches closer to the rod, thereby creating additional space below. The hangers come in three styles: nonslip velvet, classic plastic, and biodegradable flaxseed composite. Prices range from $19.99 to $24.99 for a pack of 10.
Higher Hangers
www.higherhangers.com
---
Outdoor Blanket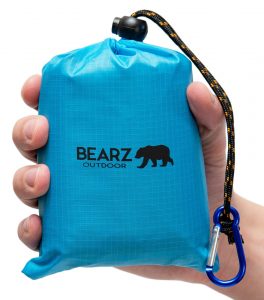 Take a hike. No, seriously. Nature hikes are wonderful — except when trying to find a place to rest or spread out for a picnic. The ground or fallen tree stumps are dirty. Even the grass can be itchy. This issue wasn't lost on the folks at Bearz Outdoor, who created the perfect solution — a pocket blanket that fits into a pouch the size of your hand, expands to 55 inches by 60 inches, and comes in six colors. Two adults can fit on it with room to spare. They also added corner loops to stake it in the ground, or pockets in each corner that can be filled with sand or rocks to keep it from blowing away. And it's waterproof. The price is $20.99.
Bearz Outdoor
www.bearzoutdoor.com
---
Steering Wheel Table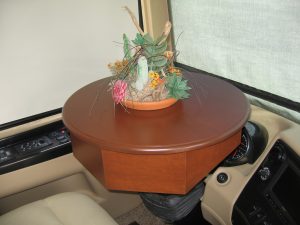 Every inch inside an RV is prime real estate. Yet, when the RV is parked, there sits the steering wheel, like a skinny doughnut, taking up an entire corner of the home and contributing nothing. Fortunately, the craftspeople at Wood Design RV Interiors found a way to turn the tables on the issue — so to speak. They sawed and screwed and glued some wood together and created a product that converts an ordinary steering wheel into an elegantly crafted table. The steering wheel table comes in four standard finishes or a custom finish option and gives you a place to set a lamp or vase of flowers and class up that corner of the RV. Two adjustable legs hidden underneath a side skirt keep it level. Price is $160. An Eco-Slim version that is just a table top and legs sells for $100.
Wood Design RV Interiors
(574) 773-4911
www.wooddesignrv.com
---
Single-Key Locks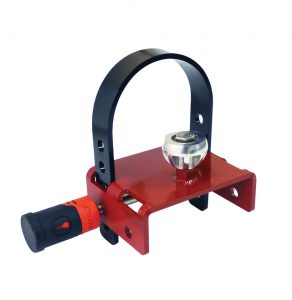 Show of hands: How many of you have keys on a keyring and you don't know what they go to? Yeah, us too. BOLT has come up with a way to significantly reduce your key collection — including those associated with receiver locks for your trailer hitch or coupler locks that go over your ball-mount hitch so people can't just unhook your trailer and drive off with it. BOLT — short for Breakthrough One-Key Lock Technology — has a variety of locks that can all be programmed to open with a vehicle's ignition key. That also includes padlocks to secure trailer chains, and cable locks to secure spare tires or bikes on bike racks. The cost of the locks varies, but the key doesn't.
BOLT Lock
(844) 972-7547
www.boltlock.com
---
Campfire Popcorn Popper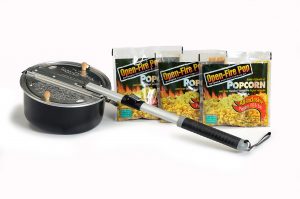 The only thing better than sitting around a campfire is holding a pan over the open fire and making popcorn the way grandpa used to do it. The sound, the smell, the taste. Yum. You're not getting that from a microwavable bag. Thankfully, you are able to get it from Wabash Valley Farms, which produces the Open-Fire Pop outdoor popcorn popper, complete with a telescopic handle that extends 2 feet so you can heat up the corn and not your knuckles. The handle detaches for storage. Each popper comes with three bags of popcorn, oil, and buttery salt.
Price is $33.29.
Wabash Valley Farms
(877) 888-7077
www.popcornpopper.com