By John Johnston, Associate Editor
Holding Tank Treatment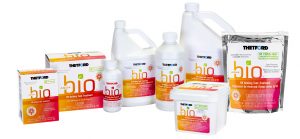 A California law bans RV holding tank products containing formaldehyde, bronopol, and other chemicals starting in 2022. AquaBio, from Thetford, complies with the law.
AquaBio is a quick-acting holding tank treatment formulated with a calcium nitrate base and fragrance compounds to eliminate odors and digest toilet paper and waste. It has been deemed safe for all RV toilets, holding tanks, and septic systems. Citrus-scented AquaBio is available in liquid, toss-in, and dry form, and various package sizes. One dose treats a 40-gallon tank. The suggested price for a 30-count tub of toss-ins is $18.47.
Thetford Corporation
(800) 543-1219
www.thetford.com
---
TV Antenna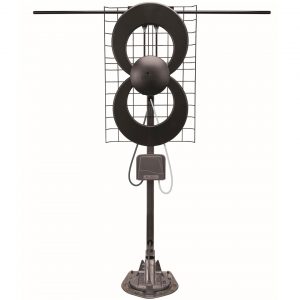 RVers who want free TV need a way to capture over-the-air signals. The ClearStream 2 RV Amplified On-the-Go TV Antenna can receive signals 60-plus miles from broadcast towers, according to the product description.
The outdoor antenna's features include a preamplifier system that boosts signals from its dedicated UHF and VHF multidirectional dipoles; a reflector that focuses the antenna's power and protects against interference; and a 60-degree beam angle that receives signals from widely spaced towers. The antenna is designed for RVs with a pre-existing elevating mast. A mast bracket, mounting hardware, and installation cables are included. The price is $99.99.
Antennas Direct
(877) 825-5572
www.antennasdirect.com
---
RV Mattress

When it's time to hit the hay, you don't want to lie down on dried grass that'll be fed to sheep. You want a comfortable mattress. Brooklyn Bedding offers RVers a variety of choices at its recently launched website, rvmattress.com.
The brand's most popular mattress since 2010 is the Brooklyn Signature Hybrid. Features include two patented foam layers; foam that's infused with TitaniumGel, which is said to help moderate body temperature while you sleep; and up to 961 individually encased coils for added support. You choose the firmness: soft, medium, or firm. The mattress comes with a 120-day risk-free trial. Prices start at $599 for a twin.
Brooklyn Bedding
(888) 210-8751
www.rvmattress.com
---
All-In-One Charger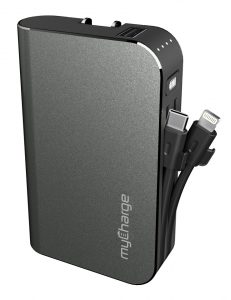 Has anyone seen my phone charger cord? Can I borrow yours? Those familiar refrains won't be spoken by users of the myCharge Hub Turbo 6K, a 6700-milliampere-hour portable charger that features built-in Apple Lightning and USB-C charging cables. There's also a USB port that can be used to charge another device with a separate cable.
The charger is equipped with Apple Power Delivery and Qualcomm Quick Charge technologies, which, can recharge iPhone 11 and Samsung S10 phones to 50 percent in 30 minutes. The charger itself can be recharged using foldout wall prongs on the back. The Hub Turbo 6K is 4.1 inches by 2.5 inches by 0.9 inch. The suggested retail price is $89.99.
myCharge
https://mycharge.com
---
Metal Polish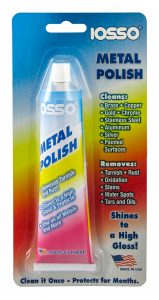 One way to be a shining example for other RVers: Apply polish to all your metal items until they gleam. Iosso Metal Polish is formulated to remove oxidation, tarnish, surface rust, and water spots from stainless steel, chrome, bronze, brass, aluminum, and other metals. It also can be used on porcelain, acrylic, hard plastics, and painted surfaces. You rub the polish on and then buff it off by hand or machine. It contains no silicone or wax.
The metal polish can shine up jewelry, faucets, silverware, musical instruments, buckles, and more. It's also said to be effective at removing road tar and oil. The price of a 3-ounce tube is $9; larger sizes are available.
Iosso Products
(888) 747-4332
www.iosso.com
---
Satellite Messenger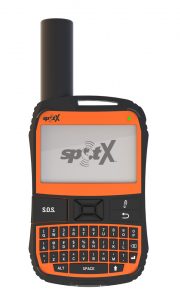 For adventurous folks who often are out of reach of cellular networks, a satellite messenger, such as Spot X, can be a lifeline. Spot X comes with a dedicated U.S. mobile phone number and can be used as a stand-alone communication device, or it can connect to your smartphone via Bluetooth. You can stay in touch with your contacts via texts or short emails; you also can communicate directly with search-and-rescue services via two-way texts.
Features include GPS tracking of waypoints; a built-in compass; an adjustable, backlit keyboard; and a 50-day rechargeable battery. The suggested price is $249.99, plus the cost of a service plan (several are available).
Spot LLC
(866) 651-7768
www.findmespot.com/en-us/
---
Auxiliary Battery Charger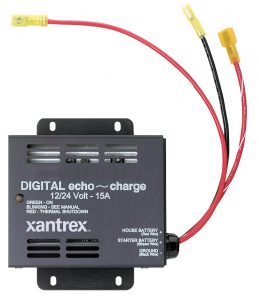 If your motorhome's chassis batteries die while you're connected to shore power, parasitic battery drains — caused by electrical devices that remain on — may be the culprit. The solution: an auxiliary charging system, such as the Xantrex Digital Echo Charge. It detects when the house battery bank is being charged by an inverter/charger or other source and then directs a portion of the charge current — a maximum of 15 amps — to the chassis batteries.
The Echo Charge automatically adjusts for 12-volt or 24-volt battery banks (both battery banks must be the same DC voltage and battery type). The device automatically switches on and off without affect-ing the house battery bank or overcharging. The manufacturer's suggested retail price is $150.
Xantrex LLC
(800) 670-0707
www.xantrex.com
---
Step Cover Module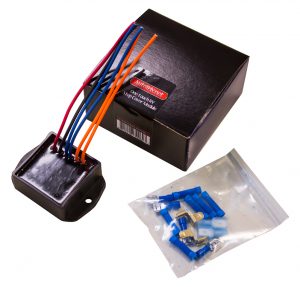 If you have a Type A motorhome and become frustrated about having to hold down a button while the step-well cover or the articulating steps s-l-o-w-l-y extend or retract, a one-touch button alternative is available: the AutoTrix RV Step Cover Module.
The module, which is manufactured in the United States, is said to be easy to install. It works with dash-mounted switches or overhead controller units, but if there's insufficient room for it in the cab/dash area, the module can be installed near the step motor. Once the step-well cover or the steps fully extend or retract, the module immediately shuts off. For added safety, the module has a built-in 10-second auto-shutoff feature. The price is $129.99.
AutoTrix LLC
www.autotrix.net
---
Threadlocker Adhesive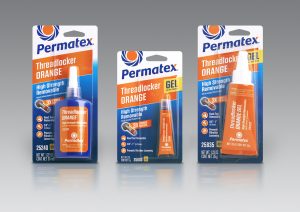 Road conditions sometimes cause an RV to shake, rattle, and roll, which is why many RVers include threadlocker in their toolbox. The adhesive, which is color-coded according to strength, is applied to the threads of screws and bolts to prevent them from loosening.
Permatex High Strength Removable Orange Threadlocker was developed for high-vibration applications. Its hybrid formula combines the high strength of red threadlocker with the removability of medium-strength blue threadlocker (that is, removal using hand tools). Orange Threadlocker is available as a liquid (10 ml or 36 ml) or drip-free gel (5 grams or 35 grams). Prices range from $7.99 to $25.99.
Permatex Inc.
www.permatex.com