Dog Toy
The GoDogGo RemoteFetch G3 automatic ball-tossing machine for dogs will keep your canine friend busy for hours while giving you and your arm a rest.
The machine can work automatically, tossing tennis balls from 15 feet to 45 feet at seven- or 15-second intervals when the bucket is fully loaded. It can be used with a single ball when it is returned to the bucket, or the owner can use the remote control to time the launch. The machine operates on 120-volt-AC power or six D-cell batteries and comes with six high-pressure tennis balls.
The RemoteFetch G3 has a manufacturer's suggested retail price of $124.99.
GoDogGo Inc.
131 Maple Lane N.W.
Gig Harbor, WA 98335
www.godoggoinc.com
---
Outdoor Mats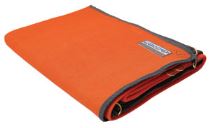 The CGear Sand-Free Multimat is said to be the ideal mat for outdoor living spaces, providing a sand- and dirt-free area at campsites.
The Sand-Free Multimat originally was designed for military use as a helicopter landing pad and features a dual-layered design that allows sand and dirt to fall through the mat to the ground but will not allow it to come back up through the mat.
The mat is available in blue and orange colors and has manufacturer's suggested retail prices of $49.99 (6-foot-square), $59.99 (8-foot-square), and $79.99 (10-foot-square).
CGear Sand-Free Ltd.
79 S. Chambers St.
Galesburg, IL 61401
(714) 258-0055
www.cgear-sandfree.com
---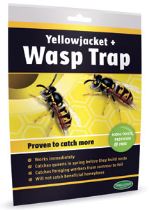 Pest Trap
The Yellowjacket and Wasp Trap from Contech Enterprises Inc. is said to be an easy-t0-use, effective method for ridding a backyard or campsite of wasps and yellow jackets.
Each pesticide-free trap features a catch bag and a lure to attract wasps. To use, simply place the lure in the bag with 15 ounces of water and hang it in a tree or stand it on a surface away from the area you wish to be free of wasps. The lure draws the pests into the bag, where they are trapped. The trap is reusable and refill lures are available.
The Yellowjacket and Wasp Trap has a manufacturer's suggested retail price of $5.99.
Contech Enterprises Inc.
Unit 115, 19 Dallas Road
Victoria, BC
Canada V8V 5A6
(800) 767-8658
(250) 413-3250
www.contech-inc.com
---
Bungee Cords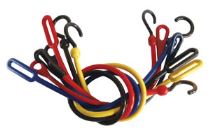 The Perfect Bungee line from Just Ducky Products features a variety of bungee cords and straps that are capable of extending up to twice their original size and returning to their original form, making them a must-have for a wide range of light-duty and heavy-duty applications.
According to company literature, The Perfect Bungee cords are made of strong, flexible polyurethane material that will not crack, break, split, or become brittle, even after being exposed to salt water, oil, ozone, and other common household chemicals. The cords come in a variety of styles, sizes, and colors.
The Perfect Bungees have manufacturer's suggested retail prices that range from $3.22 to $28.36.
Just Ducky Products
17 Pinedale Industrial Road
Orwigsburg, PA 17961
(570) 366-7316
www.justduckyproducts.com
---
Bell Crank Arms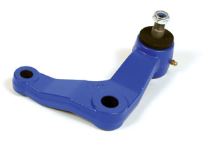 Improve your motorhome's steering precision and feel with SuperSteer Bell Crank Arms for Chevrolet/Workhorse P30/P32 chassis.
SuperSteer Bell Crank Arms are built to handle higher steering forces than the original equipment, so they won't wear prematurely, a contributing cause of excessive steering play and loose steering feel. The driver's-side crank arm features tapered roller bearings on the top and bottom and can be adjusted for correct endplay. The passenger-side crank arm uses a ball-and-socket arrangement and is built with tighter specifications than the original-equipment part.
SuperSteer Bell Crank Arms are available for 1991 and earlier 14,000-pound chassis and 1993 and later 16,000-pound chassis. Each arm has a manufacturer's suggested retail price of $293.
SuperSteer
458 Redwood Highway
Grants Pass, OR 97527
(888) 898-3281, ext. 313
(541) 955-0769
www.supersteerparts.com
---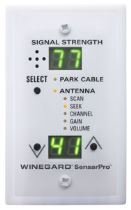 Digital TV Signal Finder
The SensarPro digital TV signal meter from Winegard Company is designed to eliminate the frustration of locating TV channels in an RV.
The device works with all amplified Sensar antennas and can be customized for specific search modes. The unit displays channel signal strength and allows the user to find peak signal strength prior to scanning channels on the TV. It also includes built-in amplification that provides up to 10 decibels of gain for increased performance. And the meter's adjustable audio feedback helps make aiming the Sensar antenna quick and easy.
The SensarPro is said to be ready to use out of the box and easy to install. It is available in white and black to match any décor, and has a manufacturer's suggested retail price of $69.99.
Winegard Company
3000 Kirkwood St.
Burlington, IA 52601
(800) 288-8094
www.winegard.com
---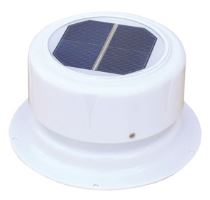 Solar Plumbing Vent
According to product literature, the Mini Solar Plumbing Vent from Ultra-Fab Products Inc. automatically removes unpleasant RV plumbing odors from the motorhome.
The device has a universal design that allows it to replace most RV plumbing caps, and since it is solar-powered, no wiring is required. The vent has a durable powder-coat finish and is aerodynamically designed for less drag to provide silent and reliable ventilation.
The Mini Solar Plumbing Vent has a manufacturer's suggested retail price of $30.99.
Ultra-Fab Products Inc.
57985 S.R. 19 S.
Elkhart, IN 46517
(574) 294-7571
www.ultra-fab.com
---
Supplemental Braking System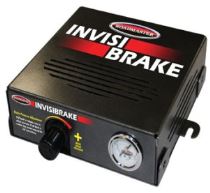 The InvisiBrake from Roadmaster Inc. is a fully automatic, progressive supplemental braking system that is always ready to use.
The InvisiBrake uses the same electrical signal that activates a towed vehicle's brake lights. The small controller can be mounted under the front or rear seats, behind interior panels, or in the trunk. A cable and pulley system connects the controller to the brake pedal. When the brakes in the motorhome are applied, InvisiBrake applies progressively harder pressure on the towed vehicle's brakes. The device connects directly to the towed vehicle's battery and constantly charges the battery during towing. The system includes a two-stage LED motorhome monitor for a visual reference of braking activity, and an audible alert that sounds if the towed vehicle's brakes have been on too long. It also comes with an emergency breakaway system.
The InvisiBrake has a manufacturer's suggested retail price of $999.99.
Roadmaster Inc.
6110 N.E. 127th Ave.
Vancouver, WA 98682
(800) 669-9690
(503) 288-9898
www.roadmasterinc.com
---
Wireless LED Light Panel

The GE Wireless Remote Control 12-inch LED Light from Jasco Products Company can be placed anywhere extra light is needed.
The battery-powered, energy-efficient utility light comes with peel-and-stick tape for installation onto any flat surface and includes a remote that works up to 100 feet away. The light requires six AA batteries, and the remote uses three AAA batteries.
The GE Wireless Remote Control 12-inch LED Light has a manufacturer's suggested retail price of $29.99.
Jasco Products
10 E. Memorial Road, Building B
Oklahoma City, OK 73114-2205
(800) 654-8483
(405) 752-0710
www.jascoproducts.com
{loadpositionEndBlurbProducts}