RVing snowbirds flock to southern Texas to enjoy natural and man-made delights.
By Lazelle Jones
December 2011
Each autumn, motorhomers from up north turn to their favorite winter nesting places along the Gulf Coast of Texas. These "Winter Texans" may spend half of the year or more elsewhere, but locals in places such as Corpus Christi, Port Isabel, and South Padre Island consider them to be nothing less than Texans. These seasonal residents enjoy the delightful, moderate temperatures that are a daily routine along the Texas coast in winter.
American Indians first called these coastal locales home. The Spanish arrived next, and the influence they spread across the land is felt today. During more recent history (from the 1800s on), the coast of Texas has been graced with a rich immigrant heritage that includes people from Mexico, the Orient, and all across Europe who came to settle this land. The melting pot of cultures created one vibrant scene.
An example of this is the famous King Ranch, an hour's drive south of Corpus Christi. It was settled by Richard King, who ran away from his childhood job as an indentured worker in New York City and stowed away on a ship. He eventually learned the art of boating and amassed a fortune in the steamboat business during the Civil War. King purchased land in the Padre Island area and then headed south of the Rio Grande to buy Mexican cattle for his ranch. He offered a lifetime job to those he obtained the cattle from, and many of them accepted.
Visit the King Ranch in Kingsville (parking for RVs is available at the visitors center), and you will find that descendants of those original Mexicans who came north to work for King tend to ranch duties today.
Guided historical tours and nature tours are offered at the 825,000-acre ranch. Visitors ride aboard an airport-style shuttle bus, with the driver providing a great perspective. The on-grounds museum is worth a stop as well.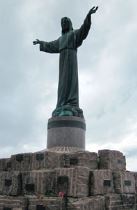 Padre Island and South Padre Island are part of a nearly 150-mile stretch of barrier islands that conform to the Texas coastline, creating a vacation land and playground between the bay side and the ocean side of the land. Years ago an inlet was carved about two-thirds of the way down the island to create a passageway to the town of Port Mansfield. Today the bottom portion of the barrier island is called South Padre Island, and the upper is called Padre Island. No bridge exists across the channel, so each is a world unto itself. Padre Island and South Padre Island each have a distinct feel.
South Padre Island features something few other places along the shorelines of North America can offer. Just north of town are 30 miles of undeveloped beach (on the bay side and on the ocean side) where cars and trucks (not motorhomes) can be driven along the surf's edge. The entry fee is nominal.
RV camping is available at two Cameron County campgrounds (with hookups) on South Padre Island: Isla Blanca and Andy Bowie. Some campsites are immediately adjacent to marinas where charter fishing and excursion boats can almost pull up to your RV. The South Padre Island KOA is also on the island.
Wherever you go, you are surrounded by nature. A state-of-the-art bird sanctuary called South Padre Island Birding and Nature Center features boardwalks through the marshes and wetlands. A turtle rescue center (Sea Turtle Inc.) on the bay side of the island is also worth a visit. Nature even adorns the island's convention center, in the form of Wyland whale murals. South Padre has its own burgeoning art community, with places to stop, look, and shop for local fine art, folk art, crafts, photography, origami, paintings, ceramics, and more.
As you might guess, freshly caught seafood is widely available here. Halibut, redfish, and flounder are routinely served as the daily catch at local eateries, with fresh gulf shrimp offered at every restaurant and bistro, as well as right off the boats. If you're into good Italian food, directly across the causeway from South Padre in the village of Port Isabel is Marcello's, where the aroma of freshly shaved parmesan cheese, homemade marinara sauce, and garlic bread will make you crazy.
Across the street is the Port Isabel Lighthouse, which pokes 60 feet into the sky. This structure witnessed a Civil War battle in which local Confederates defeated the Union, only to learn that the war was over and that they had to surrender to the troops they had just defeated.
Minutes from Port Isabel is the Laguna Atascosa National Wildlife Refuge, home to the only remaining wild ocelot cats in the United States. A 15-mile loop drive through the refuge delves into the nooks and crannies of a vast wilderness that has remained unchanged since before Columbus discovered America. You may want to stay here overnight, too: Adolph Thomae Jr. Park (another Cameron County park) has RV sites, and it's located within the refuge.
Be sure to travel 170 miles up the coast from Port Isabel and South Padre Island to Corpus Christi. It's worth the drive to see the USS Lexington, a World War II aircraft carrier that took part in the rescue of President George H.W. Bush and his mates from the Pacific Ocean after the plane they were flying in was shot down at sea. This ship boasts a huge museum and vintage naval aircraft on its deck. Even the most stoic individual will be moved to come aboard and get a glimpse of the past. The battleship is open daily, and admission is charged.
Near the USS Lexington is the Texas State Aquarium, which includes a water park where kids of all ages can get wet over and over again. The exhibits themselves feature more than just water creatures. In addition to indoor underwater scenes, eagles, falcons, hawks, owls, and more are showcased, all in an outdoor setting.
From the marinas at Corpus Christi, you can take a ferryboat ride out through the bay, or embark on a fishing excursion. Or, maybe just wait for a fleet of shrimp boats to arrive and sell their catch.
Before leaving the city and heading out to Padre Island National Seashore, be sure to stock up on supplies and fill up your fuel tank. Only a few incidentals can be purchased at the visitors center in the national park.
The headquarters for Padre Island National Seashore is accessible via State Highway 361 or from State Route 358. The former, the Port Aransas Causeway, involves taking a ferry ride at one point, and it's a beautiful way to see the terrain.
The major portion of Padre Island is protected as part of the National Park System and, as such, carries with it a very well-cared-for feel. If you haven't already done so, purchase a National Park Pass, which can be obtained at the entrance. If you are 62 or older, you pay only a $10 one-time fee for a lifetime Senior Pass, which provides access to all U.S. national parks.
A visitors center at the park has an information center, a bookstore, and a small museum. Picnic areas are set up outside along the beach. Nearby Bird Island Basin campground has no-hookup RV sites available on a first-come, first-served basis, plus a dump station. (Camping permits are required.) Two other areas are open to RVs and tent campers as well "" North Beach and South Beach. If you can get a spot in one of these areas, it makes for an excellent base camp from which to explore 70 miles along a sand-covered road that takes you through sea grass-laced dunes and along pounding surf.
Whether your pleasure is in the man-made and developed areas of Corpus Christi or South Padre Island, or the wild and unchanged beauty of Padre Island National Seashore, you'll agree that this Texas island retreat is a great place to spend the winter.
Further Info
Corpus Christi Convention & Visitors Bureau
101 N. Shoreline Blvd., Suite 430
Corpus Christi, TX 78401
(800) 766-2322
(361) 881-1888
www.visitcorpuschristitx.org
Padre Island National Seashore
Malaquite Visitor Center
P.O. Box 181300
Corpus Christi, TX 78480-1300
(361) 949-8068
www.nps.gov/pais
South Padre Island Convention & Visitors Bureau
7355 Padre Blvd.
South Padre Island, TX 78597
(800) 767-2373
www.sopadre.com
Area Campgrounds
The following campgrounds were mentioned in this story. Many more RV campgrounds are available in the area; please consult your campground directory or the RV Marketplace, found at www.FMCA.com and published in the January and June issues of FMC.
Cameron County Park Campgrounds
Adolph Thomae Jr.: (956) 748-2044
Andy Bowie: (956) 761-3704
Isla Blanca: (956) 761-5494
www.co.cameron.tx.us/parks
South Padre Island KOA
1 Padre Blvd.
South Padre Island, TX 78597
(800) 562-9724 (reservations)
(956) 761-5665
www.southpadrekoa.com