Bring your curiosity and sense of adventure to two new theme parks and a new interactive museum now open in the Sunshine State.
By Lazelle Jones
November 2011
Florida once again finds itself full of new amusement park opportunities for the entire family. From St. Augustine to Winter Haven, individuals of all ages can make plans this winter to visit and enjoy three new superb attractions.
During the summer of 2010, Universal Orlando Resort debuted The Wizarding World of Harry Potter, a magical place that brings J.K. Rowling's characters and adventures to life. And after relocating from Key West, the all-new St. Augustine Pirate & Treasure Museum is now open in Florida's oldest city. Legoland Florida was scheduled to open this fall in Winter Haven, the fifth such Legoland park in the world. These three are only the start of the fun you can have this winter with kids and grandkids in the Sunshine State.
Legoland Florida
Set on 150 acres, this all-new theme park "" the second Legoland park in the United States "" was set to open October 15. Created specifically to attract families with children ages 2 to 12, the new park offers 50-plus activities, rides, shows, and attractions and includes what Legoland is so noted for: spectacular life-size Lego models.
It's mind-boggling what can be built with those little plastic Lego bricks. Handmade in Europe, the life-size models will be featured throughout the park. Models include a 40,000-plus-brick blacksmith for Castle Hill; a shark's head for Skipper School; and a giant Merlin the wizard for inside the Castle "" plus, Darth Vader, who lurks outside the Studio Store. Approximately 50 million bricks are used throughout the park.
Among the 10 themed "zones" at the park are the following:
The Beginning includes one of the largest retail stores in the world, called The Big Shop. There guests can peruse a huge selection of Lego merchandise. The Market Restaurant features authentic imported Danishes and freshly baked pastries, espresso, milk, juice, fruit, a selection of yogurts, and soft-serve ice cream.

Fun Town includes a factory tour, where you can see how the Lego bricks are made. At the Studio Store, you can get Lego licensed products. Three different 4-D movies will be shown throughout the day at this area's 700-seat 4-D Fun Town Theater. Fun Town also has a stand selling Granny's Apple Fries, Legoland's signature dessert, made with crisp Granny Smith apples, powdered with cinnamon and sugar, and served with a delicious vanilla cream sauce.

Miniland USA is where Legos are used to re-create smaller versions of Florida, and several cities. The mini Florida area encompasses the entire state, from Mallory Square in Key West to Bok Tower in central Florida, as well as Kennedy Space Center and an interactive Daytona International Speedway racing experience where guests can race Lego brick cars. Equally realistic is Las Vegas, which includes a miniature "Strip" with a wedding chapel and monorails. Washington, D.C., and New York City also have impressive details.

Duplo Village, especially geared for preschool-age children, offers youngsters a chance to try truck riding, putting out fires, jalopy-riding, and exploring a farm and a miniature town.

The Imagination Zone emphasizes exploring and creation. Visitors can build a Lego car or robot or view a collection of special models, including a replica of inventor Albert Einstein's head.

The Land of Adventure features a variety of rides and games: Coastersaurus (a junior roller coaster), Lost Kingdom Adventure, Pharoah's Revenge, Beetle Bounce, and Safari Trek.

Lego Kingdoms is a re-created medieval area with a castle, roller coaster, "jousting" horses, a girls' "princess makeover" area, and more. The Dragon Coaster lets guests soar indoors and out as they encounter a fire-breathing dragon.

Lego City features a flight school, a boating school, and a chance for kids to get a Legoland driver's license. At The Big Test, visitors can try to become "official" firefighters.
A pirate-themed portion of the park on the shores of Lake Eloise provides a swashbuckling adventure. Two opposing pirate ships and their "mates" battle it out upon the "high seas."
Located on the site of the former Cypress Gardens, Legoland has preserved some of the botanical gardens the former attraction was known for, including azaleas, camellias, exotic species, even a vast banyan tree that was planted as a seedling in 1939.
For more information about Legoland Florida, visit www.legoland.com or call (877) 350-LEGO. The park is open daily, and hours vary by the season.
The Wizarding World Of Harry Potter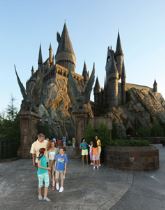 Universal Orlando Resort is actually two theme parks, plus a water park. One theme park, Universal Studios Florida, celebrates the movie and television world with rides and attractions tied to popular characters and settings.
The second theme park, Universal Studios Islands of Adventure, has separate "islands," each with its own theme, such as superheroes, Dr. Seuss, and Jurassic Park. Rides, stunt shows, and attractions fill them all. As of July 2010, one 20-acre "island" at Islands of Adventure (formerly a medieval area called Merlinwood) is now The Wizarding World of Harry Potter.
The Harry Potter books, written by J.K. Rowling, have sold 400-million-plus copies in nearly 70 different languages, while the Harry Potter films by Warner Bros. Pictures have grossed more than $5.5 billion.
Great attention to detail makes the books come alive at The Wizarding World. You may have a wand "select" you at Ollivander's; fly with a Hippogriff; or quaff a Butterbeer or two at Three Broomsticks tavern.
At The Wizarding World, the premier attraction "" dubbed the best new theme park ride of 2010 "" is Harry Potter and the Forbidden Journey. The Forbidden Journey begins as you walk through the gates of Hogwarts castle and meet Harry, Ron, and Hermione, who convince you to skip a planned lecture and join them as they travel by Floo powder to see a quidditch match. It doesn't go exactly as planned, as you narrowly escape a dragon attack and have close encounters with other scary creatures. Before taking the Forbidden Journey ride, you visit Dumbledore's office where you are welcomed by the Headmaster at Hogwarts and visit the Defence Against the Dark Arts classroom and the Gryffindor common room.
With hundreds of candles floating overhead, you take a seat on an enchanted bench and then begin your excursion, a 360-degree experience that combines robotic technologies, innovative filmmaking, and live action. The ride takes about an hour to complete and moves through different scenes where, in addition to the characters you already have met, you also meet or catch glimpses of Rubeus Hagrid, Draco Malfoy, and a host of other Harry Potter characters.
Other rides at the new theme park include the aforementioned Flight of the Hippogriff, a coaster for the whole family, and Dragon Challenge, a fast coaster chase across the sky. Plenty of ambience, shops, and restaurants fill the Harry Potter world.
The park is open daily, and hours vary by the season. Discounts are available for tickets purchased online. For more information, visit www.universalorlando.com or call (407) 363-8000.
St. Augustine Pirate & Treasure Museum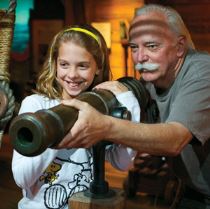 St. Augustine has a long pirate history. In 1586 the infamous Sir Frances Drake, along with 2,000 cohorts, sacked and burned the town. In 1668, pirate Robert Searle came along and did the same thing. Up and down the East Coast, south to Jamaica, and all across the Caribbean, British pirates plundered and pillaged, taking gold and other spoils from Spanish galleons and ports, sometimes even setting up sanctuaries of their own. Today you can revisit this fascinating history in the town where much of it took place.
In December 2010 the St. Augustine Pirate & Treasure Museum opened its doors to visitors. It is the new location "" and new version "" of the Pirate Soul Museum that was located in Key West, Florida.
Inside the St. Augustine museum is a huge collection of 800 rare pirate artifacts that includes one of only two original Jolly Roger flags, the original journal of Captain Kidd's last voyage back to England (where he was hanged), Blackbeard's gold, and the only remaining pirate chest in the world today. Many of these treasures were collected by the museum's founder and adventurer, Pat Croce, whose passion for pirate history, treasure, and artifacts have made him and this museum both one of a kind.
Also on display are rarely seen shipwreck treasures loaned to the museum from the Florida Division of Historical Resources, including 18th-century bar shot and grenades; salvaged gold and silver ingots; jewelry; the barrel of a Queen Anne-styled pistol; and pottery, all recovered off the coast of Florida.
This museum offers a realistic, interactive way to experience events. In the Below Deck area, you are part of Blackbeard's last battle and feel the explosions and cannon shots. Via touch screens you will experience interactive journeys that bring to life the most notorious pirates to roam the high seas. At the Map of Pirate Strongholds, you can see the world as the pirate knew it to be.
The Hollywood Pirates area contains years of pirate-movie memorabilia, including props from the Pirates of the Caribbean series, Captain Hook items from Peter Pan, and the jacket Errol Flynn wore in the 1935 film Captain Blood. Rare books, such as a first-edition copy of Robert Louis Stevenson's Treasure Island, also are on display.
Admission prices are discounted to seniors and AAA members, and you can purchase tickets online at www.thepiratemuseum.com. For more information, visit the Web site or call (877) GO-PLUNDER (467-5863).
Area Campgrounds
The following is not a complete list, so please check your campground directory or FMCA's RV Marketplace, published in the January and June issues of FMC and online at FMCA.com.
Winter Haven
Cypress Campground & RV Park, C8156
(FMCA commercial member)
7400 Cypress Gardens Blvd.
Winter Haven, FL 33884
(800) 858-7275
(863) 324-7400
www.cypresscampground.com
East Haven RV Park
4320 Dundee Road
Winter Haven, FL 33884
(863) 324-2624
www.easthavenrvpark.com
Lakeshore Palms Travel Park
4800 Eloise Loop Road
Winter Haven, FL 33884
(863) 324-1339
www.lakeshorepalms.com
Orlando
Orlando/Kissimmee KOA
2644 Happy Camper Place
Kissimmee, FL 34746
(800) 562-7791 (reservations)
(407) 396-2400 (information)
www.koa.com/campgrounds/kissimmee
Tropical Palms Resort & Campground, C5675
(FMCA commercial member)
2650 Holiday Trail
Kissimmee, FL 34746
(800) 647-2567
(407) 396-4595
www.tropicalpalmsresortfl.com/rv-camping
St. Augustine
Indian Forest Campground, C4867
(FMCA commercial member)
1505 State Route 207
St. Augustine, FL 32086
(800) 233-4324
(904) 824-3574
www.indianforestcampgroundllc.comcastbiz.net
North Beach Camp Resort
4125 Coastal Highway A1A
St. Augustine, FL 32084
(800) 542-8316
(904) 824-1806
www.northbeachcamp.com
St. Augustine Beach KOA
525 W. Pope Road
St. Augustine, FL 32080
(800) 562-4022
(904) 471-3113
www.staugustinekoa.com
Stagecoach RV Park Inc., C4213
(FMCA commercial member)
2711 County Road 208
St. Augustine, FL 32092-0596
(904) 824-2319
www.stagecoachrv.net