A first-time motorhome owner discovers that he's acquired a piece of history.
By Linc David, F404424
March 2011
My wife and I live in the state of Washington, and we frequently vacation on the beautiful Oregon coast. Driving along U.S. 101, we have seen thousands of motorhomes meandering along that scenic highway. I always thought that I would enjoy that lifestyle. So I finally decided to step up and give it a try. Doing so was going to require some research into the industry and the purchase of a used RV.
The Purchase
In November 2009 I began my pursuit of a motorhome that would provide us an opportunity to experience the RVing adventure with a reasonable investment. I had no real knowledge of the industry, so I started my search online at craigslist.org, looking at everything offered for sale. I found this to be very confusing, because of the variety of RV sizes and options that were available. The quality of the product was the most important thing on my list.
After searching for a few weeks with no real prospects, I received a phone call from my boating buddy, Bill, who knew about my desire to find a motorhome. He had been looking online that day and came across a new listing for an Airstream motorhome for sale, which happened to be located only 12 miles away. I recognized the name Airstream and I knew that it meant quality. I made the call, found out the necessary information, and arranged a time that Bill and I could go see this old, classic motorhome.
What we saw when we arrived took us by surprise. In front of us was a 1989 Airstream "classic" 370 LE motorhome. Judging by the exterior, it appeared to be in very good condition. Its two previous owners had always kept it under cover in Washington. The aluminum shell was in excellent shape and would require very little work to restore to its original condition. I made the purchase and was allowed to keep it in the same covered storage space "" an old barn "" where it had been parked for years.
How Rare Is It?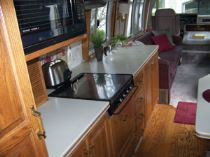 Now a motorhome owner, I did some online research and discovered just how rare of a find this coach was. The 1989 370 LE model, at 37 feet, was the longest classic Airstream motorhome ever built. It was made just one year, and the company produced only 15 of them. This was a very limited edition. My title says it is a 1988, but I discovered they all were sold as 1989 models. I immediately bought a vanity license plate for it that reads "RAREAIR."
In the early 1990s Airstream went to a fiberglass body and a more traditional, square style. Airstream enthusiasts referred to these models as "Square Streams," and they did not sell as well, as most preferred the older "silver bullet" design.
I am in an elite club, as I know of only four other Airstream 370 LE models licensed today.
The Restoration
The motorhome looked great, but like any equipment that's 22 years old, it needed some work to restore it to a condition that would provide the comfort for which it was designed. I started upgrading the various systems, repairing or replacing the leveling jacks, the two roof air-conditioners, the in-dash air-conditioner, the water heater tank, the electric steps, the alternator, the batteries, and the tires. The air suspension system needed some work, along with a new compressor, and the overdrive unit on the transmission unit leaked, requiring a new case. After these mechanical issues were in good working order, I started on the things that I wanted for comfort. I replaced the old in-dash radio with a new AM-FM-CD unit, installed a stereo system with surround sound and a sub woofer, and, of course, added a 32-inch flat-screen TV with a Blu-ray player.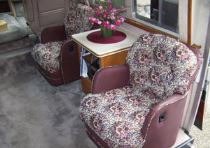 The last thing we tackled was the upholstery. We went with a custom leather and tapestry combination that is classy and fits the quality of the motorhome. We re-covered the J lounge in the dining area, the couch, and two matching barrel chairs, and replaced the worn cloth inserts on the driver and passenger seats with new leather. The final touch was the curtains in the front window and in the bedroom. This restoration seems to have no ending point, and it can start to cost real money after a while. But as Bill pointed out, the motorhome has real pedigree and great bones, so it is worth doing. It is interesting how your friends don't mind watching you spend your money.
Was it worth it? I would say, absolutely. To own a rare piece of American motorhome history that demands attention wherever it goes is priceless.
The Class
This Airstream was built on a Gillig bus chassis with air suspension. It features a GM driveline, including a C6 three-speed transmission, but it has a Ford 460 engine. Go figure. It has oak cabinets and floors, Corian countertops, a cedar-lined closet, Alcoa aluminum wheels, and even a safe built in the bedroom closet floor. I have the original bill of sale and the price was $134,363 when it first sold on January 14, 1989.
I would consider this to be the Chris-Craft of land yachts.
The Attention
I was warned by the previous owner that people would want to look at my classic motorhome and ask questions about it, but it still amazes me how many folks are interested in it. One of the most frequently asked questions is "How long is that thing, anyway?" The motorhome is 37 feet, but it looks considerably larger to most people. The lower profile and rounded body style gives it a long, lean look. Once I was in an RV resort for the night when two ladies walked up and asked if they could have a peek inside. This is a very common occurrence. After they looked, one of them said that she was not aware that Airstream was still producing motorhomes. She asked if it was a 2010 model. I told her that Airstream had discontinued Type A motorhome production years ago and that this one was 22 years old. She had trouble believing me. That made my day. This is a little piece of American history that some day I would love to see end up in a collection or museum so that others can enjoy it.
Our First Year's Adventures
Last spring we made a trip to Palm Springs, California, to visit friends. I pulled a trailer with my Harley-Davidson motorcycle behind us. I found the motorhome to be very comfortable to drive, and we had no problem keeping up with traffic. We averaged approximately 7.1 miles per gallon for that trip. We had only two minor mechanical problems on this maiden voyage. About 100 miles from Palm Springs, in very heavy traffic, the engine started to run rough. I had little choice but to continue to my destination with less power. When we got parked, I found the problem was a spark plug wire that had made contact with the exhaust header and burned through. The other small problem was that when I tried to accelerate, it would frequently backfire. I had a mechanic look at it and found out that the previous owner had put in a different distributor with points and condenser that blocked off the vacuum advance system. I changed back to a newer electronic system when we got home, and now it runs great.
On our way home, we went to San Diego for a night, then spent several days driving up U.S. 101 along the California coast, the Oregon coast, and the Washington coast to our home in Arlington, Washington, approximately 50 miles north of Seattle. All systems worked great, and we had a fantastic time just like I thought we would. We have made several shorter trips since, including a jaunt to Vancouver, British Columbia, Canada, to watch an air show with an Airstream classic club that I joined.
While my "Rare Air" drives just fine, I found out the hard way that you need to watch the tail whip. My truck driver friend Jerry informed me to be careful, but, unfortunately, it was a little late to avoid one small mishap. Since the motorhome has 140 inches of rear overhang, turning sharp corners requires your full attention.
What's Not To Like?
When you travel in a car, you see far less than you do in a motorhome. The ability to pull into a rest area and cook a meal for lunch or take a quick nap is great. With a motorhome, the trip is a much bigger part of the adventure, and it adds more value to your vacation time.
I think what I like best about RVing is that it doesn't matter where you spend the night. You can be in some exotic location along the Oregon coast, or in a Walmart parking lot, and you can still be comfortable. It is home, and it is fun.
I would love to talk to other owners of classic Airstream motorhomes and welcome any questions or comments about my 370 LE. I can be reached at [email protected]