Grill Brush
The Grill Dozer from The Fulham Group is an innovative three-sided brush designed to clean and sanitize grills using a thumb-activated spray system that releases a fine mist of water. When the mist makes contact with a hot grill, it quickly turns to steam so as to penetrate the food and grime that cling to the cooking surface.
The main brush works for heavy-duty cleaning, or the brush can be turned sideways to get to those hard-to-reach areas between and under the grates.
The Grill Dozer, which measures 18 inches long, has a suggested retail price of $19.99.
The Fulham Group
130 Rumford Ave.
Suite 113
Newton, MA 02466
(866) 994-6390
www.thefulhamgroup.com
---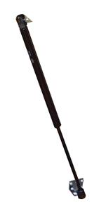 Bed Lift Kit
Bedlift Kits from Hatchlift LLC promise to facilitate the process of raising heavy bed platforms for access to items stored under the bed.
The BLK-80 Standard Bedlift Kit is designed to raise queen-size RV beds with factory-installed mattresses. The BLK-120 Large Bedlift Kit is designed for queen-size beds with heavy mattresses and for king-size beds. All Bedlift Kits include the components for installation on both sides of a bed platform. Installation can be accomplished by a do-it-yourselfer with a few tools.
The Standard Bedlift Kit has a suggested retail price of $43.99, while the Large Kit is priced at $46.99. Bedlift replacement springs also are available.
Hatchlift LLC
P.O. Box 280824
Denver, CO 80215
(303) 233-6083
www.hatchlift.com
---
Docking Station
The CR34 six-port smartphone charger with alarm clock and FM radio from Dok Solutions LLC will charge nearly any device that can be charged using a USB cable.
The docking station is designed to charge up to six smartphones, iPods, iPads, MP3 players, or tablets simultaneously, while holding three in a convenient storage cradle. The charging station also has an auxiliary input that makes it possible to listen to a personal device through the speaker system. It comes with an AC power adapter. A pair of AAA batteries can be used as a backup power source for the clock radio.
The CR34 has a suggested retail price of $99.99.
Dok Solutions LLC
1185 Gooden Crossing
Largo, FL 33778
(727) 209-1313
www.easy-doks.com
---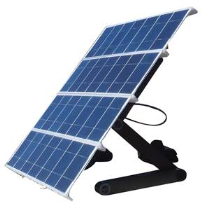 Solar Charging Kit
The On-the-Go solar charging kit from Anywhere Solar Technologies is a portable charging unit that can be used to recharge batteries and for on-demand use.
The 50-watt, 12-volt charger includes four 23-inch-long-by-6 1/2-inch-wide shatterproof modular panels that easily connect and disconnect. It also features a charge controller to protect the batteries, extension cables for connecting to batteries up to 12 feet away, and a durable carrying bag. It comes with a versatile stand and a pair of bracing rods for structure and support.
The On-the-Go solar charging kit has a suggested retail price of $495. Mention that you saw this product in FMC when you call (or send an e-mail to ruth@anywheresolartech.com) and pay just $299 plus shipping through February 28, 2013.
Anywhere Solar Technologies
7959 Silverton Ave.
Suite 1017
San Diego, CA 92126
(858) 695-9161
www.anywheresolartech.com
---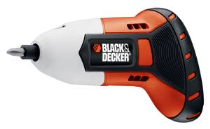 Rechargeable Screwdriver
The Gyro rechargeable screwdriver from Black & Decker uses the motion of your wrist to control the direction and speed of the tool's action.
The Gyro utilizes gyroscopic technology to operate, literally putting control of the tool in the user's hand. It features an LED light, a rechargeable lithium battery, a charger, and two 1-inch screwdriver bits.
The Gyro has a suggested retail price of $40.
Stanley Black & Decker
701 E. Joppa Road
Towson, MD 21286
(800) 544-6986
www.blackanddecker.com
---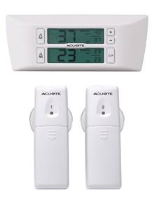 Refrigerator/Freezer Thermometer
Prevent food in your refrigerator and freezer from spoiling and see the temperature inside each compartment at a glance using the AcuRite Digital Refrigerator/Freezer Thermometer with Temperature Alerts from Chaney Instrument Company.
This wireless digital thermometer includes sensors for both the refrigerator and freezer that can be mounted via the integrated suction cup or spring-loaded clip. Once in place, these sensors transmit temperature information to the monitor. The monitor displays temperatures in Fahrenheit or Celsius and features an audible and visual alarm that activates anytime the temperature in the refrigerator or freezer exceeds the maximum or falls below the minimum set by the user. The display includes a foldout stand for countertop use, or it can be attached to a metallic surface using the included magnet.
The AcuRite Digital Refrigerator/Freezer Thermometer has a suggested retail price of $39.99.
Chaney Instrument Company
965 Wells St.
Lake Geneva, WI 53147
(877) 221-1252
www.acurite.com
---

Windshield Wipers
Rain-X Latitude wiper blades help to keep a driver's view of the road clear when it's raining or snowing.
According to product literature, Latitude wiper blades use a revolutionary design to combat bad visibility, contouring to any windshield's curvature to provide even wiping pressure along the full length of the blade. The synthetic rubber squeegee has a graphite-coated blade and a durable, rubber-encased substructure for streak-free visibility.
Rain-X Latitude wiper blades have a suggested retail price of $16.97 to $24.99, with sizes ranging from 16 to 24.
ITW Global Brands
6925 Portwest Drive
Houston, TX 77024
(855) 888-1990
www.rainx.com
---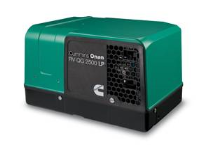 Generator
The newly remodeled RV QG 2800 generator from Cummins Onan (model HGJBB) replaces the KV and KVD models and touts a larger, 217-cc engine among its new features and improvements.
The RV QG 2800 family includes generators that can operate on gasoline or LP vapor, and models with 50-hertz or 60-hertz frequency. Other features include advanced onboard diagnostics with fault code analysis; easier starting in extreme hot and cold operating conditions; an internalized muffler and patented intake system for reduced noise; a low-profile exhaust outlet with an additional 4 inches of ground clearance; and a B+ terminal for easier installation.
The RV QG 2800 has suggested retail prices of $2,650 for the gasoline model and $2,875 for the LP model.
Cummins Power Generation
1400 73rd Ave. N.E.
Fridley, MN 55432
(800) 888-6626
www.cumminsonan.com/rv
---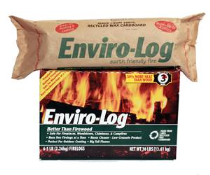 Environmentally Friendly Fire Logs
Enviro-Log Firelogs are said to be the most versatile product available to those who enjoy sitting around a campfire but do not have easy access to firewood.
Enviro-Log uses 100 percent recycled wax cardboard to manufacture its product. Enviro-Log Firelogs are said to burn cleaner than real firewood and to provide 50 percent more heat per pound. Besides being used in campfires or fireplaces, Enviro-Log Firelogs have been tested safe for woodstoves, chimineas, and cooking. And when the fire is extinguished, the ash can be used as fertilizer or potting soil.
Enviro-Log Firelogs can be purchased at Home Depot, Kmart, Lowe's, Sears, Whole Foods, and Walmart. A case of six 3-pound logs has a suggested retail price of $13.99, while a four-pack of 5-pound logs is priced at $13.99, and a six-pack of 5-pound logs costs $19.99.
Enviro-Log Inc.
P.O. Box 190
Fitzgerald, GA 31750
(866) 343-6847
(229) 423-7233
www.enviro-log.net
{loadpositionEndBlurbProducts}