Started in a garage by a father and his sons 50 years ago, Thetford Corporation has grown into an international company dedicated to producing high-quality products that make the RV lifestyle more enjoyable for millions of people.
By Peter D. Dupre
October 2013
Most people I know don't think much about their motorhome's sanitation system, except when it's time to empty the black water tank. As far as I'm concerned, that's as it should be. It wasn't always so; I'm old enough to remember those days of foul-smelling RV heads. Back then it was a real hassle to drain the black tank, and the best you could hope for was that you wouldn't make much of a mess of the dump area or get yourself covered in … well, you know.
Today we don't need to give as much thought to our RV toilet and sewage systems. Much of the credit for that can be traced to the Sargent family. Back in 1963, Frank Sargent and his two sons, Charles (known as "Bud" in the RV industry) and Ron, were unhappy with the troublesome black water drain valve on their RV. The three engineering-minded fellows thought the existing drain valve design was awful, so they decided to create a better one. As a result of this experiment in industrial design, in May 1963 the Sargents founded Thetford Engineering in a Thetford Township garage near Flint, Michigan.
Thetford's first product, the "Slide-EZ Valve," incorporated a breakthrough design and was picked up by an RV manufacturer. Frank, Bud, and Ron were officially in the RV industry. One success followed another, and in 1964 they developed the Slide-O-Matic porcelain RV toilet. Just two years later, they unveiled the first low-water-use RV toilet. Both of these have become standard designs industry-wide.
Never ones to rest on their laurels, the three musketeers of RV sanitation next decided to tackle the problems of holding tank odor and clumping toilet paper. The Sargents' next product, Aqua-Kem, became the RV industry's first concentrated liquid holding tank deodorant that actually worked, and it is still the best-selling product of its type on the market. Shortly afterward, in 1967, the Sargents developed a toilet tissue specifically for RV sanitation systems that easily broke down in the RV holding tank. They called it Aqua-Soft RV toilet tissue, and another industry standard was established.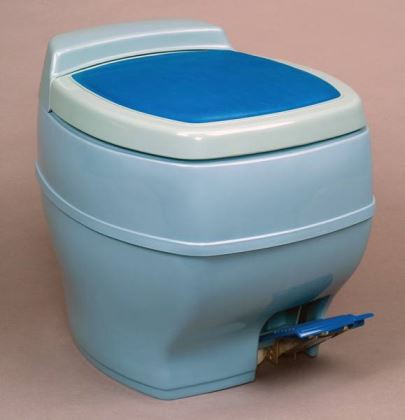 In 1970, amid talk of rising fuel prices (people feared that gas might hit $1 a gallon!), Frank and sons designed an all-plastic permanent toilet for RVs. This model offered significant weight savings over the traditional porcelain toilets. Plus, it worked reliably and didn't crack or leak.
They also developed the Porta-Potti — the first two-piece portable toilet — for use with pickup truck campers and for tent camping. This line continues today. Recently it was expanded with the debut of the Porta-Potti Curve, an attractive portable toilet that features a battery-powered flush and a built-in toilet paper holder.
More recently, Thetford brought out the SmartTote portable tote tank line — another innovation designed to make life easier for RVers. The SmartTote comes in different capacities and is literally a holding tank on wheels with a fold-down pull handle. This allows RV owners to empty their holding tank at the campground dump station without having to break camp.
Although Thetford may have started with the development of RV sanitation products, the company expanded into refrigeration by acquiring Norcold in 1997. With the purchase of the RV/marine refrigeration company, Thetford was able to expand the RV refrigeration business into Europe to complement the presence it already had on that continent (Thetford had entered the European market in the late 1960s with sanitation products.) And with the introduction of the Spinflo line of cook stoves in 2005, it can be said that the company is servicing all aspects of RV convenience. This worldwide presence also means that parts for Thetford/Norcold products are available just about anywhere you may choose to take your RV.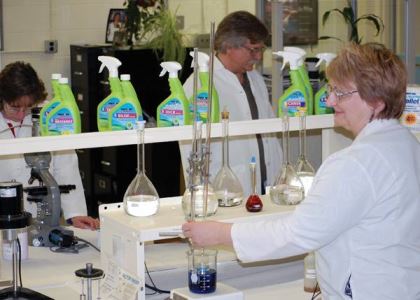 According to Kevin Phillips, Thetford's executive vice president for North America, the reason the company has been so successful over the years is that the company lives in the RV world. Employees don't just make RV products; many of them enjoy the RV lifestyle. "We tend to hire people who are RVers," Mr. Phillips said, "and it has really helped us focus our product development. Many Thetford and Norcold employees are active RVers and boaters. For employees who don't own a rig, the company has an RV that can be checked out for personal use."
Because Thetford is so centered in the RV industry, and so many of its employees are active RVers, it would seem natural that the company also would be a part of the RV community. Thetford has been an FMCA commercial member since 1973 (C109) and shares FMCA's family-oriented culture. In fact, its family focus is one of the things that has held this company together over the years. For example, many FMCAers will remember the late Mary Burrows, Thetford's manager of chemical engineering, who presented RV sanitation seminars at numerous FMCA conventions and tirelessly answered attendees' questions.
"We hold close to family values," Mr. Phillips said. "We treat people fairly and look for long-term relationships with our customers. I think these things have been consistent threads throughout the company's history, and it is because of this that we have such a strong dedication to developing the highest-quality, most-reliable RV products possible.
"I think that our longevity is really a vote of confidence from customers that we've done things the right way over the years," he continued. "We've had the right approach to business, produced the right products, and brought them to market in the right way."
There's no denying that Thetford's 50 years of continual success in the RV industry is a great story. But it wouldn't mean much if the company sat still and marketed only its past achievements. In today's competitive RV industry, innovation is vital to maintaining a company's continued success, and Thetford employees are doing just that. As an example, the company's Norcold division has been making strides in RV refrigeration. According to Mr. Phillips, consumers want refrigerators that are colder, bigger, and lighter than previous models. To answer that need, Norcold has trademarked the "ColderBiggerLighter" slogan, because the company's RV refrigerators are being designed to be colder, bigger, and lighter than their industry counterparts.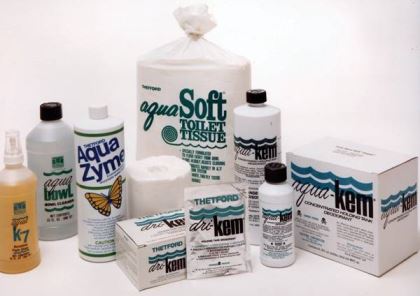 In addition, the Thetford RV toilet line includes the new Aqua Magic Residence. The lightweight unit (9.5 pounds for the high-profile model) has an 18-inch ADA-compliant (Americans with Disabilities Act) seat height and is residence-sized for comfort and convenience. This product may be particularly appealing for older RVers and/or those who have mobility issues.
As aging baby boomers reach retirement, the RV industry is projected to see substantial growth in the market. As time moves forward, RVers can expect Thetford Corporation to bring out more RV convenience products that make life easier for aging owners and younger ones as well.
"Thetford is proud to have grown up, hand in hand, with the American RV industry," Mr. Phillips noted. "We will continue to lead the way by providing the highest-quality, most-reliable RV products that bring the comforts of home to RVers and help them further enjoy their RVing experience."
Fifty years on, it is safe to say that without the vision and dedication of Frank, Bud, and Ron Sargent, the RV experience would not be as effortlessly enjoyable as it is today. So, the next time you open your motorhome refrigerator for a cold one, or visit the coach commode, take a moment to reflect on the revolutionary developments from Thetford that make RV living more enjoyable.
Thetford Corporation, 7101 Jackson Road, Ann Arbor, MI 48103; (800) 543-1219, (734) 769-6000; www.thetford.com