In California's Death Valley National Park, a beautiful house serves as a reminder of the friendship between a wealthy Chicago businessman and a colorful con artist.
By Maggie Kielpinski
November 2013
Driving north along the eastern edge of Death Valley National Park, past Stovepipe Wells, the view is what you'd imagine Mars might be like. Leaving behind the pretty scenery of the Amargosa Range — the subtle coral, mint green, turquoise, russet, and indigo — we entered a dull wilderness (Queer Mountain to the east and Last Chance Range to the west) that offers a monotony of charcoal and umber.
At Grapevine Canyon we turned right, navigating a narrow road that snakes through chunky boulders and sage-green brush. We were almost at the Nevada border. In 30 minutes we had climbed from 100 feet below sea level to 3,000 feet above, and arrived at Scotty's Castle.
This Spanish Revival mansion would not be out of place in California's historic Beverly Hills or Santa Monica neighborhoods; in fact, it was the design style of choice in 1920s Los Angeles. But 3,000 feet above the driest, hottest desert in America, in a canyon cut deep by eons of wind and rain? It's an enigma. And it begs the question: Why?
As with most things Western, serendipity played a big part in the creation of Scotty's Castle. Walter Scott was born in Kentucky in 1872. He made his way west, finding jobs on the ranches of California and Nevada. He drifted into Death Valley to work the borax mines, all the while honing his horsemanship skills. The teen's abilities landed him a job in 1890 with Buffalo Bill's Wild West, performing as a trick rider. He was with the show for 12 years, touring the world. He had other skills as well. Scotty cruised saloons in southern California (Daggett and Barstow), boasting of a gold mine he had found in Death Valley, and flashing cash and fantastic ideas with equal abandon. His attention-getting schemes included creating a famous stunt wherein he broke a speed record on the Coyote Express locomotive from Los Angeles to Chicago in 1905.
In Chicago he met Albert Johnson, president of National Life Insurance Company. Johnson had a passion for mining and a degree in engineering from Cornell University. Despite the fact that Scotty was never able to produce a gold mine of going concern, Johnson gave money to Scotty (and in later years, to Scotty's son and wife) and continued to do so for the rest of his life. He said Scotty paid him back in laughs for every cent he gave him.
Johnson spent winter months camping with Scotty in Death Valley. The dry desert air agreed with him. He loved the unique environment, so different from the cold winters and away from the pressures of business. He said of his friend Scotty, "He is good company and a nice fellow to be with." Turns out that was the ultimate understatement.
In 1916 Johnson purchased 1,500 acres in Grapevine Canyon, at the north end of Death Valley, where he and Scotty set up a simple tent camp. Roughing it amid spiders and scorpions was a little too much for Johnson's wife, Bessie, even for a few short months in the winter. So, in 1922 construction began on a permanent structure.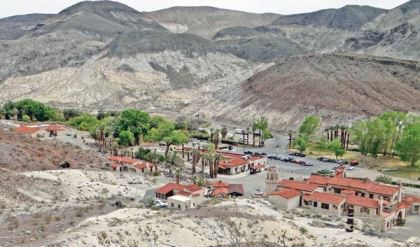 Bessie, with the help of designer Charles MacNeilledge, built the home as whimsy took her, creating a Spanish Revival-style ranch house with medieval and romantic adornments.
The logistics of this undertaking were massive. Everything had to come from Los Angeles by train to nearby Bonnie Claire, and then by truck to Grapevine Canyon. Master craftsmen created wrought-iron chandeliers, sconces, and table lamps; ceramic tiles were imported from Spain or manufactured in Glendale, California; supporting beams and lintels were carved from redwood, then burnished and chiseled to achieve an antique effect. The furnishings were antiques or custom reproductions purchased in Spain and Italy.
We parked by the picnic area and purchased tickets for the tour at the office, which was converted from a household garage. Guided tours of Scotty's Castle are available daily year-round and last approximately 50 minutes. They are given more often during the busier winter months. Holders of a senior parks pass pay only $7.50; regular adult admission is $15.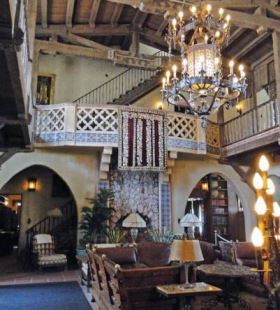 The docents are dressed in costumes from the period. Ours took the role of a newspaper reporter. We walked through a tiled courtyard, past Johnson's 1933 Packard, and through the massive front door. The lintel is engraved with the words "Death Valley Ranch." We spent a pleasurable time rambling through the house, where the trappings of a civilized lifestyle exuded a rusticity somehow appropriate to the setting. The library, dining room, kitchen, guest rooms, and music room remain furnished as they were in the Johnsons' time, right down to the clothes in the closets and Bessie's typewriter on her desk. We felt as though we were intruding.
Scotty had his own room, which he rarely used, preferring to retreat to his ranch 5 miles down the canyon where he could escape Bessie's fundamentalist, teetotaling ways.
Ingenious and inventive, Johnson put his engineering ability to good use. A Pelton water wheel, powered by a spring that gushed (and still does) a powerful 300 gallons a minute, drove a mini power plant to produce electricity. Huge tunnels dug under and around the house contained conduit and sewer and water pipes, and also kept the house cool. You can explore this "unseen" part of the property during the separate Underground Tour. It is offered daily from November through April.
The house's 14 fireplaces were fueled by railroad ties that Johnson bought from the defunct Tonopah & Tidewater Railroad. The ties were sufficient, Johnson figured, to heat the castle for 100 years; indeed, to this day they stand stockpiled in a side canyon known as "tie valley." The remains of a solar water-heating system sit behind the annex.
Construction continued until 1931 when the National Park Service discovered that the ranch had been incorrectly surveyed. In fact, it was one whole township off and on national park property. Johnson spent six years lobbying until Congress finally enacted a bill that allowed him to buy his land back for the token sum of $1.25 an acre. By this time, financial reversals (or perhaps Johnson was just plain "wore" out) had taken their toll, and work on the castle stopped. The pool was never finished and courtyards remain unpaved, but there are enough tiles stacked in the tunnels to complete the work.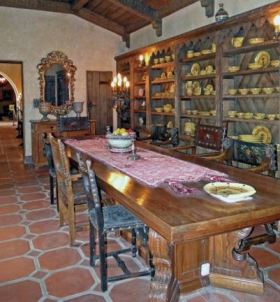 As we wandered through the house, our docent was full of stories and anecdotes. Scotty was the front man, but the shy and retiring Johnsons enjoyed eavesdropping from the kitchen as he enthralled tourists and guests with his tall tales in the dining room next door. We finished our tour in the music room, where we were treated to the magnificent sound of the Johnsons' 1,121-pipe Welte organ.
Albert Johnson died in 1948, five years after Bessie. His foundation made sure that Scotty lived out his life at the castle, and, when he died in 1954, he was buried with his dog on a hill overlooking Grapevine Canyon.
More than just an oddity in Death Valley, Scotty's Castle is about the friendship of two men. One was an inhibited Quaker who lived vicariously through an unconventional freeloader — the larger-than-life Walter Scott.
Further Info
Death Valley National Park
P.O. Box 579
Death Valley, CA 92328
(760) 786-3200
www.nps.gov/deva
Tickets for tours of Scotty's Castle may be purchased in advance at www.recreation.gov or by calling (877) 444-6777. Same-day tickets may be purchased at the Scotty's Castle Visitor Center.