A random stop along Route 66 plants the seed for transforming a vintage bus into a high-tech home on wheels.
By Ben Willmore, F374679
Family Motor Coach Association's logo features a rendering of a Flxible bus, a vehicle that was popular for motorhome conversion when FMCA was formed 50 years ago. Here's the story of how I became a full-time RVer and why a similar, 50-year-old Flxible bus entered my life and will eventually become my full-time home on wheels.
I became a full-time RVer in March 2006 at the young-ish age of 39. I was fortunate enough not to have to wait until retirement to make that transition, because I have a career that could almost completely align with a mobile lifestyle. I spend my time either taking photographs, teaching seminars at remote locations, or writing articles and books about digital imaging. None of these activities forces me to be at a consistent location for any length of time.
My main income comes from speaking at seminars and conferences (which I fly to), or writing books and magazine articles. My problem with living in a fixed location was that pursuing my true passion, which is photography, was limited to my local surroundings until I decided to spend money on a vacation that would lead me to an interesting location to photograph. On one of those vacations I explored eight national parks in just 10 days' time and loved every minute of it. At the same time, I was growing tired of having to work so hard to pay a mortgage and maintain a home. That's when I decided to look into living a mobile lifestyle.
I investigated everything from a tent designed to be installed on the roof of a 4×4 to the largest motorhomes and everything in between. I ended up with a 9-year-old (at the time) 40-foot Prevost motor coach that was converted by Liberty Coach. I chose that model primarily because I was impressed that I could get yacht-quality design, craftsmanship, and systems at a price that was less than many of the newer motorhomes I was investigating at the time.
As you'll see, over time I've learned what I believe will produce a more ideal home on wheels for my purposes. But before we get to the details of that project, allow me to fill you in on how living a mobile lifestyle has changed my life, work, and photography and how all that helped plant the seed for wanting a vintage vehicle.
When I first got on the road, my main work-related challenge was having a consistent Internet connection. Uploading a book-length, graphics-heavy file wasn't always possible when I first got started. Advances in wireless Internet access technology (especially 4G) have largely solved that challenge.
My main personal challenge with being on the road was that I was single and traveling prevented me from interacting with a consistent group of friends where I could find and nurture a relationship. I have friends all over the country (many are my speaking colleagues and fellow photographers), but I rarely stay in the same location for more than a few weeks (often only days). The newness of living on the road and having so many things to photograph made it easy to get through the first few years.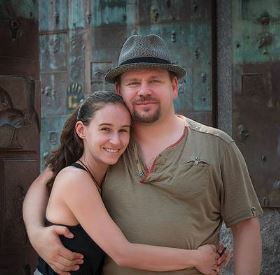 Just over three years ago, I started communicating online, via Facebook, with someone who regularly attended a conference at which I speak. She really wanted to get an Airstream trailer to pull behind her Mini Cooper to live in full-time and asked me for advice. Once she found out that her Mini wouldn't be up for pulling anything large enough to live in, she transitioned into asking more about living a mobile lifestyle in general. In the process, we both slowly realized just how similar we are in most every area of life (food, photography, religion, politics, etc). That's when we realized that we might want to see just how compatible we would be as a traveling couple.
Karen flew out to travel with me for a week, and we pretty much instantly found that we clicked mentally, emotionally, and romantically! I'm happy to say that by the time you read this, Karen and I should be married! Karen has been living on the road full-time with me for three full years now and seems to love just about everything about it. She, like me, is into graphic design, photography, and computer software, which makes us a perfect pair for exploring the USA.
In a typical year (if there is such a thing), we explore between 10 and 30 states. It's only in the winter months that we stick to a general region, but even while wintering in Florida, we'll cover the whole state. We often don't know where we're going next until checkout time at our current location. If you want to see where we've been lately, then check out my blog at WhereIsBen.com.
Vintage America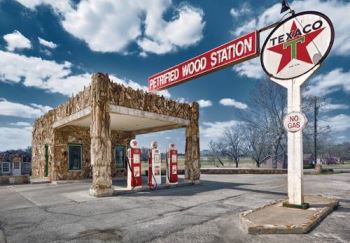 A few years back, while cruising across New Mexico, I decided to make a lunch stop in Tucumcari, New Mexico, and the result changed my direction photographically and might have contributed to my desire to acquire a vintage vehicle. That's the day I discovered what was waiting for me on Route 66. Photographic nirvana!
At the time, I thought my goal was to explore all of the national parks in the United States, but in doing so, I learned that reality was a bit different from what I had envisioned. Visiting any popular park (such as Yellowstone) often meant lots of traffic and competing for tripod position at sunrise or sunset for the best spots in the park. When I was finished processing my images, I discovered that it was not difficult to find hundreds of similar images via a simple online search.
Route 66, on the other hand, is somewhat popular but is constantly changing, and it's rare to even run into a photographer while exploring it. I loved photographing all the old neon signs, motels, and gas stations.
There was something about a restored gas station that aligned with me visually. That's when I started attempting to capture timeless images of various restored vintage gas stations all over the country. The idea is to take a photograph where you can't tell whether it was captured yesterday or 50 years ago. To do so often involves a lot of retouching to remove modern cars, signs, telephone poles, people, and other distractions.
I have since traveled the full length of Route 66 three times and now maintain a database of more than 150 vintage gas stations spread all over the country that I want to photograph.
Aside from photographing gas stations, I specialize in a unique type of photography that's known as light painting. That's where I start with a pitch-dark scene and walk through the scene with a flashlight to paint light on the subject during a long exposure. Anything I choose not to paint with light appears as solid black. I've started to search out good examples of vintage Americana to light paint, and my favorite subjects so far are vintage travel trailers.
A Flxible In My Future
The movie RV, which starred Robin Williams, was released just a month after I started to live on the road full-time. I can't remember how long it took before I saw that movie, but I do remember absolutely falling in love with the vintage Flxible bus that was featured in it (the same red-and-white one shown on the Flxible history page that accompanies this article). At the time I saw this movie, I was sure that restored vintage buses must be just as collectible as 1957 Chevys. The thought that I might actually be able to afford one never crossed my mind, so I ended up thinking of it as something that's overly cool (like a Duesenberg or Lamborghini), but something I would never think of actually owning.
I almost never watch television. I think the TVs on my bus have been turned on for less than 48 hours during the past seven years. One of the few days I had the TV on, I watched a classic car auction where a converted Flxible bus sold for less than one-third the price that I had spent on the bus I currently call my home. At that moment, I decided I wanted to live in a vintage Flxible bus.
After investigating no fewer than 89 Flxible buses, including the actual bus used in the movie RV, I ended up purchasing a 1963 Flxible Starliner on October 21, 2009.
In the process of looking at so many buses, I became an expert on the Clipper-style Flxible bus models. I even got hired by a major corporation to fly out and inspect a bus they were looking to restore. I also became a member of a group called Flxible Owners International, and my fiancé Karen and I eventually volunteered to maintain their Web site (http://flxibleowners.org).
The Vintage Bus Project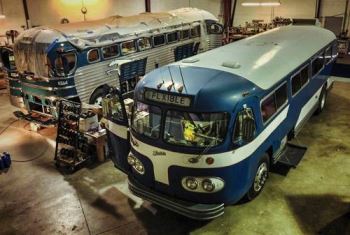 In the end, the main reason for purchasing the vintage Flxible bus was to create a more ideal mobile lifestyle. The main thing I did not like about my current setup was that my rig had a tremendous thirst for electricity, and it's not the most maneuverable vehicle out there. My current bus can last for about a full day before the batteries will be depleted. It's an all-electric coach with a residential side-by-side refrigerator and a cooktop that can't be used without either plugging into an electrical source or running the generator. As a photographer, I'd really like to be able to explore more remote locations for more extended periods of time without constantly running a generator.
With the vintage bus project, I'm designing the whole vehicle to be better in every way than my current setup, with one exception: square footage. Considering that the interior will be completely custom-designed to fit our needs, I hope that the reduced interior space will not be a problem. Here are some of the technologies I want to deploy on this project:
Modern Cummins ISC engine to double the fuel mileage versus my current coach and be able to power over mountain passes without slowing.
250-gallon fresh water tank, 195-gallon gray water tank, and 130-gallon black water tank for long times away from humanity.
Semiflexible solar material only 1/10 of an inch thick covering the rooftop.
1,000-plus ampere-hours via 12-volt lithium-ion batteries (for details, visit www.technomadia.com).
Inverters that can limit shore power draw and supplement shore power with battery power, etc.
In-floor electrical heat and a diesel-fired hydronic system.
Induction cooktop.
100 percent LED lighting.
Ability to monitor and control all major systems via iPhone.
Progress So Far
When I first purchased the Flxible back in 2009, I had a simple plan. I was going to have a diesel mechanic who is passionate about vintage buses replace the engine, transmission, and suspension in his off time at his home just outside of Los Angeles. Once that was complete, the bus was to be brought to a shop in Los Angeles that specializes in restoring vintage Airstream trailers to have the interior fabricated. From the estimates I received, the entire project should have taken about 12 to 18 months.
Unfortunately, the project has seen many setbacks during the past two years. Not only did the first mechanic fall through and delay the project by a year and a half, but the person I'd hope would restore the interior didn't pan out. There were a few instances along the way where I had to rework my original plans and find new talent to take over various parts of the project. The engine, transmission, and tanks were done at a shop in Texas, and the interior has yet to be completed.
After much searching, I discovered Paradise Coach in Coburg, Oregon. The people who work there have decades of experience with bus conversions and installing high-quality systems. They are just finishing up a conversion on a vintage Silverside bus, and the owner of the shop owns two vintage buses himself. The quality of their work is amazing, and they are not overpriced.
I recently moved the bus to Paradise Coach and the interior fabrication is about to start. I know it will take at least another year and most likely longer before I can call the vintage bus my home.
With a project this specialized, only a choice few shops could take it on, and I'm happy to have it in good hands for the next chapter in its evolution. You can follow the progress of this project on the Web at www.creativecruiser.com.
A Brief History Of Flxible Buses
1913
Company is founded and releases its first product, a flexible mount for motorcycle sidecars. They remove the "e" from their name to make it easy to trademark.
1924
Flxible releases its first bus, which looks much like an extended car of the time.
1934
A 17-passenger wooden-framed bus known as the Airway is released with a curved rear, one of the design elements that the company continues to use through 1967.
1937
The Flxible Clipper is released as a 25-passenger bus and is the first bus from the company that features a hoodless flat front.
1938
The company releases its first all-steel bus, no longer relying on a wooden frame to support the body. They also move the engine to the rear, eliminating the fenders that protruded from the body in previous years, and move baggage storage from the roof to an internal compartment in the rear of the vehicle.
1946
The modern Flxible Clipper is born. This is the model that most people visualize when thinking about classic Flxible buses. It features slanted side windows, a curved windshield, and a foot-tall strip of stainless steel as an accent down the side. More than 2,000 of these buses are produced.
1947
Flxible forms the Land Cruiser division to build special coaches, including motorhome conversions.
1950
The Visicoach is released, adding three inches of height, a foot in length, and extending the side windows to double their previous width.
1954
The all-new VL-100 is introduced, featuring a large passenger capacity and a two-level split-floor design where the front eight passengers and the driver sit at a lower floor level. Large baggage bays are found beneath the vehicle.
1955
The Land Cruiser division is sold to Custom Coach Corporation, which continues to convert Flxible buses into motorhomes.
1957
One final revision to the Clipper-style body is born in the Starliner, with its more modern torsion-bar suspension (earlier buses had leaf springs) and optional under-floor storage for baggage. Two versions are produced: one with an eyebrow window on the roof where the coach roof becomes raised by 10 inches, and a second flat-roofed version that features taller side windows. (The last Clipper-style Flxible was produced in 1967. That's almost 30 years of buses built using the same basic body design.)
1960
The Hi-Level is released, with only the driver on a lower floor level than the passengers.
1963
The Flxiliner is introduced, featuring a flat roof and taller windshield (no raise where the floor bumps up).
1969
Flxible stops producing intercity buses.
Want a Flxible of your own? If you're interested in owning a Flxible bus, here are my suggestions for locating available buses: 1) Check the Adopt-a-Flx section at FlxibleOwners.org, 2) Examine the Flxible page at SellABus.com, 3) Search for the model of Flxible you desire on eBay.com and Craigslist.org, 4) Consider attending a Flxible rally organized by FlxibleOwners.org, which happen once or twice a year, and simply ask other owners whether they know of any for sale.