Warm up this winter in the Southern California mecca known for spas and sunshine.
By Lazelle Jones
December 2012
When winter storms blast many parts of North America, it's just another sunny day in the Coachella Valley of Southern California. In this desert valley from November through March, resort cities such as Desert Hot Springs, Palm Springs, Rancho Mirage, Palm Desert, and Indian Wells have average daytime temperatures that top out between 70 and 80 degrees.
The Coachella Valley is east and a bit south of Los Angeles. It's flanked by mountains to the west and east, by Joshua Tree National Monument to the north, and by the Salton Sea to the south. A very stingy 3.15 inches of precipitation falls there each year, so you're pretty much guaranteed you'll see some sunshine.
Equally important is that from Coachella Valley, you can drive to all of Southern California within a couple of hours, as well as to points in Arizona that RVers frequent, such as Lake Havasu and Quartzsite.
Spa Central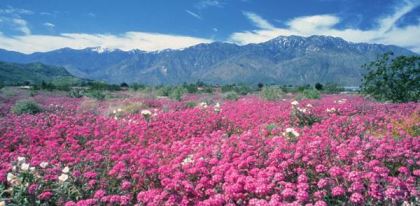 Desert Hot Springs is minutes north of Interstate 10 and a good place to start your exploration. It's also minutes from an international airport, golf, shopping, renowned restaurants, and major events. But, most importantly, this is spa country. One of the world's finest hot mineral water aquifers here regularly sends water to the surface, inspiring the growth of dozens of boutique spas and spa hotels. Stop at one to enjoy a soak and de-stress in the therapeutic mineral water.
Aerial Tramway
In the Chino Canyon a bit north of Palm Springs, the Palm Springs Aerial Tramway provides an overhead view of the region's natural beauty as you ascend 8,516 feet from the desert floor to a mountaintop. While traveling, the tram cars slowly rotate, so you can take in the entire scene.
The tram was the dream of a young electrical engineer named Francis F. Crocker, who in 1935 traveled to this hot desert valley and stared up at the cool, snowcapped Mount San Jacinto far above. He longed to be up on the mountain where it was not blistering hot! The tramway up the sheer cliffs of the canyon was thus conceived. It took a few decades and not one drop of public money, but the tram finally opened in 1963.
The ride to the top lasts 12 1/2 minutes and once you're up there, you can take a walk or even play in the snow that may cover the ground, plus visit restaurants and gift shops.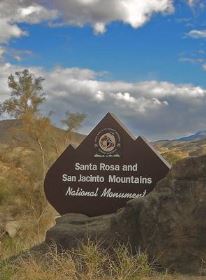 Santa Rosa and San Jacinto Mountains National Monument
The Palm Springs Aerial Tramway reaches its peak at Mount San Jacinto State Park, most of which is part of the Santa Rosa and San Jacinto Mountains National Monument. Many beautiful hiking trails begin near the tram's stopping point, far above the Coachella Valley.
The national monument's acreage traverses the southern side of the Coachella Valley. It was established in 2000 to preserve its nationally significant biological, cultural, recreational, geological, educational, and scientific resources.
Shopping
Hunting for new treasures is a popular way to spend time in the valley. El Paseo Shopping District is said to be the area's version of Los Angeles' Rodeo Drive. Westfield Palm Desert and The River at Rancho Mirage shopping areas together offer all sorts of brands, styles, and price points. Furniture and home accessories are found in numerous swanky outlets in Rancho Mirage as well. Midcentury modern décor is hot in Palm Springs.
Dining
It's likely no surprise that dining opportunities abound in the area. Within a couple of miles of Rancho Mirage are 65 restaurants, all along the same "Restaurant Row" frequented by Rat Pack members and even U.S. presidents. Today it's possible to see corporate leaders such as Bill Gates and Hollywood "first families" like Goldie Hahn and Kurt Russell dining at The River at Rancho Mirage.
Golf and Tennis
This is the region where the annual Humana Challenge — formerly known as the Bob Hope Classic — is played, so you can only imagine the caliber of golf available. Venues include Rancho Mirage Golf Course, The Westin Mission Hills Resort & Spa, Rancho Las Palmas Resort & Spa, and many more. And for those who play and/or enjoy watching the game of tennis, the Tennis Garden in Indian Wells is within minutes of anywhere in the valley. From the municipal courts at Whitewater Park to the luxurious tennis complexes at The Westin Mission Hills Resort & Spa and Rancho Las Palmas Resort & Spa, your tennis needs will be met.
Art and Entertainment
The Palm Springs Art Museum in Palm Desert is worth a drive from many miles away. It is the axis for visual arts in the Coachella Valley, featuring American and international contemporary visual arts. Local galleries can be perused in Palm Desert and a smaller, but very active, visual arts scene can be found in Palm Springs.
When it comes to shows, the McCallum Theater is a top venue for the performing arts, where global headliners appear year-round. And the Palm Springs Follies is a treat, with dancers and performers whose advanced number of birthdays seem to enhance their talent. The motto is "Age doesn't matter unless you're a cheese."
The Living Desert
Filled with desert wildlife and unusual flora and fauna, The Living Desert Zoo and Gardens, located in Palm Desert, is a must-see for children and adults alike. From agaves to zebras, this place has something to entertain everyone. The main exhibits are organized by their origin, either North America or Africa. Aviaries, gardens, animal exhibits, and special displays vie for attention.
Palm Springs Air Museum

This museum has one of the largest collections of flyable World War II aircraft anywhere. It's a place where the past is living and where no ropes restrict visitors from touching the exhibits. Each day, certain aircraft are literally opened to the public for tours. An extensive library and trained volunteers help to add to understanding the significance of the warplanes, and flight simulators are available as well. The museum is located on the east side of Palm Springs International Airport.
Water Fun
The pool at the Palm Desert Aquatic Center is Coachella Valley's newest place to make a splash. Located on the northeast corner of Civic Center Park with access from Magnesia Falls Drive, the Aquatic Center includes three pools, diving boards, slides, and play features.
Another water park in the area is Knott's Soak City, which features 16 acres of fun with a wave pool, tube slide, simulated river rapids, and much more. It's located in Palm Springs.
More To See
This is only an overview of what you can explore and do in the warm spot of California. Contact individual town Web sites, or the Greater Palm Springs Convention & Visitors Bureau, 70-100 Highway 111, Rancho Mirage, CA 92270; (800) 967-3767, (760) 770-9000; www.palmspringsusa.com. And have some fun in the sun this winter!
Area Campgrounds
The following is not a complete list, so please check your favorite campground directory or the RV Marketplace, found at FMCA.com and published in the January and June issues of FMC.
Horizon Mobile Home Village
3575 E. Palm Canyon Drive
Palm Springs, CA 92264
(760) 328-3730
Hurkey Creek Park
56375 Highway 74
Mountain Center, CA 92561
(951) 659-2050
www.rivcoparks.org
Lake Hemet Campground, C12445*
56570 Highway 74
Mountain Center, CA 92561
(951) 659-2680
www.lakehemet.org
Salton Sea State Recreation Area
100-225 State Park Road
North Shore, CA 92254
(760) 393-3059
(760) 393-3052
www.parks.ga.gov/?page_id=639
Two Springs R.V. Resort, C10859*
14200 N. Indian Canyon Drive
North Palm Springs, CA 92258
(800) 974-8982
(760) 251-6162
www.twospringsrv.com
*FMCA member campground