It's anyone's guess why a rifle heiress defied architectural logic by crafting her very unusual home.
By Richard Bauman
March 2012
What stands four stories high, encompasses six acres, has nine kitchens, 10,000 windows, 47 fireplaces, and 13 bathrooms, but only one shower? No, it isn't an airport terminal or even a big-box store. It is the Winchester Mystery House in San Jose, California. And "mystery" is indeed fitting.
It was Sarah Winchester's private residence from 1884 to 1922, and she could proudly say, "I built it myself." Although craftsmen did the work, she financed it to the tune of $5.5 million; and, more importantly, she "designed" it.
Sarah had no training in construction or architecture, but that didn't stop her. Each morning she and John Hansen, her foreman, would meet. She would tell him what she wanted done during the next 24 hours. Sometimes she sketched her "plans" on a brown paper sack, a napkin, or other convenient piece of paper. Sometimes John interpreted her plans correctly, but he'd only know the next morning when they evaluated the previous day's work. If it pleased Sarah, she would leave it be; if not, she would either have it torn out or, more commonly, just build around the mistake. Thus, construction proceeded in a crazy-quilt pattern.
Crews of carpenters, plumbers, electricians, and other tradesmen worked on her home 24 hours a day, every day, good weather or bad, for 38 years.
A Man, Then A Mansion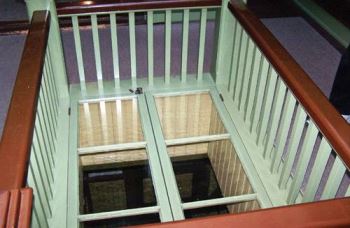 Sarah Pardee married William Wirt Winchester in September 1862, in New Haven, Connecticut. He was the son of Oliver Winchester, founder of the Winchester Repeating Arms Company, which mass-produced "The gun that won the West" — the repeating rifle.
In June 1866, Annie Pardee Winchester, their only child, was born, but she died a month later from a childhood disease known as marasmus. Sarah never totally recovered from the loss.
William's father, Oliver, died in December 1880 and William followed suit a few months later, succumbing to tuberculosis. It was as though Sarah's world stopped turning. Friends and relatives urged her to leave New Haven and start a new life for herself. Her doctor recommended that she find a cause or hobby and devote herself to it.
Sarah arrived in San Jose, California, in 1884 and bought a 162-acre farm with a modest little house on the property. From the day she took possession of the farm, it was as though the house took possession of her life. For nearly four decades she built — to as high as seven stories in some places, or built out — to where the building now covers six acres.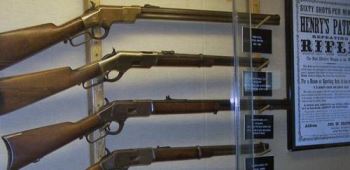 Sarah's mania for nonstop construction and her eccentric and reclusive nature were catalysts first for suspicion, then supposition, and ultimately rumors that the occult or at least some sort of spiritualism was the cornerstone for her bizarre building mania. Some said Sarah was told by a soothsayer in Connecticut that the deaths of her baby and husband were revenge by the spirits of those killed by the Winchester rifle. And the only way she could appease them was to buy a house and continuously build on it. If she did this, she was told, she would not die.
Her secretary and near-constant companion for decades, Henrietta Severs, consistently denied that Mrs. Winchester had any spiritualist leanings. Severs said Mrs. Winchester had no interest in ghosts, spirits, or anything else that might go bump in the night. Decades ago biographer Ralph Rambo wrote that such stories are myths and the result of overactive imaginations. Recently another biographer, Mary Jo Ignoffo, came to the same conclusion: "It is a disservice to the facts of her life to dismiss Sarah Winchester as a superstitious madwoman," she wrote in Captive of the Labyrinth, Sarah L. Winchester, Heiress to the Rifle Fortune. Finally, consider that if Sarah truly believed she wouldn't die by continuously building on to her house, why would she leave a will?
Touring The House
When you tour the Winchester House, you almost immediately encounter the odd. You don't enter through the beautiful, massive front doors. Instead, you make your way inside the same way Sarah did, through a rather plain door in the carriage entrance. Just beyond that door is a flight of stairs that rise just 9 feet but require nine turns and 44 steps. Each step is just 2 inches high.
Why such odd stairs? To baffle the spirits, as some claimed? No. Sarah had arthritis and the low steps made it easier for her to go from one floor to the next. On one wall of the staircase is the outline of the original staircase — much steeper and more conventional in appearance. The house also has three elevators, which kept Sarah's need to use stairs to a minimum.
On the other hand, numerous other design features in the house are truly baffling. For example, several conventional staircases rise from one floor but dead-end into a wall or ceiling. Some say this was to confuse the spirits. Again, it's more likely that they were design blunders.
As you go through the upper floors, you will encounter windows and skylights. Some are above you, but others are in the floor you're walking on. In some cases, Mrs. Winchester did this on purpose. For example, there's a window in one floor that allowed her to look directly into a kitchen below. She could check up on (some say spy on) her servants without them knowing it.
Many of the house's 13 bathrooms have clear glass doors. Was this another way Mrs. Winchester could keep tabs on her servants? Perhaps, but another consideration is that the open view into the bathrooms made it easier for servants to watch her and quickly render help if she needed it.
Mrs. Winchester didn't pinch pennies on materials used in building and decorating her home. On a tour you'll visit a warehouse that contains tens of thousands of dollars' worth of stained-glass windows and doors; decorative items; and huge rolls of elegant wallpaper that cost her $1.50 per square foot in 1905.
Sarah had an incredibly good memory for what she had bought and where it was located. One day a worker needed some screws to fix a gate. He found some brass-looking screws in a drawer, and used them. The next day Sarah asked whether he had seen the screws. He told her that he used them. She said, "Those screws were gold-plated! I was saving them for something special. Let's use something cheaper."
A Tiffany window that cost $15,000 is composed of hundreds of colored prismatic pieces of glass. It was supposed to produce a dazzling display of colored light when sunlight shone through it. But no one has ever seen the window's light show. It's installed in a wall that has another wall a few feet behind it.
Some people thought that Sarah dealt in the occult because of her propensity for the number 13. Throughout the house, chandeliers have 13 lights and rooms have 13 windows. Some sets of stairs have 13 steps or multiples of that number, such as 26 or 39. A closet in one bedroom has 13 coat hooks. In the ballroom are 13 ceiling panels. She even modified an imported marble bathroom sink by adding 13 overflow holes to it.
Sarah also seemed fascinated with spiderwebs and skylights. Some parts of the house's roof, when viewed from the upper stories, look like a conglomeration of greenhouses, because of the numerous skylights — 52 in all. And spiderweb patterns grace windows in some bathrooms. When the light is just right, they cast an eerie shadow on the opposite wall.
Sarah was no great architect, but she was practical and innovative. For example, she designed the one shower in the house so she could bathe without getting her hair wet. She was not quite 5 feet tall and experimented with hairdos that made her look taller. The shower has a horizontal pipe on one wall and water sprayed from holes in the pipe, striking her body at about shoulder height. Thus she could shower, but also preserve a flattering bouffant.
In the laundry room is a set of sinks with scrub boards molded into them. Sarah designed the sinks and obtained a patent for them. This was before home washing machines were common, and the sink/scrub board combination made doing laundry easier.
Sarah's linen closet is a room about the size of a small apartment. Its cabinets are made from California redwood, but they look like bird's-eye oak. Sarah liked the durability of redwood, but not its color. Thus, she hired an artist to paint the redwood surfaces to look like oak.
There's no question that Mrs. Winchester built one odd house, with doors and windows that open into walls, staircases that go nowhere, and rooms within rooms. But it wasn't fear of vengeful ghosts or demons that motivated her, according to those who have dug beyond the legends, myths, and rumors. Instead, she was enjoying herself in her own odd way. As one television story about the house so aptly noted, "It has the deranged design of a carnival funhouse." And you're welcome to visit when you're in the San Jose area.
Tours
Three guided tours of the Winchester house and grounds are available: the Grand Estate Tour, Mansion Tour, and the Behind-the-Scenes Tour. The Mansion Tour takes visitors through 110 rooms in the house and points out many unexplainable features. The Behind-the-Scenes Tour focuses on the 160-acre farm and orchards; workshops; the unfinished ballroom; and the house's basement. The Grand Estate Tour encompasses both tours above. The guided tours are not wheelchair-accessible, and strollers are not permitted. A self-guided Garden Tour also is available; it is wheelchair- and stroller-accessible.
Be sure to also explore the excellent Historic Firearms and Antique Products museums while you are at the estate.
Further Info
Winchester Mystery House
525 S. Winchester Blvd.
San Jose, CA 95126
(408) 247-2101
www.winchestermysteryhouse.com
Motorhome owners will want to note that free RV parking (one night only; no hookups) is available in a theater parking lot located across the street (Olsen Drive) from the house. Tour hours vary by the season, but are generally offered between 8:00 a.m. and 5:00 p.m., with later evening hours in summer and on weekends.