Replacing standard interior lights with LEDs can reduce battery power usage and provide a brighter living space inside the motorhome.
By Bill Hendrix, F761S
June 2012
If your motorhome is equipped with 12-volt incandescent and/or fluorescent lighting, you can reduce battery draw significantly by switching to light-emitting diode (LED) illumination. This can be accomplished by purchasing and installing new LED-equipped light fixtures, or you can save money by just replacing the bulbs with aftermarket LED bulbs.
The current 12-volt #1141 automotive-style bulbs used in most motorhome fixtures (other bulbs are used as well, but the #1141 bulbs are very common) each consume approximately 0.7 amps (700 milliamps) at 12.8 volts. A comparable LED will consume only 0.18 amps (180 milliamps). This would allow you to operate approximately four of these LED fixtures using the same amount of power as just one of the old #1141 bulbs.
Another consideration when converting to LEDs is heat reduction. An LED bulb of comparable intensity will reduce heat output by as much as 96 percent.
However, struggling through the wattage, amperage, candlepower, candela, and lumen numbers can be quite confusing. For example, the specifications for a #1141 bulb indicate that it will produce 264 lumens, while an LED replacement may provide 50 to 260 lumens of illumination depending upon the style and the number of diodes.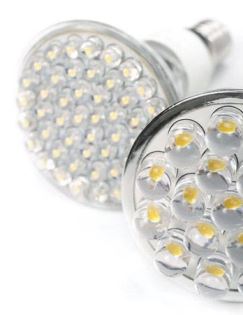 The term candlepower has been kicked around since 1860. Subsequently, the term was changed to candela, and, more recently, a similar measurement, lumens, was introduced. While candela and lumens are often thought of as the same thing, they actually measure different things. Candela is a measurement of illumination in a particular direction. Lumens is a measure of total illumination. For instance, candela is useful for measuring the concentrated beam of a spotlight; lumens is a better way to measure the amount of light illuminating an entire room.
While these are slightly different measurements, they are similar and are often used when comparing a light source. I found one article that defines a lumen as being equal to one birthday-cake-style candle at a distance of 1 foot. The conversion factor is 1 candela equals 12.57 lumens. Although other complicated formulas for designating illumination exist, the lumens value is useful for comparing one light source to another.
Other bulb specifications will include color temperature as expressed in Kelvin (K) as a number. This relates to how white the light source really is. Practically speaking, the larger the Kelvin number, the whiter the light source. Warm white starts at around 2,400 K; cool white starts at around 4,200 K; and daylight starts at 5,000 K.
Choosing the correct replacement will take a little research so you can maintain the same degree of lighting (lumens) as before the change. The Internet is a good way to locate some of the many firms that sell replacement LED lightbulbs. Three sites that I found to be helpful were as follows: Camping World (www.campingworld.com), The Jirah Company (www.jirahled.com), and Sailor Sams (www.sailorsams.com).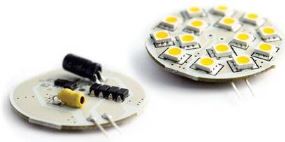 After converting all of the 10-watt halogen bulbs in my motorhome to LEDs, I discovered that my three-stage dimmers would not work with the new LEDs. After a bit more searching, I learned that special dimmers are available for LED applications and can be found on the Internet as well. My 10-watt halogen bulbs were rated at 120 to 140 lumens and the LEDs at 150 lumens, so I gained some illumination and reduced the power consumption to 2.2 watts, approximately 20 percent of the power requirement needed for the old halogen bulbs. And unlike the halogen bulbs, the LEDs are hardly warm to the touch.
Since the LED bulbs are a bit pricey, and the reason I decided to change out the halogen bulbs was mostly to conserve battery power, it would seem prudent to replace only the bulbs that are used frequently and for long durations, while leaving the seldom-used halogen lights in place.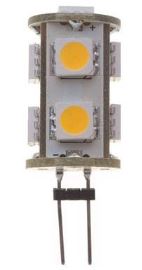 LED strips designed to replace fluorescent tubes are also available for the more popular 12-inch to 15-inch tubes and 18-inch and longer tubes. The fixtures will need some rewiring to remove the ballast from the circuit, as it will no longer be necessary.
When searching for replacements, don't just buy the first thing you see. Replacement LED bulbs can range from $15 to $25, and the LED strips for fluorescent fixtures can cost from $25 to $60. So make sure to shop more than one vendor when making your selections.
Some online RV forums include comments about switching exterior lights to LEDs also. LEDs do give the exterior a more up-to-date look. For those of us who travel very little at night, however, the change may not be cost-effective.