The next time you are traveling along Interstate 94 in southwest North Dakota, be sure to see this collection of huge and whimsical outdoor sculpture.
By Bill Vossler
June 2012
In 1989 Gary Greff was driving down a road in North Dakota when he spotted a path worn into a field. At the end of the path a couple of vehicles were parked, and travelers were snapping pictures of a dummy dressed like a farmer, posed hoisting a huge bale of hay above his head. "I thought, if people will drive off the road for that, how many more would come for something grander?" he said.
This was no idle thought. Gary had been worried about the possible demise of his hometown of Regent, which had lost a third of its population and was down to 238 residents in 1989. Like many prairie towns, Regent was in danger of extinction. Greff said, "No big business is going to come into a small community like this. We've got to work with what we've got, and what we had was a paved highway, so I figured, 'I'll give you a reason to drive down it.'"
The "reason" today consists of seven massive metal sculptures set along 32 miles of a winding road, fancifully dubbed The Enchanted Highway, in southwest North Dakota. These are huge folk-art sculptures made of recycled materials, set every three miles or so along the road that travels between Interstate 94 south to Regent. The largest, Geese in Flight, higher than a 10-story building, is just off the exit you take from I-94 (exit 72). The last sculpture is The Tin Family, three miles north of Regent. At each sculpture you pass you will find a parking lot, picnic tables, an information board, and a children's play area.
There is no charge to see the Enchanted Highway, even though each sculpture cost thousands of dollars. Gary depends on donations and grants just to maintain existing artwork and to build more pieces.
At Geese in Flight, a gravel access road is flanked by miniature metal geese on steel poles, leading the way up to the main course: a 110-foot-high sculpture of geese flying. This was built in 2002 out of old oil well tanks, oil well pipes, and scrap metal. The tanks, which each cost $400, were flattened with a forklift. Geese in Flight is listed in Guinness World Records as the world's largest scrap-metal sculpture. Not counting Greff's time, Geese in Flight cost $50,000, mostly to use a large construction crane to erect it. The sculpture is 154 feet wide and weighs 157,659 pounds.
Deer Crossing
These silhouettes of huge deer were erected in 2002. The buck, 75 feet tall and 60 feet long, required a front leg amputation to transport it through Regent. The leg was welded back on at the site. The doe is 50 feet high and 50 feet long. The deer are also made of oil well tanks that were cut apart and welded to form a shadowlike design.
Recycled fuel oil and oil well tanks were welded to make this family of five grasshoppers in 1999. The largest is 40 feet tall and 50 feet long, and it is trailed by 12-foot-by-15-foot grasshoppers, plus a trio of small ones suitable for youngsters to crawl around on, all set amidst huge sculpted-iron wheat stalks. Four oil well tanks were cut up to make the grasshoppers. The largest 'hopper looks ready to jump onto the highway and crush an unlucky driver zooming by. The labor took one winter, and then another to prepare the site. Greff said farmers have kindly leased sites to his nonprofit organization for $1 each. The sculpture commemorates the struggles farmers have had with grasshoppers. Greff noted, "The grasshopper forced the farmer to find alternative crops, but more importantly, it challenged his patience and integrity, making him a better farmer."
Fisherman's Dream
This massive tin sculpture was finished in 2006. It depicts a three-dimensional view of six fish in the water: a smallmouth bass, a walleye, a catfish, a salmon, a pike, and a bluegill, all of which measure 30 feet long. On top of the lake is a fisherman in a boat, his hook having nabbed the seventh fish: a 70-foot-long rainbow trout, which is leaping out of the water.
Pheasants on the Prairie
These three-dimensional sculptures look so real that area clergyman Joe Berg said that a hunting dog went into point from a half-mile away the first time it saw the pheasants.
The rooster is 40 feet tall by 70 feet long, followed by a hen that is 35 feet tall and 60 feet long. Three chicks, each 15 feet by 20 feet, mill about nearby. Made of wire mesh, this family took three years to complete and was finished in 1996. It commemorates the fact that the Regent area is renowned for good pheasant hunting, with residents often renting rooms to out-of-state hunters.
Theodore Roosevelt Rides Again
Used oil well pipe was erected to build this sculpture, which commemorates the 26th president of the United States. Theodore Roosevelt said he would not have become president if not for his experiences in North Dakota, specifically, near Medora, 90 miles away.
Teddy, created in 1993, is riding his favorite horse, Mulley, which is 51 feet tall. Together they weigh more than 9,000 pounds. Also included in this sculpture is a handmade stagecoach that children can play on, as well as a jungle gym.
The Tin Family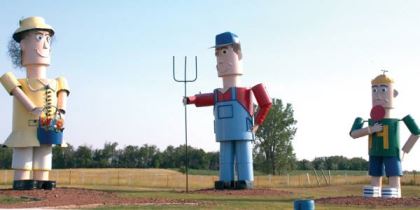 Built three miles north of Regent out of used farm equipment, The Tin Family was the first of the sculptures to be built, in 1991, and received the most volunteer help, from Greff's parents and siblings, as well as area farmers.
The bodies of the tin family are built of tin tanks. The tin pa, 45 feet tall, is held up by 16 telephone poles; tin ma, 44 feet tall, is anchored by 12 telephone poles. The tin youngster is a mere 23 feet high. The pa's cap is 5 feet high and 6 feet in circumference. Ma's hair is a mess of barbed wire, and her earrings are augers.
Stop at the end of The Enchanted Highway in little Regent, whose population as of 2010 had shrunk even further to 160 residents. But that does not count all the visitors — Greff said a counter has logged approximately 20,000 vehicles on the road to town each summer. In many ways, he has fulfilled his promise to get people into town. And it is still alive.
While in Regent, be sure to peruse the Enchanted Highway Gift Shop on Main Street. The building is easy to spot because of its outside sculpture. There you can sign a guest register and pick up items related to the highway, such as spinners; yard stakes depicting each of the sites; T-shirts; and other souvenirs.
As usual, Greff was working on yet another sculpture: a depiction of a spiderweb that will stand 70 feet tall in between wild prairie flowers. In addition, "We are also putting together a sculpture that is intended to attract the motorcycle crowd that comes to Sturgis, South Dakota, each year," he noted. The huge motorcycle will be placed right in Regent, and plans are to create a complete "rest stop" there — with a restaurant, and perhaps a dinner theater. Greff plans to make this sculpture the world's largest motorcycle.
Greff has never taken an art class in his life. However, a North Dakota State University professor said, "Folk artists make imagery of what they know best. Farmers are artists of the land, and the imagery appearing in these sculptures is folk art in its finest form."
For nearly two decades, Greff, a former principal and schoolteacher, has lived with almost no income and little help in pursuing his dream, and now it's coming close to reality. "This is going to be the number-one tourist attraction in North Dakota, someday," he said. "It's going to be awesome when it's all done. As long as your dream is alive, you've got a chance."
For more information about The Enchanted Highway, visit www.enchantedhighway.net; e-mail [email protected]; or call (701) 563-6400.
Area Camping
The following may not be a complete list, so please check your favorite campground directory or FMCA's RV Marketplace, available online at FMCA.com and in the January and June 2012 print editions of FMC magazine.
Regent:
Greff operates The Enchanted Highway Campground, which has full hookups. It is on South Railway Street, but campers register and pay at the Enchanted Highway Gift Shop on Main Avenue. Call (701) 563-6400 for more information or to ask for directions.
Dickinson:
Camp On-the-Heart RV Park
387 S. State Ave.
P.O. Box 1074
Dickinson, ND 58601
(701) 225-9600
E-mail: [email protected]
www.ontheheart.com
North Park Campground
2320 Buckskin Drive
Dickinson, ND 58601
(701) 227-8498
E-mail: [email protected]
www.campnorthpark.com