Just north of Moab, Utah, discover one of the world's most spectacular collections of rock formations.
By Denise Seith
March 2012
Many times it seems that the most striking natural beauty is found only at the summit of a steep mountain, the bottom of a deep canyon, or at the end of a rugged hiking trail. Not so at Arches National Park, near Moab, Utah. Although trails here can give you close-ups of the prominent sandstone spans, many of the most amazing rock features are seen right from the park's 18-mile paved road. So if you're short on time or prefer being a "windshield tourist," you can simply pull over, snap a photo, and continue driving to the next scenic spot. Whether you have two hours or two days to explore Arches National Park, this oversized rock garden in southeast Utah is filled with enough fins, spires, hoodoos, towers, arches, windows, and other sculpted features to keep your jaw dropping all day.
Perched at elevations ranging from 4,085 to 5,653 feet above sea level, Arches National Park is classified as a high desert landscape. Although you might think the elevation would make it cooler in the summer, the beating sun can be deadly because of the general lack of shade. Give yourself a break from the 100-plus-degree heat and consider visiting at another time; or, at least bring plenty of water. Winter days can be sunny but cold, so make sure your furnace is working if you plan to camp.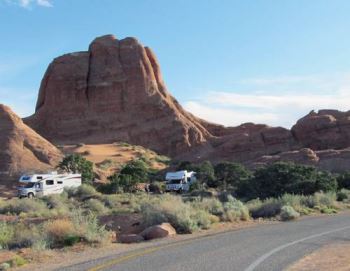 Visits in the spring and fall are the most pleasant — not only because of the lower temperature, but also because of smaller crowds. According to the National Park Service Web site, the most popular (crowded) times are Easter week; Memorial Day weekend; Labor Day weekend; and a four-day "Utah education break," usually in October. The site also urges visitors to arrive as early in the day (before sunrise, anyone?) as possible.
Since the park showcases the greatest density of natural arches on earth, it's not surprising to learn that a million people came through the entrance gate in 2010. In fact, this spectacular landscape attracts vast numbers of people from all over the world, especially since it's open year-round and the warm, dry climate makes for an eight-month peak season (March through October). As a result of its exceptional beauty and the abundance of nearby outdoor recreation opportunities, Arches will continue to experience increasing visitation, so seriously consider the off-season and you'll benefit from a little solitude with your scenery.
Preservation
As with all federal parks, the purpose and goal of Arches National Park is preservation. Here, more than 2,500 sandstone arches and other unusual rock formations are preserved, as are desert flora and fauna. Much of the vegetation is scrub, with pinon pines and gnarled junipers adding a little green contrast to the eroded red rock. If the park gets its annual average rainfall of about 8 inches, all sorts of wildflowers and other plants bloom from April to July. As for the "fauna," mule deer, kit foxes, bighorn sheep, rabbits, and small rodents make their homes here. Hawks, bluebirds, ravens, and jays are common; golden eagles are also spotted occasionally. Even the night skies are preserved at Arches. Downward-facing lights, newer fixtures, and other measures are being taken to fight light pollution in the area, and these efforts are working. On a typical night, you might see more than 6,000 stars in the clear desert sky, as well as many meteors streaking by.
Signs and park brochures constantly remind you to stay on the trail. Some of the dirt in the park is cryptobiotic soil ("hidden life" in Greek), which means it is actually alive. This "biological soil crust" is found throughout much of Arches and the greater Colorado Plateau. Composed of algae, lichens, and bacteria, the crumbly, dark dirt provides a vital foundation for desert plants, because it absorbs moisture and provides nitrogen and other nutrients. Soil recovery can take up to 250 years, so don't bust the crust!
Geology
Although natural bridges and natural arches may look the same, did you know that the difference is in the way they were formed? Natural bridges are created by moving water and usually straddle a spot where a river once flowed (or still does). Natural Bridges National Monument, just two hours south of Arches, has three perfect examples of natural bridges. Arches are formed through erosion and are generally not found near water. And, to be considered an official stone arch, the formation must have an opening of at least 3 feet in any one direction.
The basic material of the park's arches is Entrada sandstone, which began forming 300 million years ago when saltwater from a nearby ocean flooded the area. Eventually the water evaporated, leaving salt behind. Over many, many millions of years, the salt was covered by debris, and the enormous weight of it all compressed the material into rock. During the last 10 million years, the formation of rock slowed, but erosion took over in full force. Cracks developed, groundwater seeped in, freezing and thawing cycles repeated, and Mother Nature took her course. As the rock and salt valleys underneath weakened, rock was stripped and blown away, and arches formed. Gravity and erosion are continual forces at work against the sandstone, even today.
Viewpoints
The 18-mile road mentioned previously is not a through drive or a loop trail. It travels from south to north and ends at the Devils Garden area, near the park's campground, where you must turn around and drive back. "Don't miss" stops within Arches National Park include Balanced Rock, the Windows, Delicate Arch, and Devils Garden. No matter how short your visit, drive at least as far as the Windows section. Parking lots at these popular destinations can overflow during peak season, so you may have to visit them in a different order, catching some on the way back out.
Scenic photo opportunities start as soon as you pass the visitors center, so keep your camera handy. Just a couple of miles from the entrance and visitors center (where you should stop first for an overview of the park) are viewpoints for Park Avenue, Courthouse Towers, Three Gossips, and several other picturesque formations. Early explorers often named these rock shapes for things or places they had seen before. One traveler from New York City thought the skyscraper-like monoliths looked like New York's Park Avenue, hence the name. If some of this scenery seems familiar, it could be that you recognize it from Hollywood movies such as Ten Who Dared, Indiana Jones and the Last Crusade, Thelma and Louise, and others.
Approximately 9 miles down the road from the park entrance is a mammoth boulder balanced precariously on a pedestal, aptly named Balanced Rock. If you want to stretch your legs, take a very short hiking trail to the base of this fragile, 128-foot-tall formation. Or, save your steps and snap a photo from the road.
From Balanced Rock, a side road leads to the Windows area, where three massive arches make perfect frames for the landscape beyond. North Window is the smallest opening, with a span of 93 feet and a height of 51 feet. South Window is 105 feet long and 66 feet high. Turret Arch actually has two openings, the largest of which is 64 feet high and spans 39 feet. A one-mile trail leads right up to these stone spectacles.
Delicate Arch is probably the most famous arch in the park; it's the iconic symbol found on just about every book, brochure, and guide ever written about Arches National Park. It measures 46 feet high, with a width of about 35 feet. Although on the small side, this arch draws scores of photographers, so the area is usually very crowded. You can admire this arch from a wheelchair-accessible viewpoint (Delicate Arch is about 3/4 of a mile in the distance), or stand in its shadow after trekking 1.5 miles over mostly sandstone "slickrock" — so named because pioneers' horses found it difficult to travel on it. Not a bit of shade exists along the hard hike (3 miles round trip), so it can be brutal in the summer sun. Needless to say, take lots of water and slather on the sunscreen.
Delicate Arch Trail begins at the Wolfe Ranch parking area. In the late 1800s, John Wesley Wolfe, a disabled Civil War veteran, and his son, Fred, built a homestead here. A weathered log cabin, root cellar, and corral are all that's left of the primitive cattle ranch they operated for approximately a dozen years. You can peek inside the cabin, which is listed on the National Register of Historic Places. A panel of petroglyphs near the ranch is thought to have been carved by the Ute Indians sometime between A.D. 1650 and 1850. Many of the figures show stylized riders on horseback and animals that look like sheep.
A ranger-guided hike through the Fiery Furnace area takes approximately three hours and leads through a mazelike labyrinth of canyons and washes and over slickrock ledges. Skull Arch, Twin Arch, and Surprise Arch are among the 18 striking spans in the Fiery Furnace area. You must be physically able to complete this hike, and it's best to watch the video or see photos of it before you go, to gauge whether it's suitable for you. The cost is $10 for adults and $5 for children ages 5 through 12 and for national park pass holders. You must make reservations for this hike.
Located at the end of the park road, Devils Garden is not only the name of the campground, but also the name of a trail from which you can see eight arches, many backdropped by the snowcapped La Sal Mountains. Getting the most out of this area definitely requires lacing up your hiking boots. The sandy Devils Garden Trail leads to Landscape Arch, the longest in the park, measuring 306 feet from base to base. It stands 106 feet high and is only 6 feet thick at its thinnest point. In 1991 a massive slab of rock fell from its underside, resulting in an even thinner ribbon of rock. Additional rockfalls occurred in 1995 and 1996. Along the trail you'll also pass Pine Tree Arch, Tunnel Arch, and more.
Just before Devils Garden is a viewpoint and short trail to elegant Skyline Arch. Skyline is of particular interest, because it's so young. It formed in November 1940 when a major rockfall doubled the size of what was then called Arch-in-the-Making. Skyline spans 69 feet and is 45 feet high.
If you've traveled much through Utah, you probably know that the Beehive State is home to five national parks, seven national monuments, and numerous state parks and historic sites. Arches National Park is a definite highlight among them and makes an ideal motorhome destination. It is an environment like no other place on earth, just waiting to be explored.
Further Info
Arches National Park
P.O. Box 907
Moab, UT 84532
(435) 719-2299
www.nps.gov/arch/
All federal lands passes are accepted. A vehicle fee of $10 covers all occupants of a vehicle and is good for seven days. Ample space for RV parking (not overnight parking) is available at the visitors center. If you tow a car and are not planning to stay at the campground, you may wish to unhook and use the car to explore the park. The park is open daily; the visitors center is open daily except December 25. Cell phone coverage is poor to nonexistent throughout Arches. If you travel with pets, please note that they are not permitted on any trails and must be on 6-foot (or shorter) leashes in certain areas, such as pull-outs or parking lots.
Camping Inside The Park
Devils Garden Campground has 50 primitive sites and is located 18 miles from the park entrance. Camping fees are $20 per site per night. The campground fills daily between March and October. Tables and fire rings are provided at each site. Water and flush toilets are available in several locations. There are no hookups, showers, or dump stations. Some sites will accommodate RVs up to 30 feet in length. Pets are permitted. Campsites at Devils Garden may be reserved between March 1 and October 31. Reservations must be made at least four days and no more than 180 days in advance. To make a reservation, call (877) 444-6777 or visit www.recreation.gov.