File Holder
Here's an idea that has worked well for us. We didn't want to carry a standard file cabinet in the motorhome, but we needed a place to keep our important papers and documents organized while traveling. Tossing them into a shoebox or a drawer was not the answer. We found a small storage ottoman for less than $40 at Value City Furniture and also purchased a standard hanging file rack and files from a local stationery store. The file rack could be adjusted to fit inside the cube, and the files hung inside to keep our documents organized.
The ottoman has a removable top that has two sides — one is upholstered and the other is a tray top. Now we have an attractive piece of furniture in which we can store our files and also use as a coffee table or comfortable footrest. The surface is made of vinyl, so it's easy to clean. Since the ottoman is only 18 inches square, it takes up little space.
Another benefit of this particular model is that it included a smaller ottoman nested inside the larger one. The two ottomans come in handy when traveling with our grandchildren. We can have one of them sit on the small ottoman and have a snack on the larger ottoman with the table tray top. We spent only $50 for the entire setup, and weI have seen similar units advertised at stores such as Kohl's and Target for less than $30.
Dan Bowles & Pat Loveday, F412165
Jasper, Michigan

---
Bookshelf Organization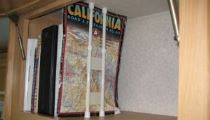 Our RV manuals, maps, and camping catalogs have had several homes inside our motorhome, but they never really fit right inside any of the compartments. They would fall over during travel and become a messy pile. But I found the solution to the problem at a camping store: a refrigerator shelf guard. I purchased one with the length necessary to fit the compartment shelf where I wanted to keep the books. It has dual adjustable rods connected together. When placed in the vertical position inside one of our upper cabinets, the shelf guard became the perfect bookend for all of our motorhome documents.
Danny Lindstrom, F310275
Salinas, California

---
Ceiling Fan
Each year we travel to Palm Springs, California, for six weeks right around summer. It becomes very warm inside the motorhome, but our ceiling vent fan was so loud it would keep us awake at night. I thought there had to be a way to keep cool without the noisy fan. So I purchased a ceiling fan that runs on 12-volt-DC electric and installed it over the bed in our motorhome. The fan even has a remote control, so we don't have to get out of bed to turn it on or off. The best thing about it is that it is very quiet, no matter whether it's running at fast or slow speed. And we can reverse the blade direction to pull the air up from below or push it down from above. Several models of 12-volt-DC fans are available at www.allrvstuff.com. My fan was very easy to install, and what's really great is that the company also sells parts for the fan should we ever need them. I installed the fan in my motorhome in December 2002 and it still runs great.
Walter Terry, F187061
Union City, California
Editor's note: Some motorhomes may not have sufficient ceiling height for such an installation.
{loadpositionEndBlurbTips}