Choose a portable cooker that matches your personal style and budget.
By Phyllis Hinz and Lamont Mackay, F175089
October 2012
A portable grill can add a tasty touch of home wherever you go in your motorhome. Today's RV-friendly grills come in a variety of shapes and sizes. The transportable grills we tested are fueled by a diversity of sources: charcoal, propane, electricity, and wood pellets.
Grills differ in the way they cook the food. Select a grill that not only is compatible with the size of your motorhome but also suits your cooking personality, from quick and easy to slow and low.
Charcoal
Cobb Premier Kitchen-In-A-Bag Grill Bundle
This lightweight, compact grill requires little storage space. It comes with a heavy-duty carry bag, but the parts must be positioned in the right spots for it to fit properly. The stainless-steel grill is an easy-to-carry, solid, stable, tabletop cooker. The unit base stays cool so you can put it on a table without risk of damage to the surface or yourself. It includes a frying pan/skillet, a frying dish/wok, a griddle, a fenced roasting rack, and a dome extender with a chicken rack, so it can be used to roast, barbecue, bake, smoke, grill, fry, boil, and warm. Charcoal briquettes provide heat and flavor. Fat and grease drain into a flavor well away from the fire, virtually eliminating smoke. The grill cleans up easily, and all parts fit in a standard sink or dishwasher. The Cobb Premier is efficient, requiring fewer briquettes than most charcoal grills. If you put a thermometer through a hole in the lid to read the inside temperature of the cooking chamber, you will know when to add more briquettes.
Dimensions: 12 ½ inches wide, 12 1/2 inches high, 14 inches deep
Approximate weight: 10 pounds
Cooking area: 114 square inches
Web site: www.cobbq.com
MSRP: $299.95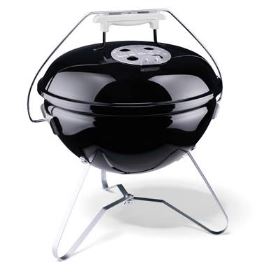 Smokey Joe Gold
This inexpensive, compact grill has a lid lock that secures everything in place for easy carrying and storage. When cooking, the lid lock lowers to act as a convenient lid holder. It features a porcelain-enameled lid and bowl and a plated steel cooking grate.
Dimensions: 15 1/2 inches wide, 17 inches high, 15 1/2 inches deep
Approximate weight: 8 pounds
Cooking area: 153.9 square inches
Web site: www.weber.com
MSRP: $39.99
Propane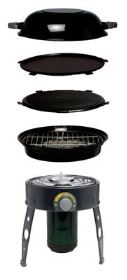 Cadac Safari Chef
The Safari Chef requires little storage space. It is compact, extremely light, comes in its own carry bag, and can be taken almost anywhere. Fold down its legs, attach a disposable propane cylinder, and it's ready to use. Ignition requires a barbecue lighter or match. This versatile unit comes with five interchangeable cooking surfaces: camp stove, barbecue, ribbed grill, flat grill, and wok. It's great for barbecuing, frying, stir-frying, and grilling. You can even boil water on the gas burner, which is capable of producing up to 7,300 Btu of heat. A grease runoff prevents flare-ups, and all surfaces are nonstick. When it's time to clean up, all of its parts fit in a standard sink and are dishwasher-safe. When packed away in its bag, the grill fits in a cupboard, making it perfect for two people who have very little space in the motorhome. The simplicity and efficiency of this unit make it a treat to use.
Dimensions: 13 inches wide, 17 inches high, 13 inches deep
Approximate weight: 10 pounds
Cooking area: 85 square inches
Web site: www.cadacamerica.com
MSRP: $119.95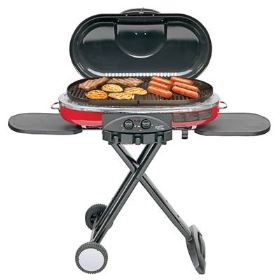 Coleman Roadtrip Grill LXE
This grill features two fully adjustable, independently controlled 10,000-Btu burners. It comes equipped with a folding stand with wheels and a handle, push-button ignition, retractable side tables, and a removable grease tray. The cooking surface includes two cast-iron, porcelain-coated grill grates. An interchangeable griddle and stove ring can be purchased separately. This grill uses disposable propane cylinders, or a 20-pound tank can be attached via the optional adapter and hose. A carry case also is available.
Dimensions: 39 inches wide, 12 inches high, 19 inches deep (storage dimensions)
Approximate weight: 44 pounds
Cooking area: 285 square inches
Web site: www.coleman.com
MSRP: $189.99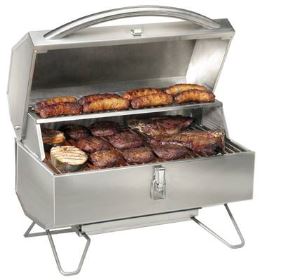 Napoleon Freestyle Infra-Red PTSS215PI
This small grill includes folding stainless-steel legs for quick setup and compact storage. The lid has a lockable latch and carry handle. This is a quick-cooking grill that features electronic ignition and a high-heat, wind-resistant ceramic infrared burner that can generate 14,000 Btu and cooking temperatures up to 1,100 degrees, making it great for grilling steaks and hamburgers, and ideal for blackening peppers for salsas. The stainless-steel grill wipes down easily and includes a removable grate and drip pan. Turn the burner on high for five minutes to burn off any food particles. A foldaway 105-square-inch warming rack can be used to increase the cooking area. This grill uses disposable propane canisters, but a 4-foot hose is available so it can be used with a 20-pound propane tank. Other options include a food preparation shelf, a cover, a carry case, and tailgate and RV mounts. Model PTSS215 is available with a stainless-steel tube burner and sear plate for consistent heat and reduced flare-ups.
Dimensions: 25 ½ inches wide, 15 3/4 inches high, 15 3/4 inches deep
Approximate weight: 30 pounds
Cooking area: 320 square inches
Web site: www.napoleongrills.com
MSRP: $359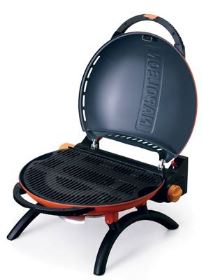 Napoleon TravelQ TQ3225
This compact unit with folding legs can fit in a narrow RV storage space. The grill latches closed with the carry handle. It can be set up in seconds, and the easy Piezo push-button ignition will have you grilling in no time. It features a reversible porcelainized cast-iron cooking grid that, when combined with the circular stainless-steel 10,500-Btu burner, results in even cooking across the grill. It includes a removable drip tray and is easy to clean. The grill uses a standard disposable propane bottle, or an adapter with a 4-foot hose can be purchased separately to connect to a 20-pound propane tank. An optional tote bag, a cover, and a travel grill stand are available as well.
Dimensions: 22 ¼ inches wide, 12 1/2 inches high, 23 inches deep
Approximate weight: 30 pounds
Cooking area: 225 square inches
Web site: www.napoleongrills.com
MSRP: $189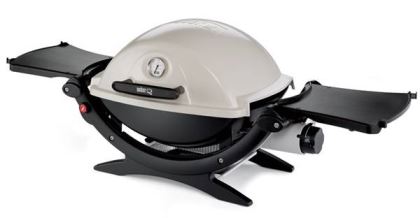 Weber Q 120
This grill has a higher domed lid than other Weber Q grills, which provides extra space for larger food items. It comes with a built-in thermometer and has handy foldout worktables with tool hooks. The grill features a cast-aluminum lid and body; a porcelain-enameled, cast-iron cooking grate; easy-grip side handles for portability; and electronic ignition. The 8,500-Btu burner is fueled by disposable propane cylinders or can be connected to a refillable 20-pound propane cylinder via an optional extension adapter hose. It is easy to clean and comes with a removable catch pan. An optional vinyl cover, stand, and griddle are available.
Dimensions: 27 inches wide, 15 inches high, 15 inches deep
Approximate weight: 25 pounds
Cooking area: 189 square inches
Web site: www.weber.com
MSRP: $199
Electric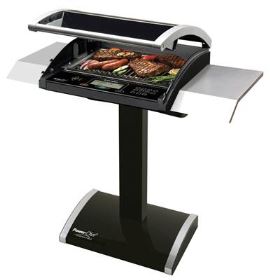 Dimplex Powerchef Convertible Electric Grill CBQ-120-ELE
While still considered portable, this grill is bigger than most in this article and will require the additional storage space available in a larger motorhome or in the trunk of a towed vehicle. When ready to store it, tuck the legs away, lock the lid with the carrying handle, and lay it flat. This is perhaps the easiest grill to set up, as it plugs into a 120-volt-AC electrical outlet. The grill provides edge-to-edge cooking with every square inch available and no cold spots or flare-ups. With the digital Evensear dual-element cooking system, the upper element sears to capture juices, and the lower element heats evenly to cook gently. The grill comes with preprogrammed menu options as well as the ability to cook manually. When using the preprogrammed feature, select the type of food and the unit does the work. The grill goes into automatic power-saver mode when a preprogrammed selection is finished cooking. An alarm sounds at each stage of cooking if attention is required. If no response is made to the alarm, the grill automatically reduces to a low temperature to prevent overcooking. It also automatically adjusts cooking times based on voltage variances. This grill is for anyone who prefers not to light a flame, lift heavy propane tanks, or stress about grilling. It is perfect for places where gas or charcoal grills are unsafe or not allowed. Power to the unit shuts off four hours after the last button is touched on the control panel. A less-expensive, manual version of this grill, the PBQ-120 Metro, also is available.
Dimensions: 21 7/8 inches wide, 11 1/2 inches high, 20 1/8 inches deep
Approximate weight: 35 pounds
Cooking area: 216 square inches
Web site: www.dimplex.com
MSRP: $529.99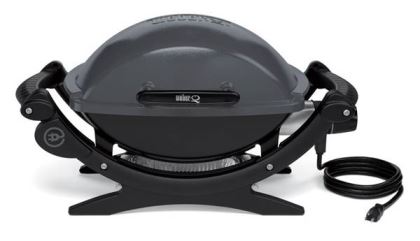 Weber Q 140
This small and lightweight outdoor electric grill gets hot enough to sear a steak. It is perfect where gas and charcoal burning are not allowed. It features easy-grip side handles for portability, a cast-aluminum lid and body, a porcelain-enameled cast-iron cooking grate, and a 6-foot grounded electrical cord. The aluminum heat-retention liners facilitate even cooking temperatures and help to keep heat from escaping. A removable catch pan facilitates cleanup.
Dimensions: 27 inches wide, 14.25 inches high, 15 inches deep
Approximate weight: 23 pounds
Cooking area: 189 square inches
Web site: www.weber.com
MSRP: $279
Wood Pellets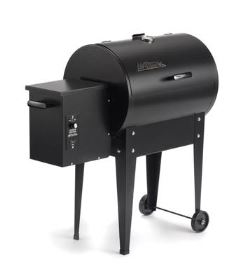 Traeger Junior Tailgate Model BBQ055
This large grill requires the storage space found in a larger motorhome or towed vehicle. It also is comparatively heavy. It's very easy to set up, but the electronic auto-start ignition and auger require electricity. The auger brings wood pellets to a lighting rod in the fire pot to create good heat and no flare-ups. The cooking chamber holds the temperature at the chosen settings of medium, high, or smoke. This grill becomes a wood-fired convection oven, with good indirect cooking and smoking. It can barbecue, grill, smoke, roast, or bake. Wood pellets are available in hickory, mesquite, apple, alder, cherry, maple, oak, and pecan. An easy-drain grease system with removable grate and a full-size drip pan are included to facilitate cleanup. Vacuum or spoon out the ashes when necessary. The tailgater kit turns the Traeger Junior into a unit that fits wherever there is a party. Take the legs along and you can turn this tailgate model back into a stand-alone grill. A digital thermostat control is available as an option. There's no need to babysit the Traeger Junior. Set it up, start it up, and sit back.
Dimensions: 36 inches wide, 18 inches high, 16 inches deep
Approximate weight: 68 pounds
Cooking area: 292 square inches
Web sites: www.traegergrills.com
MSRP: $399
Putting Your Grill To The Test
There is a difference between barbecuing and grilling. Barbecuing involves slow cooking using low temperatures and indirect heat or smoke. Indirect heat works best for roast beef, chicken, and pork or for tougher cuts of meat such as beef back ribs and brisket. Grilling over direct heat is best for foods such as steak and seafood. An instant-read thermometer should be used to test when meat is cooked.
Now that you've had a chance to find out more about the types of grills available and have received a primer on how to use them, it's time to get your outdoor cooking experience under way. To help get you started, here's a fantastic marinade to try the next time you grill.
Rip Roaring Marinade
1/2 cup canola oil
1/2 cup apple cider vinegar
2 large garlic cloves, finely chopped
1½ tablespoons Worcestershire sauce
1½ tablespoons molasses
1 teaspoon dried basil
1/2 teaspoon salt
1/2 teaspoon coarsely ground pepper
1/2 teaspoon red pepper flakes
Combine all ingredients and pour over the meat in a container with a tightly sealed lid. Refrigerate. Turn the container several times while marinating to coat all sides of the meat. Marinate large cuts of meat for 24 to 48 hours; smaller cuts of meat for 12 to 24 hours. Discard the marinade after use. If you are grilling meat over direct heat, omit the molasses from the recipe, because it will burn at high temperatures. This recipe makes 1¼ cups of marinade.
About The Authors
Phyllis Hinz and Lamont Mackay — also known as The Cooking Ladies — are cookbook authors, travel writers, restaurant consultants, and RV enthusiasts. They are from Ontario and spent 20 years in the restaurant business before selling their homes, businesses, and most of their belongings in order to satisfy their appetite for adventure and the pursuit of regional cuisines. For more information, visit www.thecookingladies.com or send an e-mail to info@thecookingladies.com.