After realizing the limitations of the exterior sunscreens on their new motorhome, Dave and Carla Townsley believed they could make something better. So they did.
By Lazelle Jones
April 2012
Sitting on almost 10 acres of prime land in McKinney, Texas, with 54,000 square feet of interior production and administrative floor space, MCD Innovations employs 70 people, a number that is expected to double in the next two to three years. From its humble beginning in 2003, when Dave and Carla Townsley saw an opportunity to produce superior exterior sun management products for the RV industry, MCD is a classic example of how "Made in America" works.
In 2001 Dave and Carla purchased a luxury motorhome and took their lives on the road for two years as full-time motorhome enthusiasts, enjoying the dream that so many look forward to during their working years. With a lifetime of experience in developing products for the automotive and motorcycle industries, Dave's creativity began to flow. After purchasing what was then thought of as the best available exterior sunscreen system, Dave realized that the quality and functionality of the product left him wanting. "I can do a better job than this," Dave told Carla, and upon arriving in Florida for the winter, they proceeded to do just that. Tinkering with mechanical devices to keep the fabric taut and cutting out panels of fabric to incorporate into the design, Dave and Carla realized they were on to something. Their resulting design seemed to solve the typical problems folks encountered with exterior screens being produced at that time.
While visiting with staff at the Buddy Gregg Motor Homes dealership in Texas, they demonstrated the exterior sunscreen system Dave had designed, which featured a method to keep the fabric from sagging and stretching, a common problem with other exterior sunscreens. Following the presentation, the Townsleys were told they should talk with the product development group at Monaco Coach Corporation. After a couple of phone calls, an appointment was set.
Taking along a portfolio of handcrafted products, Dave and Carla traveled to Wakarusa, Indiana, to meet several Monaco vice presidents. Not only did they show the Monaco folks their innovative sun protection designs, but they suggested that they could provide a wide range of upscale sun management accessories (exterior sunscreens, wheel covers, side mirror covers, and mirror bras) for all Monaco and Holiday Rambler coaches that would be branded with the Monaco/Holiday Rambler logos and installed by the manufacturer and its dealers. Dave explained to the group that consumers who, for example, love their Ford Mustangs want everything from car covers to their underwear appointed with the Mustang emblem. A luxury motorhome owner was most likely no different. In no more than an hour, MCD had its first contract.
"We couldn't believe how easy this had gone," Dave said. So while they were in northern Indiana, they reached out to other coach manufacturers. In a couple of days they left with agreements from every company they met with. As they returned home they were faced with having to go into production to fill all the orders that would be coming in the near future.
The Townsleys saw this as an opportunity to bring Dave's four children into a family operation. Today you will find two sons, two daughters, one son-in-law, and two grandsons all in positions of responsibility within the company.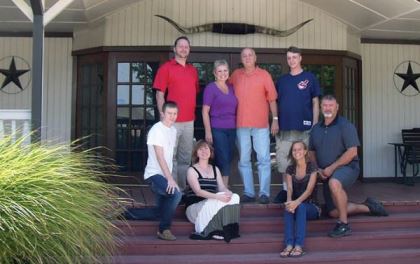 MCD offers direct retail sales and installation; a North American network of approximately 30 authorized MCD dealers; and online sales. In addition, the company supplies 24 RV manufacturers that incorporate MCD shade products into production units at their factories.
However, growth at MCD has not stopped there. The company also makes sun management products for many applications outside the RV world. Commercial accounts include Dunkin' Donuts, where MCD shades are found in 8,000 of their shops across America, and Dickey's Barbecue Pit restaurants located throughout the United States.
In the RV market MCD developed and introduced its own unique dual-roller interior shade system known as the American Duo Shade System. This unit provides interior privacy and temperature control while permitting occupants to view the outside world. When total darkness is desired, a second shade can be lowered. Most MCD products can be retrofitted to any motorhome, regardless of make, model, or age.
At the MCD facility, 13 RV camping spots with 50-amp shore power are available to customers. Retrofitting a coach with an MCD shade system can take anywhere from one to five days depending upon the scope of the job. However, these same coach alterations and augmentations can be completed at any of the authorized MCD dealers across North America. It was interesting to find out that MCD not only has a thorough training program for its dealers but also provides technical training for production personnel at each of the motorhome manufacturers it supplies.
The American Duo Shade System can be designed to operate either manually or with a motor activated by a switch or a remote control. Their interior windshield shade features an MCD-developed design that permits the shade to contour evenly over the irregular surfaces of the dash when fully lowered. MCD representatives also have developed a patent-pending shade system called the SwayShade that moves to the side as it is lowered — think up and down and sideways — so it conforms to and around interior coach features that would otherwise obstruct its articulation. These shades, when fully extended, present a clean, finished look just like a custom-tailored suit. Winnebago, Newmar, and Monaco are just a few of the OEMs that are currently installing these shades in new motorhomes.
To remain on the cutting edge of what they do, MCD has an impressive research and development department at its McKinney, Texas, facility, where engineers, designers, and electrical and mechanical gurus work on the next generation of products. MCD also is creating new energy-saving products for the commercial market that could revolutionize how solar fabrics are used for merchandising purposes. These innovations will keep MCD in the forefront as the company continues to penetrate new markets. At this writing, the Townsleys were on the cusp of launching another new company that will produce a number of new components including tubular motors, leading-edge battery storage packs, and a radically designed solar panel. Of course, some of the new technologies I saw will quickly find their way into the MCD RV product line as well.
"Made In USA" is emphasized and practiced by the folks at MCD. Currently, approximately 90 percent of the components that are utilized in the finished products are made by U.S. suppliers, including virtually all of the fabrics, aluminum, and brackets. Dave and Carla are working toward the goal of bringing that figure up to around 99 percent within the next year. It is wonderful to see a domestic company such as MCD poised to become an exporter of American-made products.
Another exciting development MCD just announced is the introduction of a new economically priced line of American Duo and American Solo shade systems. They will be released to the market this spring and will offer the most budget-conscious consumer an opportunity to add these shades as an upgrade to their current motorhomes.
MCD also has proven that "going green" need not be just a politically correct thing to do. At the company, recycling has proven to be a viable way to save money. One way is to reuse the containers and pallets in which MCD products are packed and shipped to the RV manufacturers. Take, for example, the company's arrangement with Winnebago Industries. Every other week, a shipment leaves the MCD plant headed to Iowa with the shade management products that Winnebago Industries will install on new units. On alternate weeks Winnebago Industries picks up its orders while also returning the used containers and special pallets to MCD, which are then reused to package the next shipment to Winnebago Industries. The company also recycles large amounts of nonusable materials, including the scrap aluminum that remains after extruded aluminum structural pieces are trimmed, as well as the large paper tubes from the bolts of fabric MCD uses.
MCD technicians are dedicated to and responsible for manning a customer and dealer hotline. Dave said that more than 98 percent of all call-in problems — which are more likely questions — are quickly resolved over the phone.
MCD is a feel-good American success story. In a relatively short period of time, the company has become a well-known and highly respected supplier of products that have made a difference in the enjoyment and livability of thousands of RVs.
MCD Innovations, 3303 N. McDonald St., McKinney, TX 75071; (800) 804-1757, (972) 548-1850; www.mcdinnovations.com.