These two outstanding national parks are located next to each other in the northwestern part of Wyoming.
By Donna Ikenberry
April 2013
Yellowstone National Park is one of my favorite places on earth. A potpourri of abundant wildlife, steaming geysers, bubbling mud pots, and wonderful waterfalls, Yellowstone is a "must visit" for me and my husband on a regular basis. We have visited the park in all seasons, but winter happens to be our favorite.
During a recent trip to the park, we concluded that any visit to Yellowstone also should include a trek to adjacent Grand Teton National Park. We drive in from Colorado, so we always opt to stop at the Tetons first on our way to Yellowstone. But regardless of where you enter Yellowstone, you'll want to make time to see the Tetons as well. Visit both parks and you really are getting the best of both worlds.
Yellowstone
Yellowstone is the United States' oldest national park, designated as such in 1872. At 2.2 million acres, it is also the second-largest national park in the Lower 48 states. (Only Death Valley is larger.) Yellowstone offers a variety of habitat and is a premiere place to see wildlife. The park is home to bighorn sheep, bison, pronghorn antelopes, moose, deer, bears, and other animals.
If you like to see unusual geothermal wonders, Yellowstone is the place to be, as the preserve boasts of more hydrothermal features (approximately 10,000) than anywhere else in the world, among them Old Faithful. The reason Yellowstone has so many geysers and heated springs is that it is actually an active supervolcano. Yellowstone probably will not erupt again for quite a long time (estimates say not for another 1,000 to 10,000 years), however, and scientists monitor the place regularly. So, it's definitely safe to visit.
As you tour Yellowstone, eventually it will sink in that there are more geysers here than you will ever have time to see. Pools of steaming water and colors of green, blue, and brown look alluring until you realize they are very deadly, with water temperatures exceeding 200 degrees. Obey all warning signs and stay away from areas that might invite a slip or fall.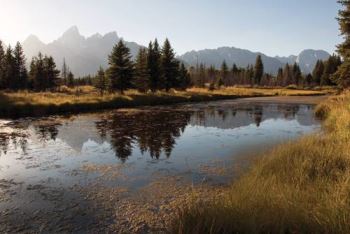 If you see Yellowstone and Grand Teton in June prior to or after the FMCA convention in Gillette, Wyoming, you will enjoy your visit perhaps more than if you arrived later in the summer. July and August bring the largest crowds of visitors.
Yellowstone has its share of mosquitoes by spring, but a visit can still be very rewarding. The days are getting longer, warmth is easily felt, like a gentle tease, although cold days do tend to linger. A rainbow of wildflowers dances with an array of green grasses. In spring, baby bison kick up their heels, while tiny spotted elk and deer calves do the same, and moose give birth to long-legged youngsters. Yellowstone is indeed one of nature's largest and grandest nurseries.
The bull moose, elk, and deer sport tiny antlers that will grow quickly. Their soft velvet later mixes with shedding velvet, giving the animals a straggly look; and finally, in the fall, the antlers are smooth yet piercing.
During winter, the park is very cold and snowy but filled with beauty and wonder. In the fall it is dry, with golden hues and typical colors, and it is the mating season for magnificent deer, elk, and moose. Winter and fall are definitely mosquito-free.
It's difficult to tell others where to go to see the best wildlife action, because the animals are free to roam. My advice is to get out early, stay out late, and drive the park roads at a slow pace, always looking for animal life. If you enjoy hiking or walking, be sure to grab the necessary supplies and see the backcountry. More than 1,200 miles of hiking trails crisscross the land, most of which lead to a special scene, peace, and solitude.
Many trails lead to stunning waterfalls. In fact, the park has more than 200 permanent waterfalls, including 308-foot Lower Falls, one of the highest waterfalls on the continent.
Although we tend not to visit in the summer, sometimes we are nearby and we drive through the park just to see what's happening. One day traffic prevented us from moving, but that was okay. Right at that time we noticed a lone grizzly snacking a few hundred yards off the road. We pulled off to the side, I grabbed my heavy tripod and 600-millimeter lens, and we spent two hours watching the bear eat and rest.
Grand Teton National Park
Just south of Yellowstone is another grand place to enjoy wildlife and scenery : Grand Teton National Park. Established in 1929, the park is home to grizzlies, moose, bison, pronghorn, and more. In addition, you'll glean an up-close view of the grand peaks called the Tetons, which are magnificent to see and even more magnificent for those who climb them.
Once again, if you want to avoid crowds, the best time to visit the park is in the spring, fall, or winter. If you happen to go in spring, an abundance of wildflowers will provide a rainbow of bouquets. June is the peak season for flowers on the valley floor. Look for sagebrush buttercups, yellow bells, and steer's heads. Meadows explode with color as scarlet gilia, lupine, larkspur, balsamroot, and wild buckwheat bloom. As summer progresses, many of the same flowers brighten up the higher elevations, with the official park flower and my personal favorite, the alpine forget-me-not, visible in the alpine zone.
The Teton Mountains are the result of sporadic earthquake-producing jolts and are one of the most dramatic of Rocky Mountain scenes. Foothills are nonexistent in this land; instead, the Tetons burst straight up from a valley known as Jackson Hole, piercing the sky with jagged peaks.
The peaks tower over the mighty Snake River, which meanders its way through the park. The river begins life in the wilderness in nearby Yellowstone National Park and enters Grand Teton National Park at Jackson Lake. The Snake then flows out of Jackson Lake Dam and continues past Oxbow Bend, where a cutoff of the river moseys along at a quiet pace. In this area of the river, with its showy twists and turns, we've seen herons standing frozen in time, waiting for some edible creature to happen by. In the wee hours of the morning, we've watched for beavers and thrilled to a river otter eating fish after fish.
If the wildlife are hiding when you visit Oxbow Bend, the scenery will still be there (unless fog or clouds roll in). You'll witness a dramatic view of massive Mount Moran, which is reflected in the calm waters of the Snake River. Early morning is the best time for viewing the scene and photographing the event.
Scenery aside, it's difficult to even mention the park without thinking of the wildlife, including the thousands of elk that summer here in the Greater Yellowstone Ecosystem. The ecosystem, which includes the Teton Range and Jackson Hole, is the largest essentially intact natural area in the contiguous United States. In the winter, anywhere from 7,500 to 9,000 elk gather at the National Elk Refuge at the southeast end of the preserve. Home to the largest elk herd in the world, the area also supports grizzly bears, black bears, bison, deer, bighorn sheep, pronghorn antelopes, and coyote, plus many small mammals and birds.
Many changes have been made since the first human inhabitants arrived about 12,000 years ago. Although no one tribe claimed the land, several American Indian groups — Crow, Shoshone, Blackfoot, and Gros Ventre — used the Jackson Hole valley during the warm months.
John Colter, who made his historic trek here in 1806, was the first European man to enter the valley. Later, mountain men regularly gathered in the region to hunt and trade fur. Many species were hunted to near extinction. Fortunately for them, the era of the Western fur trade ended in 1840. Settlement of the valley known today as Jackson Hole began in 1884.
The present-day town of Jackson is a favorite among tourists because of its many outdoor-related activities, such as great hiking, golf, and rodeos in summer, and skiing in winter. The town's National Museum of Wildlife Art fits right in with the theme.
Grand Teton is accessible via multiple roads and an assortment of backcountry trails. If you want to stick to your motorhome, check out the road past Jenny Lake, for it offers the closest view of the tallest mountains in the range. En route you'll secure a close-up view of the magnificent spires known as the Cathedral Group — Teewinot Mountain, Grand Teton, and Mount Owen.
Jackson Lake Overlook is another must-see in the park. Some roads have restrictions, so plan accordingly. Large motorhomes are prohibited on Signal Mountain Summit Road, which leads 2 miles to the top of Summit Mountain. Take the drive via towed vehicle for a panoramic view of Jackson Lake, the Teton Range, and the northern part of Jackson Hole. And from the top you can gaze at the Tetons, look north to Yellowstone, and realize that you really have experienced the best of both worlds.
Further Info
Yellowstone National Park
P.O. Box 168
Yellowstone, WY 82190-0168
(307) 344-7381
www.nps.gov/yell
Yellowstone National Park RV camping reservations: (866) 439-7375; (307) 344-7311
Grand Teton National Park
P.O. Drawer 170
Moose, WY 83012-0170
(307) 739-3300
www.nps.gov/grte
Grand Teton National Park RV camping reservations: (800) 628-9988
An entrance fee of $25 per vehicle is good for seven days and can be used at both Yellowstone and Grand Teton national parks. Other national park entry passes are honored as well; call or see the Web sites for details.
In addition to the campgrounds that can be reserved, some are available in these national parks on a first-come, first-served basis. Length limits may apply. Call or check each park's Web site for details. And, of course, commercial campgrounds are available in the area as well. Check your campground directory or the RV Marketplace, published in the January and June issues of FMC and online at FMCA.com.