An FMCA member couple from Australia roamed the world for two decades and often shared tales of their travels in Family Motor Coaching.
By Peggy Jordan, Associate Editor
August 2013
Vic and Vi White of Melbourne, Australia, often explained their itinerant ways by saying, "We were both born under a 'Wandering Star.'"
The wandering began in earnest in 1962 when Vic, the owner of an engineering company, sold his business and decided to retire. He and Vi discussed taking time to travel. One day while reading the local newspaper, he saw a notice stating that an American businessman wanted to rent a home in Melbourne for a year and a half. Perfect! They could travel that long, surely, while renting out their abode. It would help finance their explorations.
The next 18 months saw the Whites traversing the Australian Outback and elsewhere while towing a small trailer. They put 25,000 miles on the vehicle, and at age 62, Vic had finally fulfilled a lifelong dream. He had explored the far reaches of the Australian continent.
A Big Dream
Their adventures in wild Australia were just a preview of what was to come. After the couple returned home, Vic heard about the "new recreational vehicles just becoming popular in America," as Vi wrote — motorhomes. The Whites decided that if they sold their home and possessions and wisely invested what was left, they could afford to purchase and live in such a home on wheels as they traveled even more.
Vic searched until he found an American motorhome builder that would work with his needs. "Soon we had exchanged dozens of letters and we settled on a layout [floor plan] similar to what we have here," Vic later said in an interview with FMC magazine. The plan was set. On a snowy day in February 1965, the Whites took possession of their shiny new Pickwick Traveliner from its point of creation in Cedar Rapids, Iowa. They dubbed it "The Happy Wanderer," and drove it out of the snow and toward the sunshine of the South.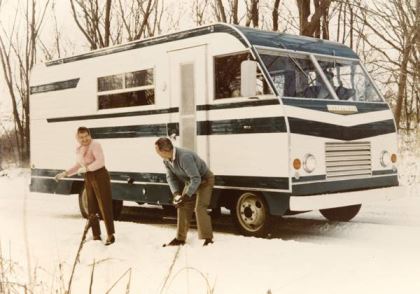 The Whites planned to travel around the world. They figured it would take five years in total; so, the first three years were dedicated to all of North America — Mexico, the United States, and Canada.
The newcomers were energetic and curious about all they encountered. So were news reporters, who were fascinated by the couple's plans of world exploration in a motorhome. Local newpapers from around the United States and Canada, and even national publications such as The Christian Science Monitor, highlighted the itinerant Aussies.
It's not clear how the Whites first heard about FMCA, but it didn't take long after their arrival in the United States. By June of 1965 they were the subject of an article in Family Motor Coaching titled "Where They Stop Nobody Knows." By then the Whites were part of the association and had been assigned membership number F748. At the 1965 summer convention in Greenville, Ohio, the new Australian members put forth an impressive slide show of their adventures thus far.
Traveling Around
The Whites shipped their "Happy Wanderer" off to Europe in the late summer of 1967, and bid all their newfound friends farewell. But not before the couple was given a very important commission. On July 15, 1967, the Whites were made FMCA's International Good Will Ambassadors by decree of the Board of Directors, and given a certificate signed by FMCA president Charlie Owens and national secretary Genny Jennings.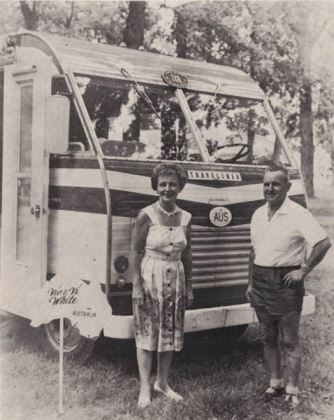 Once the Whites and their motorhome were aground again, they spent more than a year in Europe, including Scotland, England, and France, and then headed south for a five-month tour of Morocco. From there they visited Spain, Switzerland, Holland, Scandinavia, Germany, and Italy. Next, they shipped the motorhome to South Africa and spent an entire year there. While in South Africa they drove to neighboring countries such as Rhodesia (now called Zimbabwe).
It was still not time to go home. The "Happy Wanderer" was shipped again, this time to Southeast Asia, where they toured Malaysia, Singapore, and Japan. Finally, the little coach and its occupants returned to Australia in 1970.
And, as if you can't guess by now, that did not last long.
FMC magazine announced in 1973 that the Whites were on their way back to the United States and points throughout North America. "After two-and-a-half years in their native land, attending mostly to business matters, they now relate they expect to spend the rest of their travel years among their friends in North America."
Upon their return to the United States, the Whites were hailed as FMCA's most intrepid travelers. They became reacquainted with FMCA friends at the association's 10th anniversary convention in DuQuoin, Illinois. Articles in Family Motor Coaching celebrated their success. "The Second Time Around," written by Dee Dee Scott (Ken Scott's daughter) in the May/June 1974 issue, recounted the couple's achievements, which included logging 70,000 coach miles and spending an average of (only) $83 per week for six years.
The Whites themselves wrote an article titled "The Happy Wanderers Are Back!", which appeared in the June 1975 issue of FMC. In it, they answered some of the most common questions they were asked.
Did they ever become sick from foreign water? No; chlorine and a filter worked just fine.
Did they carry a gun? No, just a baseball bat. And, later, a machete.
Did they afford their travels because they were rich? No, just frugal; they avoided restaurants and RV parks for the most part, and did not spend on luxuries.
By the time this article appeared, the Whites had made a change of motorhomes. They called their brand-new Vogue the Happy Wanderer II — and could not resist calling it their "Hilton." In their luxurious new motorhome, the Whites continued to visit with friends and explore North America.
The Whites took some time off from travel long enough for Vi to complete Around The World In 13 Years, which they self-published in 1976. FMCA executive director Ken Scott enthusiastically mentioned the book in his August 1976 "Pipe Dreams" column. It was sold through the FMCA office.
And then the end came — almost.
Up From The Ashes
In the autumn of 1976, while Vic was driving the "Hilton" in Havelock, Ontario, on the way to visit friends, a large stone that stuck out into the road hit the motorhome's propane system. Instantly one entire side of the motorhome was in flames, and the Whites were forced to flee through a window on the other side. Once free, they could do nothing but watch the inevitable. "It was all over in 20 minutes, and we were left standing with nothing but the clothes we were wearing, and $10 in Vic's pocket," Vi wrote.
With the help of many FMCA members — chapters and individuals —the Whites finally got back on their feet. They were given money; clothing; even a replacement typewriter for Vi. She wrote that they were overwhelmed by FMCA members' generosity.
Even with the insurance money for their Vogue, they concluded that they could not afford to replace it with a new one, because the latest models cost $15,000 more. But again, along came assistance. An official from the Vogue company contacted them. "Their proposition was so generous that we were able to take possession of a beautiful new Vogue," Vi wrote.
Eventually, all was sorted out, and like a Phoenix the couple arose again. They set their sights for the 49th State — Alaska. From there, South America was the destination, and the Whites' 1983 book, Wanderlust is Forever, detailed the couple's tribulations with the motorhome fire; their Alaska adventures; and exploits — sans motorhome — in Colombia, Bolivia, Chile, Peru, and Easter Island. They did not drive their motorhome in South America, for it was not practical (many places had no roads), nor was it financially possible. To go to Colombia, for example, "They wanted us to deposit 10 times the value of our rig as assurance that we wouldn't leave the vehicle there," Vic explained.
Brave Or Foolhardy?
"Thinking back on our adventures," the Whites wrote in 1975, "we wonder if it's brave or foolhardy . . . but we were never afraid and never had anyone lay a hand on our vehicle." The couple continued to travel until 1988. In 1989 they presented Ken and Dotty Scott of FMCA with a large keepsake scrapbook of photos and newspaper clippings chronicling their travels. "We are proud to hand over our scrapbook to FMCA historians," they wrote. "With loving thoughts and best wishes for your travels."
Family Motor Coaching reported that Vic White died in May 1990 at the age of 89. After that, no further word of the Whites came to the FMCA office.
But, as it was with these "Wandering Stars," the story still was not quite over. It began again, in a way, in 2012, as you can see in the accompanying story.
Perhaps "Wanderlust truly is forever."

The Vogue Is Back On The Road
In November 2012, FMCA received an e-mail from a couple in Australia asking for information about the Whites. The second Vogue the Whites had used for their final travels was alive, and they were its new owners.
Ben Reusch, 36, and Trisha Bird, 38, found the Vogue after searching for a motorhome large enough for them to travel in full-time around the Australian continent for a two-year period. They saw an online ad, and "We ventured to the suburbs of Melbourne on a 10-hour drive to take a look. Well, I think it took us all of a minute to fall in love with Vic and Vi's former home," Trisha wrote.
Initially, they had no inkling of the coach's background. The couple had owned the motorhome for a few weeks when Ben decided to check the water tanks, which are located beneath the rear bed. There, tucked away under a drawer and hidden from sight, he found a cardboard box that contained the handwritten transcripts of the book Around The World in Thirteen Years as well as pamphlets about the Whites' well-traveled background that they gave to folks they met.
A closer inspection of the 29-foot Vogue revealed that the map of the world the Whites had painted near the door was still there; it had just been painted over.
Trisha used the Internet to search for answers about the couple, and that's how she wound up contacting FMCA. Armed with copies of articles about the Whites, and copies of their books, which they purchased from other sources, Trisha and Ben became enamored with the story of their "new" RV.
"Our new home is a head-turner. It is unlike other vehicles in Australia and attracts attention wherever we pull up," Trisha wrote. "It stirs up curiosity and people want to look inside. Once they are inside we can share the story of Vic and Vi White. We are framing a picture of Vic and Vi and placing it just inside the front door."
In the Whites' first book, Vi relates how they spent a week in Paris parked under the Eiffel Tower. Trisha wrote, "Could you imagine that was your address, waking up and drinking your cuppa in your own home looking at the Eiffel Tower in the morning? Well that's the legacy Vic and Vi White have left. An inspiration to us and we hope an inspiration to many more."