This popular region of Pennsylvania is packed with attractions that reveal the past.
By Sally Weigand
October 2013
Hills roll gently off to the horizon. Farmlands of the Amish, Mennonites, and "English" meld into small towns with names such as Bird-in-Hand and Intercourse. Motorists encounter covered bridges at unexpected places. Slowing down for a horse-drawn buggy, drivers enjoy a brief respite and sometimes an opportunity to wave to children peeking out the rear window. Horses and cows graze in green pastures, often where power lines do not disturb the bucolic view. Windmills spin in the breeze at Amish farms where "plain" clothes flutter on the line. Savoring the back roads brings a taste of a simpler life.
Mention Lancaster County to people, and the first thing that comes to mind is its large Amish population. Today this area northwest of Philadelphia is rich with many attractions for travelers.
Aside from numerous opportunities to experience the old-fashioned lifestyle, such as touring an Amish farm and house and riding in a horse-drawn buggy, you'll realize Lancaster County offers a huge assortment of sights that by themselves make this a worthy vacation spot.
Lancaster
The city of Lancaster alone can provide days of entertaining sights. You may want to start with a reminder of President James Buchanan, who was in office just prior to the outbreak of the American Civil War. After Abraham Lincoln was elected, Buchanan left the White House in 1861 and returned to Wheatland, his beloved home. Visitors watch a brief introductory video in the small visitors center and then join a guide for a one-hour tour through the gracious Federal-style house surrounded by green lawns and tall trees. Notable are the ornate Victorian furnishings, the contrast of the elegant formal rooms for visitors compared to the lower-ceilinged rooms for family use, and Buchanan's stand-in bathing pan. The house is open year-round (closed on Sundays and throughout the month of January) and is a National Historic Landmark.
At the time of the American Revolution, one-third of Pennsylvania's population spoke German. You will hear the term Pennsylvania Dutch, but the immigrants were not from the Netherlands; the word "Dutch" evolved from the word "Deutschland," meaning Germany. As do the Amish, these Germans called everyone else who wasn't German "English." The Landis Valley Museum in Lancaster provides a glimpse into immigrant life and is the largest museum depicting Pennsylvania German history.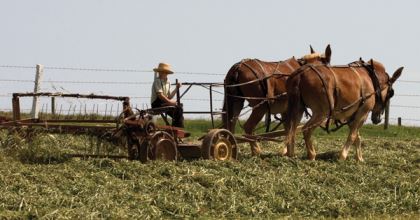 During the early 1900s, Henry and George Landis started to acquire local tools and artifacts. In 1925 they opened their Barn Museum to display the old-fashioned equipment. Over the years the collection grew to include thousands of items. Today the complex is a historical village, home to buildings deemed worth saving, and is a living history spot where you can watch tradespeople demonstrate crafts of yesteryear.
Witness the privileged life of Colonial General Edward Hand when you step into the high-ceilinged rooms of Rock Ford Plantation. This member of George Washington's Continental Army lived comfortably in the Georgian brick mansion with his family, and, fortunately, most of the original 1794 construction remains. A knowledgeable guide points out items of interest in the brightly colored rooms, such as Hand's medical book and a small antique "rotisserie" oven.
A colorful imitation castle looks out of place on a commercial stretch of road. It is the entrance to Dutch Wonderland, a "Kingdom for Kids." Youngsters zoom in the roller coaster and flume and bump each other in cars. Live shows give everyone a brief rest, as do boat, train, and tram rides through the gardenlike grounds. The theme park is open throughout the summer and on weekends in May, September, and October.
Youngsters 2 to 10 also enjoy the Hands-on House Children's Museum, which presents learning opportunities via self-directed activities that adults and children can participate in together. More extensive learning for youths ages 7 to 13 comes at the Lancaster Science Factory, where 60 interactive exhibits fill the open space. A hush envelops observers in the planetarium at the North Museum of Natural History & Science.
Strasburg
Train enthusiasts will want to include this town on their itinerary for several reasons. First is to investigate the National Toy Train Museum. Toy trains travel around tracks in elaborate platform settings, and watchers can push buttons to activate equipment or trains that chug along through miniature towns and hills. Grouped displays of several thousand gauges, plus foreign trains, fill a modern building that resembles an old-time railroad station.
Another spot of interest to rail buffs is a steam train ride at the Strasburg Rail Road. Choose the dining car, open-air car, or coach. Special events throughout the season include a kid-friendly "Day Out With Thomas," an Easter Bunny Train, and Santa's Paradise Express.
Meandering through the cavernous exhibit hall of the Railroad Museum of Pennsylvania, located across the road, you'll notice that the large engines make people look very small. Especially interesting are the snowplow engine (from 1890) and the beautifully restored John Bull replica steam engine, based on an 1831 original. You may see skilled workers refurbishing stock in the outdoor yard and turntable. Young visitors gravitate to the room set aside for them to play with toy trains and see a LEGO village, along with an expansive toy train display they can activate.
Here And There
The Hans Herr House in the town of Willow Street (just south of Lancaster) is the oldest dwelling in the county, built in 1719. In one room Mennonites from the surrounding area gathered for worship — which also makes it the oldest original Mennonite meetinghouse in the Western Hemisphere. A guided tour includes explanations of many unfamiliar articles from the period.
Can you imagine sleeping on a bed only 18 inches wide and resting your head on a block of wood? This was a custom of an 18th-century celibate religious sect known as the Solitary who formed the community at Ephrata Cloister in the town of Ephrata. Their demanding lifestyle led to the group's demise by 1813, but eventually the Pennsylvania Historical and Museum Commission restored a portion of the acreage and established an extensive interpretation of these followers of Conrad Beissel.
A return to childhood — at least for many visitors — awaits at the National Christmas Center in the town of Paradise. Seasonal music fills the air and twinkling lights add a soft glow to a sizable collection of memorabilia. Vintage decorations you may recognize with delight join international figures of Christmas, plus antique dolls, toy trains, and an extensive display of Nativity scenes.
Intercourse
At the town of Intercourse, park your RV and walk the mile-long city hub. How did this town get its unusual name? When founded in 1754, it was called Cross Keys. Two possible explanations exist for the current name, given in 1814. One puts forth the use of "intercourse" to mean fellowship and social interaction, which this village has. The other account says it evolved from "entercourse," the entrance to a racecourse that once stood east of town.
While in town, you may want to visit Kitchen Kettle Village, a dining and shopping district where live, foot-tapping music is often heard. Delicious foods, uncommon items, buggy rides, two restaurants, and shaded surroundings create a pleasant milieu.
Lititz
The town of Lititz, founded in 1756, claims several firsts: Linden Hall, the oldest girls' residential school in the country, and the Julius Sturgis Pretzel Bakery, America's first commercial pretzel bakery. During a tour of the bakery, you can hand-twist your own pretzel and see the old brick baking ovens.
Lititz's Main Street has several historical buildings identified in a brochure available at the visitors center, which is housed in the historic train depot. Also on the outskirts of Lititz is the Wolf Sanctuary of Pennsylvania. There, displaced wolves roam free on 25 acres, living safely in nature. On a guided tour to observe these fascinating creatures, you can learn about their culture and plight.
Columbia
Clustered near one another in the western segment of Lancaster County, three diverse sites await. In Columbia, tea and ice cream star at the Turkey Hill Experience. The ice cream and iced-tea maker offers a free visitor section; an additional "experience" area has an entry fee. Do you have an idea for a new ice cream flavor? Create a virtual one, then make a video promoting it to show on Facebook. Learn about teas from around the world and determine which one matches your personality. Taste the pomegranate iced tea; it's delicious. The tour does not include a factory visit. Your reward after learning about cows, milk, and ice cream production is repeat samples of their frozen treats.
Also in Columbia, more than 12,000 items from around the world can be seen at the National Watch and Clock Museum, the largest of its kind in North America. As you wind your way around the museum, you'll see the evolution of timepieces from Stonehenge to the present day, which are depicted chronologically. Don't miss the sets of moving figures in the remarkable Engle Monumental Clock, which took 20 years to complete.
Quaker elegance and simplicity characterize nearby Wright's Ferry Mansion, built in 1738. Antiques aficionados appreciate its collection of early 18th- century furniture and other handcrafts.
As you can see, Lancaster County caters to a variety of tastes. Come for a week and include neighboring sites such as Hershey and suburban Philadelphia.
If You Go
Sections of main roads have side lanes for buggies, so faster vehicles can pass easily. Several dozen campgrounds are scattered throughout the county. They are listed in the official "Lancaster County Map & Overnight Getaway Guide," available from:
Pennsylvania Dutch Convention & Visitors Bureau
501 Greenfield Road
Lancaster, PA 17601
(800) PA-DUTCH (723-8824)
(717) 299-8901
www.padutchcountry.com
For more campground listings, please see the RV Marketplace, published in the June and January issues of Family Motor Coaching and online at FMCA.com.
It's Candy Time!
A few miles outside Lancaster County is the town of Hershey, home of the famous chocolate bar as well as Hershey's Kisses, Reese's Peanut Butter Cups, and more. Hershey makes a tasty side trip. Visit Hershey's Chocolate World to see how chocolate is made, and explore the gift shop afterward. For a delicious theme park experience, visit Hersheypark, the official spot for rides, entertainment, and more.
During the fall, when kids of all ages start thinking of trick-or-treating, Hersheypark offers Halloween-themed rides, rides in the dark, and live musical entertainment. Between November 15 and December 31, the park celebrates Christmas Candylane with related treats and events.
For details about Hershey's Chocolate World, call (717) 534-4900 or visit www.hersheys.com/chocolateworld.
For Hersheypark info, call (800) HERSHEY (437-7439) or visit www.hersheypa.com.