Glass Cleaner
Glass Kleen is a glass and all-surface cleaner from Bio-Kleen Products Inc. Glass Kleen will remove fingerprints, smoke film, dirt, and grease from windows, mirrors, counters, ceramic tile, chrome, and appliances. Spray Glass Kleen on and wipe away, leaving the surface streak-free and sparkling. The cleaner is ammonia-free and non-toxic, and it does not contain any artificial fragrances.
A 32-ounce bottle of Glass Kleen has a suggested retail price of $7.95.
Bio-Kleen Products Inc.
810 Lake St.
Kalamazoo, MI 49001
(800) 240-5536
(269) 567-9400
www.biokleen.com
---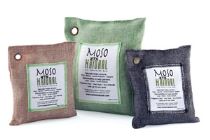 Natural Air-Purifying Bag
According to product literature from Moso Natural, the Moso Bag will remove airborne impurities from an enclosed space for up to two years.
The Moso Bag includes 100 percent bamboo charcoal, which absorbs and filters odors, pollutants, allergens, and bacteria while dehumidifying the air to prevent mold and mildew. The bags are fragrance-free, nontoxic, and eco-friendly and available in three sizes: the 50-gram Mini Moso bag for contained areas; the 200-gram bags for small spaces such as bathrooms; and the 500-gram bag for full motorhome protection. The Moso bag can be rejuvenated by leaving it in direct sunlight at least one hour per month.
A two-pack of the 50-gram Mini Moso bags has a suggested retail price of $9.95; a 200-gram bag is priced at 9.95; and a 500-gram bag costs $22.95.
Moso Natural
P.O. Box 186
Oakhurst, NJ 07755
(877) 322-6911
www.mosonatural.com
---
Electronic Device Cleaner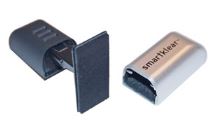 The LensPen SmartKlear is designed to clean fingerprints from the screens of iPhones, Android phones, and other small electronic devices.
The SmartKlear utilizes LensPen's grease-cutting carbon compound technology to remove fingerprints. The cleaning pad eliminates the need for cloths, tissues, or sprays when the screen becomes smudged, supplying up to 300 cleanings. Replacement pads are available.
The SmartKlear has a suggested retail price of $9.95.
LensPen
650-375 Water St.
Vancouver, BC V6B 5C6
(877) 608-0868
www.lenspen.com
---
Candle-Powered Lamp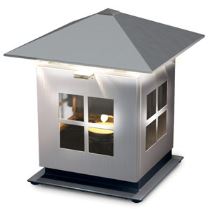 The JOI from Caframo Limited is a powerful lamp that provides 70 lumens of bright light from a single 4-hour tea-light candle.
According to product literature, the JOI uses thermoelectric technology to transform candle heat into electricity to power eight LEDs that are embedded in the adjustable lamp head. The lamp head can be left down to provide ambient light, or extended and raised to illuminate a larger area. Designed for outdoor use, the lamp does not require batteries and has no cords to plug in. The JOI has a suggested retail price of $149.99.
Caframo Limited
501273 Grey Road 1
Georgian Bluffs, ON N0H 2T0
(800) 567-3556
(519) 534-1080
www.thermologi.com
---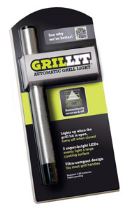 Grill Light
The Gril-Lit is a hands-free, compact, and automatic light that attaches to the grill handle and shines light on your food when grilling after dark.
The light features five super-bright LEDs that activate when the grill is opened. When the grill is closed, the light automatically shuts off. The Gril-Lit light has an aluminum body and includes a rugged ABS-plastic adjustable mount. It measures 8 3/4 inches long and 3/4-inch wide.
The Gril-Lit has a suggested retail price of $24.99.
Gril-Lit
info@gril-lit.com
www.gril-lit.com
---
Storage Solution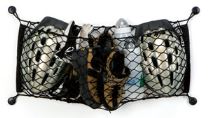 The EZ Net Organizer from ObeCo Inc. is designed to provide RVers with an organized storage space inside basement compartments or other areas of the motorhome.
The EZ Net Organizer can be attached to any open wall surface to provide excellent storage possibilities. It is available in three sizes: the small is 12 inches high, 12 inches wide, and can hold up to 20 pounds; the medium is 12 inches high, 24 inches wide, and can hold up to 40 pounds; and the large is 24 inches high, 36 inches wide, and can hold up to 75 pounds. Each net comes with the mounting hardware necessary for installation.
The EZ Net Organizer has suggested retail prices of $14.99 for the small; $21.60 for the medium; and $27.50 for the large.
ObeCo Inc.
18536 U.S. Highway 20
Goshen, IN 46528
(574) 266-1809
www.organizedobie.com
---
Entry Handle
The Lend-A-Hand RV handrail from Stromberg Carlson Products Inc. helps make entering and exiting the motorhome safer and easier.
The Lend-A-Hand folds and locks to the side of the motorhome during travel, without any tools. When parked, the handle locks in the open position for steady and secure support when climbing or descending the RV steps. The handrail is available in white, silver, and black and comes with foam grips.
The Lend-A-Hand has a suggested retail price of $39.95.
Stromberg Carlson Products Inc.
2323 Traversefield Drive
Traverse City, MI 49686
(231) 947-8600
www.strombergcarlson.com
---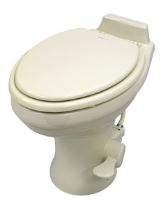 RV Toilet
The 320 ceramic toilet from Dometic Corporation is said to be the closest thing to a residential toilet made for an RV.
The 320 toilet utilizes the company's PowerFlush Gravity Discharge system to remove waste completely with minimal water use. It has an elongated vitreous-china bowl and a full-size wooden seat with residential height for home-like comfort. The high-gloss bowl is stain- and scratch-proof, and the antisplash rim keeps the water in the bowl and conceals the rinse jets. The toilet includes a one-way ergonomic foot pedal — press partially to add water; press fully to flush — and an optional hand sprayer is available. The toilet is said to install easily with just two bolts and quick access to the water connection. The 320 toilet has a seat height of 18.25 inches and weighs 37 pounds. It is available in white or bone colors.
The 320 toilet has a suggested retail price of $357.
Dometic Corporation
P.O. Box 490
Elkhart, IN 46515
(800) 544-4881
www.dometicusa.com
---
30-Amp Replacement Plug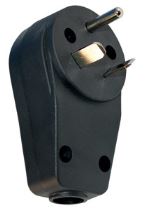 The TT-30P 30-amp male replacement plug from Progressive Industries is designed to replace worn-out molded ends on adapters, surge protectors, and extension cords without having to replace the whole unit.
The replacement plug is made of heat- and impact-resistant Valox plastic and heavy-duty, highly conductive metal contacts to handle the heat created by heavy loads. The plug's sleek, compact design makes installation straightforward. A 30-amp female replacement connector also is available.
The TT-30P has a suggested retail price of $18.55.
Progressive Industries
414-B Airport Blvd.
Morrisville, NC 27560
(919) 462-8280
www.progressiveindustries.net
{loadpositionEndBlurbProducts}