Taking the mystery out of the selective catalytic reduction (SCR) system.
By Mark Quasius, F333630
May 2013
Today's diesel engine technology has evolved more in the past 20 years than it did in the first 80 years of its history. I'm sure that Rudolf Diesel would be amazed by the current state of the engine he designed more than 100 years ago. Diesel engines now burn much more efficiently and don't belch thick black smoke from their stacks as some of their predecessors did. Advances in electronic engine management technology allow precise metering of the correct amount of fuel to the engine under every operating condition, preventing unused fuel from exiting the exhaust.
In 2007 the EPA enacted requirements to significantly reduce harmful exhaust emissions. Particulate-matter limits were reduced from 0.1 gram per brake-horsepower-hour (g/bhp-hr) to 0.01g/bhp-hr, and oxides of nitrogen (NOx) emissions were reduced from 2.5 g/bhp-hr to 1.2 g/bhp-hr. In order to achieve these reductions, it also was necessary to lower the amount of sulfur in diesel fuel, so regulations were passed to reduce the sulfur content from 500 parts per million (ppm) in low-sulfur diesel fuel to 15 ppm, which led to the development of ultra-low sulfur diesel fuel (ULSD).
To achieve these lower emissions standards, Cummins and other diesel engine manufacturers developed an aftertreatment system that includes the use of a diesel particulate filter (DPF). The DPF forces the exhaust gas to flow through channels in porous ceramic media, which captures the particulates. When sufficient heat is present, regeneration occurs by heating up the media to oxidize the particulates and clean the filter.
The DPF does not function with low-sulfur diesel fuel, so diesel engines that conform to 2007 EPA emissions standards require ULSD to prevent damage to the DPF. After a brief transition period, ULSD fuel became common at fuel pumps in the United States and Canada, although Mexico has not yet universally embraced it. The 2007 EPA regulations were meant to be an interim solution to allow manufacturers time to prepare for the more stringent 2010 EPA regulations, which reduced NOx levels even further.
The 2010 EPA regulations retained the same 0.01 g/bph-hr particulate-matter limit, so no changes to the DPF were required, but the NOx compliance level was reduced from 1.2 g/bph-hr down to 0.2 g/bph-hr. To achieve this new level of compliance, diesel manufacturers developed a selective catalytic reduction (SCR) system that used additional components to meet and exceed the 2010 EPA emissions standards. A major change for RV owners was the introduction of diesel exhaust fluid (DEF) to their diesel engines.
The Solution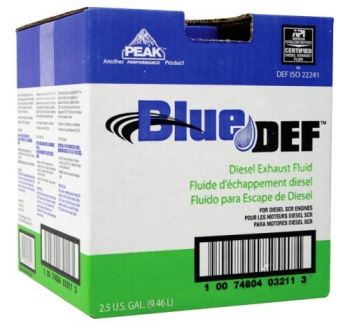 DEF is a critical component in the SCR emissions reduction system. The DEF is injected into the exhaust through a DEF dosing valve, which is located immediately after the diesel particulate filter. The DEF then enters a decomposition reactor, where it is converted into ammonia and carbon dioxide in the exhaust stream. The ammonia-laden exhaust then passes into the SCR catalyst, where high heat causes it to react with the oxides of nitrogen in the exhaust to form harmless nitrogen and water, thereby achieving near-zero emissions. The process is electronically controlled, and the actual amount of DEF fluid is metered to precise amounts according to the amount of NOx being produced by the engine.
SCR technology isn't new. Cummins and other companies have been using SCR emissions technology in Europe for many years, so it's a proven process.
What Is DEF?
DEF is a solution of 32.5 percent automotive-grade urea dissolved in deionized water. Urea occurs naturally and is biodegradable. DEF is a nonhazardous fluid that is safe to handle and is nonflammable. However, it is corrosive to aluminum, brass, copper, and other metals. Spills should be wiped up as soon as possible.
The shelf life of DEF is one year if stored properly. It should be kept in a cool, dry place out of the sunlight. Ideally, DEF should be stored at temperatures between 10 and 90 degrees Fahrenheit, but its longevity won't be affected seriously if higher temperatures are encountered for a short time. DEF is generally available in 1-gallon or 2.5-gallon jugs, which can be carried in your motorhome's basement storage compartment, but it also is available in bulk at large truck stops. The only issue with replenishing the DEF in a motorhome at fuel stops is that the DEF tank is located on the curb side of many Type A motorhome diesel chassis, because of the location of the emissions system and a driver's-side radiator. Unfortunately, DEF tank fills for most heavy trucks are on the driver's side. Because truck stops cater to the trucking industry, they place their DEF pumps on the driver's side, which doesn't work out well for motorhome owners.
Benefits And Considerations
Selective catalytic reduction technology will greatly reduce NOx emissions, but the technology has other benefits in addition to cleaner air. The technology has allowed Cummins, for instance, to increase the horsepower output without increasing the size of the engine while still meeting current emissions standards. Tests show that the SCR technology has enabled Cummins' midrange engines to achieve 5 percent to 7 percent improvement in engine efficiency when compared to engines using 2004 technology, and fuel economy improvements of 6 percent are typical. Fatter torque curves widen the sweet spot and offer more lower-end power and improved drivability.
Naturally, these benefits do come with additional costs and concerns. Besides topping off your diesel fuel tank, you'll also have to fill your DEF tank. However, this doesn't happen as often as you might think, because the DEF consumption rate is approximately 2 percent of diesel fuel consumption, which is equivalent to a 50-to-1 ratio. A typical DEF tank holds 15 gallons, so it will need to be refilled after every 750 gallons of diesel fuel. Assuming that your motorhome gets 7 mpg, you will have to travel approximately 5,250 miles before the DEF tank needs to be refilled. A special DEF gauge located in the same area as the other fluid gauges is designed to indicate the level of DEF fluid so you will know how much you have. You can top it off any time at your convenience rather than wait until it's empty.
If you ignore the gauge and run out of DEF, your coach won't instantly stop. The engine will derate to a lower power setting until you refill the tank, at which time it will resume full power output.
DEF will freeze and begin to crystallize at 12 degrees Fahrenheit, so DEF tanks are equipped with a heating system powered by engine coolant that keeps the DEF flowing during cold operating temperatures. Should the DEF solution freeze in the tank when the motorhome is parked, you'll still be able to start the engine and have full power. The DEF tank heater will quickly thaw the DEF so that it can flow.
It's important that you do not put anything other than DEF into the tank. The 32.5 percent urea level is monitored by the system, so diluting the DEF with water or using antigel additives may cause damage to the DEF system. The filler opening on the DEF tank is smaller than a diesel fuel nozzle, so you won't be able to insert a 22-millimeter diesel fuel nozzle into the 19-millimeter DEF tank opening. But please note that DEF should never be added directly to your diesel fuel, as significant engine damage will result.
This new technology will greatly reduce harmful NOx emissions as well as particulate matter. In fact, a research study by the University of California-Riverside found that cooking a charbroiled hamburger emits twice the volume of emissions particles as a diesel truck. An 18-wheeler would have to drive 10 miles on the freeway to put out the same particulate matter as a single charbroiled patty. I guess that means owners of newer diesel motorhomes are entitled to an extra burger when it's time to grill out.
Further Information
Cummins Engines
(800) 343-7357
(812) 377-3000
www.cumminsengines.com
Old World Industries (Blue DEF)
(800) 323-5440
(847) 559-2000
www.bluedef.com